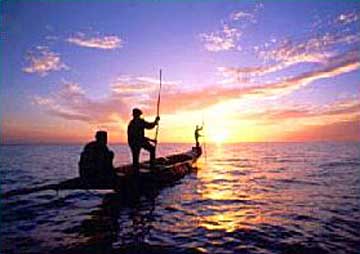 Photo copyright by Peter Guttman
Target audience: Nonprofits, cause organizations, NGOs, journalists, individuals. This is part of our ongoing Making Media series designed to help nonprofits and other organizations learn how to use and create media.

What does capturing great photos on the road have to do with advancing the social good? When nonprofits and organizations conduct a retreat, or members travel to distant locations to document work in the field, the photographic output of those expeditions — on the Web, in slide show presentations, in annual reports — can be improved dramatically by following a few simple steps.
Peter Guttman, a fabled New York-based travel photographer who has traveled to more than 190 countries, is the author of five influential books on travel. Guttman offered the following tips to amateurs in an interview with the New York Times.
Tip 1: Tell a story
Forgo the temptation to take photos of your compadres standing in front of monuments or landmarks. Instead, research a destination to find out what makes it unique, and look for unusual and offbeat angles or interesting characters to illustrate your story — you're telling a visual story, after all.
Tip 2: Get close to the action
"The main mistake that people make is that they don't get close enough to the action," Guttman said. "You have to decide whether you want to be a tourist or a traveler. A tourist basically stands to the side and takes timid candids of things that they see from a distance as a shy spectator. A traveler [makes an effort to enter an experience] and tries to feel all the essence and the joy and the drama of what a place has to offer."
Tip 3: Know when to photograph and use natural light to your advantage
"The most effective time to photograph is at the margins of the day," he said.
"Early morning, dusk and most particularly during blue light, which is after the sun sets but before the sky turns totally dark. It gives photographs a cobalt blue essence that's almost out of a fairy tale and contrasts with the sparkling golds of man-made light."
Tip 4: Forget the fancy equipment
Like other professional photographers, Guttman underscores the point that travelers need not have top-of-the-line digital cameras or expensive lenses to take great shots. "The type of equipment you use is so not the point. It's all about your attitude and your confidence."
Tip 5: Compose your photo
Amateurs routinely have trouble with the composition of their photos. In addition to standing too far away, most amateurs make the mistake of focusing the subject at the center of the image, resulting in a drab, static shot.
Instead, place your subjects off-center, even well to the side in some cases. That way, you'll create a more visually interesting photo. Experiment by taking shots at various angles.
Tip 6: Be aware of the backdrop
Before you compose your photo, look to see if you have the ideal background of the image you're taking, especially when photographing people. You don't want telephone wires shooting out of someone's head. A mountain range is prettier than a water tower.
"The backdrop is the stage set that you are putting your main characters on," Guttman said. "I'm first looking at backdrops before I try to find the perfect face."
Tip 7: Pay attention to scale
Scale matters, especially when taking photos of nature and wildlife. The majesty and the proportions of mountains or a forest may be lost if no people appear in the shot.
A wider selection of Guttman's remarkable photographs can be found at his Web site, peterguttman.com.
Related
• Shoot digital photos like a proJD Lasica, founder and former editor of Socialbrite, is co-founder of Cruiseable. Contact JD or follow him on Twitter or Google Plus.

This work is licensed under a Creative Commons Attribution 3.0 Unported.