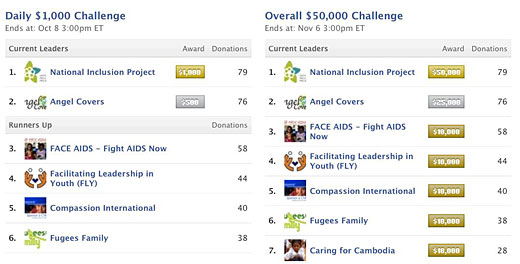 Competition lets you win up to $50,000 for your favorite charity

Yesterday the Case Foundation, Causes and Parade Publications kicked off the 2009 America's Giving Challenge. It's a 30-day nationwide online competition that encourages people to use their personal networks and social media to build cause communities that raise funds and recruit supporters for a nonprofit.
Nonprofits and individuals can get involved in two ways:
1. Champion a cause. Individuals who are passionate about a specific cause can become "cause champions" and will compete to obtain the most donations for their cause through the Causes application on Facebook.
2. Promote, donate or join a cause. All individuals are encouraged to take part in the Giving Challenge by joining, promoting and donating to the causes they care about. Facebook membership is not required to donate to a cause. Just go to Causes.com between now and Nov. 6 to win up to $50,000 for your favorite cause.
Today, for example, causes receiving the most votes so far include the National Inclusion Project, Angel Covers, FACE AIDS, Compassion International and Facilitating Leadership in Youth. I just donated to Think Autism. If you already support a cause on Facebook, opt in your existing cause.
The Case Foundation will award a total of $170,000 to the nonprofit beneficiaries of the causes. $50,000 goes to the cause with the most daily donations over the 30 days (you can donate as often as you'd like — say, as little as $10 — and each donation counts as a vote); second prize is $25,000. To keep people engaged, the sponsors are also awarding $1,000 each day to the cause with the most donations (not the most money raised); second prize is $500.
Network for Good is processing donations for the Challenge, and Parade magazine will help publicize the initiative with a cover story about the importance of giving by actor Matt Damon.
Campaign's effective use of social media
Katya just wrote about the Challenge and said these efforts work because they take advantage of social networking, offer something measurable, provide a way to harness the power of your supporters, and offer a strong incentive to give. "I always say you need to answer four questions to get people to give money: why me? what for? why now? and who says? This kind of campaign answers all four well," she writes.
Well said. The organizers of this event have made smart use of social media, and we'll be watching to see what kind of traction it gets over the coming weeks.
Katya also offers these tips when trying to raise money for your cause in the Challenge:
1. The more personal the messaging, the better.
2. Donate yourself. It's not inspiring to see zero donations on a cause when you're asking others to give.
3. Post links everywhere — on your site, blog, email signature, etc.
4. Send a link to all the people you know on Facebook and in your email address book.
5. Ask others with a following to help. …
6. Focus on the people, not the money. It's about relationships. More on this from Joe at Causes.
More tips and resources are at exchange.causes.com.
JD Lasica, founder and former editor of Socialbrite, is co-founder of Cruiseable. Contact JD or follow him on Twitter or Google Plus.


This work is licensed under a Creative Commons Attribution 3.0 Unported.