Welcome to the 31 Day Challenge To Optimize Your Blog With Social Media. Today guest contributor Frank Barry talks about optimizing donation pages.
Guest post by Frank Barry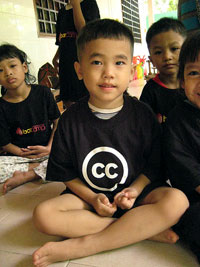 As the Web becomes more social in nature, people grow to expect more social behavior on your website. Have you thought about how that affects you? Or how it affects the way people give online through your site?
Here are a few things to get you started. Hopefully they'll give you ideas about how you can make the online giving experience more social for your donors! Once you've put some thought into it, I'd love to hear what you've decided to do (or please share a link in the comments if you are already doing some of these things).
Follow the rules
There are some well defined guidelines that everyone needs to know, but I'm not going to rehash this because it's been covered well by the industry leading  Nielsen Norman Group in their study Donation Usability: 58 Design Guidelines for Improving the Donation Process and the Usability of Essential Information on Charity and Non-Profit Websites. You can read more about it on Steve MacLaughlin's Blog.
For now, here are a few key points you can't miss when it comes to making the online giving process more social.
Explain why someone would be interested in donating.
Use real examples of people you have helped and situations you have improved.
Provide information about your organization's presence on social outlets so users can connect with you on them.
All this info shouldn't live right on the page where the donation form is. Just make it easily accessible from the donation form.
Simple is always better
You'll make it complicated for people to share if it's complicated to give. Keep the goal in mind: You want people to give. Then you want people to pass on the opportunity of giving to their friends and family. Here are five quick tips. (Some thoughts on simplicity by Chris Brogan.)
Don't use too many fields or have too many options. You don't need to collect three different addresses and info on where a person went to school when they give. Less is more.
Don't make your form multi-step. Keep it to one page and one step. Too many steps equals too many ways for a person to fall out of the process. Browser issues. Boredom. Distraction. See?
Don't use extraneous text/imagery. It's a fact that giving people too many things to do or look at distracts them from the main goal. Keep it clean and simple.
Always confirm payment immediately. Doing this makes people feel secure and confident in their decision. Security and confidence make people more inclined to share with others.
Send an email confirmation quickly. This closes the deal and gives you an opportunity to thank a person for their time and money. A very important step! It's also a great opportunity to ask the donor to share what they've done with their network (remember, their networks matter).
Make it shareable
Think back to the first point: Follow the rules. Explaining why someone would want to give and how you are making a difference makes people want to share with others. It gives them something to share. If people are giving to you it's likely they'll want to share that opportunity with their friends and family. Now it's your job to make it easy for someone to do so.
Here are a few ideas.
Don't make people give to share. Check out what Tweetsgiving did. They asked people to tweet what they were grateful for with a link back to www.tweetsgiving.org – this helped to spread awareness.
Use the AddThis plug-in on the donation form and the onscreen confirmation pages. It's simple to add and makes it very easy for people to share via numerous social networks and email.
Provide a way for people to share in the confirmation email. That is, use forward-to-a-friend type functionality and links to your Facebook and Twitter pages.
Go the extra mile
There are a couple things that have been cropping up more and more with social media campaigns and online giving: the idea of showing social proof and creating a friendly competition right your online giving pages.
Social mentions / social proof – Showing social proof helps potential donors feel safer and builds excitement around the cause. If you see that something is "popular," you'll probably be more likely to join in, right? Check out what Epic Change did with Tweetsgiving (see top right area where it says "22,605 Thank You Notes").
Friendly competition – For some reason people like competition. It helps foster engagement and community (when friendly of course). Again, check out what Epic Change did with Tweetsgiving: See the "Top Turkeys" section in the lower right.
Discussion: What else have you seen going on? What's caught your eye? What's been working for you?
If you don't want to miss out on the 31 Day Challenge To Optimize Your Blog With Social Media, please sign up.
Cross-posted from JohnHaydon.com.