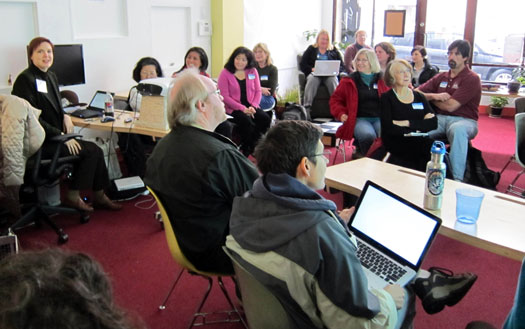 Add-ons to make your blog more powerful & versatile

Last week I attended a WordPress East Bay meetup in Oakland led by Podcast Asylum trainer Sallie Goetsch (at left in picture above). I've been an avid user of, and proponent of, WordPress since I began using the open source platform for all my blogs (Socialmedia.biz, Socialbrite and jdlasica.com) in December 2008.
At the end of the session we began discussing our favorite WP plug-ins. As someone pointed out, the WordPress Plug-in Directory is daunting and not terribly user-friendly, with 8,516 plug-ins and sometimes terse coder descriptions of what they've created. So it's up to bloggers and journalists to sift through the noise and pinpoint the gotta-have plug-ins. (I'll be doing the same with my favorite Apple iPhone apps next month.)
The WordPress development community is a wonder to behold and one of the main reasons I switched from TypePad to WordPress. Plug-ins greatly expand the number of things you can do with your out-of-the-box WordPress installation.
Here, then, are my 10 must-have WordPress plug-ins for anyone running their own WordPress.org site — I'll bet you haven't heard of some of these! Please list some of your own favorite plug-ins in the comments below.
Top 10 WordPress plug-ins
Other must-have plug-ins
I'd also put these down as must-haves:
AddThis: This lets folks bookmark your post on virtually any social media site. It helps you see how people share your content (which sites they're sharing on and which posts are shared the most. Another good choice: ShareThis.
• Tweetmeme ReTweet Button: Adds a "retweet" icon and link to every post and page (Mashable uses this atop every post, Socialbrite uses it at the bottom of every post) . Shortens URLs and can automatically tweet new and scheduled blog posts.
• Yet Another Related Posts Plugin: I just added this classic plug-in to show off related articles, below the comments box. Display can be customized.
• List category posts: List Category Posts allows you to list posts from a category into a post/page using the (catlist) shortcode. I use them on the Sharing Center page, for instance.
• Google Analyticator: Adds the necessary JavaScript code to enable Google Analytics.
• GZIP Output: Restores functionality removed in WordPress 2.5. Gzipping each page makes the page smaller, causing it to use less bandwidth and improve load time.
• WordPress Exploit Scanner: Protect yourself against hacker attacks by running this scanner, which searches for hidden links, malicious JavaScript and other exploit code. Hat tip to WordPress In Depth.
Nice to have, but not essential: wp-Typography, which improves your site's look.
Newsletter delivery
This isn't a plug-in, but folks have asked me how to implement an automated email delivery of their new blog posts, simulating an email newsletter. See that field for "Subscribe by email" over there on the right? You can do the same.
Make sure you have a Feedburner account. Select your blog and go to Publicize -> delivery options. You can change the time zone and time of day that emails get delivered but not the frequency — they automatically go out once every day there's a new blog post. Pretty handy!
WP plug-ins I'm exploring
One caution flag should be raised with so many worthy plug-ins in the marketplace: Don't activate so many that it compromises your site's performance. I'm right at the edge now on Socialbrite and Socialmedia.biz, so I'll be cautious in adding more. Here are some of the plug-ins I'm considering:
• I just installed and activated GD Press Tools, a collection of various administration, SEO, maintenance and security related tools that can help with everyday blog tasks and blog optimization.
• Haven't installed this yet: WP Content Slideshow shows up to five posts in a nice Javascript slideshow.
• Search Meter: This plug-in tracks what people search for on your site and what results they get.
• RSS Cloud: As soon as you publish, this new plug-in pings services, giving you a 10 to 60-minute jump on other services.
• Ajaxed WordPress: Adds the power of Ajax to WordPress. It can display excerpts of posts and then load full posts inline, submit comments without reloading the page, thread comments to make those long discussions easier to read, etc.
• Here are 15 plug-ins to improve my blogs' commenting systems.
• Stat Press works in tandem with or as a stand-alone plug-in next to Google Analytics. It breaks down your traffic in lots of different ways.
• wordTube makes it easy for you to put music, videos or flash movies onto your WordPress posts and pages.
• Search Excerpt: Improve search results on your blog — see this example.
• Tim Ferriss recommends Popularity Contest, which lists the popular posts on your blog. Tim also recommends Redirection, a plug-in to manage 301 redirections, keep track of 404 errors and tidy up any loose ends on your site.
• SpamShiv Lite converts any email addresses on your site to code that is not recognized as an email address.
• WP-Polls 2.50 adds a customizable AJAX poll system to your WordPress blog.
OK, that's my round-up. What have I missed? What are some of your favorite plug-ins?
Related
• Top 10 Must Have Plugins for a WordPress Blog (CreatewithNate)
• Interview with founder Matt Mullenweg on the state of WordPress (Socialbrite)
• 17 Really Useful WordPress Plugins That Probably Are Essential (SmashingApps, with screen shots)
• 6 essential social media plug-ins for your blog (Socialbrite)
• Lester Chan's Top 10 WordPress Plugins
• Top Ten WordPress Plugins for 2010 and Part 2 (The Solostream Blog)
• Best WordPress Plugins (WordPress Hacks)
• The 15 Best WordPress Plugins to Use in 2010 (Site Sketch 101)
• Best WordPress Plugins for Your Blog (CoreBloggers)
• Useful WordPress Plugins (WebDesignerWall)
• 11 Top WordPress Plugins Every Blog Should Have (yoast)
• 15 Plugins to Make your WordPress Comment System Better (smartbloggerz)
Other great posts about social media plug-ins
Related articles by Zemanta
JD Lasica, founder and former editor of Socialbrite, is co-founder of Cruiseable. Contact JD or follow him on Twitter or Google Plus.

This work is licensed under a Creative Commons Attribution 3.0 Unported.