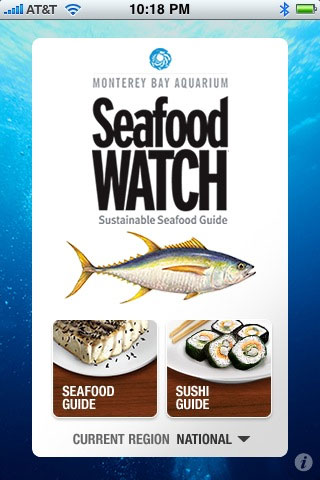 At NetTuesday San Francisco last night at TechSoup Global, three fabulous presenters provided different perspectives on the slow food movement in the United States. The event wasn't recorded, so here are some quick notes, which I scribbled down the old-fashioned way (I didn't bring my laptop because I moderated the session):
Seafood Watch
Humberto Kam, who heads up online communications for the Monterey Bay Aquarium, showed off some not-yet-public screenshots of the upcoming changes to its popular Seafood Watch app for the iPhone. The free app (screenshot above) has been downloaded 238,000 times and is used on average 2.8 times by each user. The new app will focus more on search — you type in the seafood you want information about — and less on listings.
Seafood Watch offers information on "what's good for the environment and what's good for you," Kam said. Say you're in a sushi bar and want to know the most eco-friendly selections to choose from. In the past, the aquarium printed out thousands of little pocket guides to help you. The iPhone app is ultimately a better choice, he added, because it has less impact on the environment than disposable guides and you're more likely to bring it with you to a restaurant. (I asked about an app for other platforms like the Android; Kam said they're looking at supporting other mobile devices but the iPhone is where the bulk of consumers are right now.)
Seafood Watch has been focused on what to eat, "and we're now moving in to focus on where to find it, too," Kam said.
You can follow Seafood Watch on Twitter (4,167 followers) and on Facebook (8,466 likes).
La Cocina: An incubator for cultivating food entrepreneurs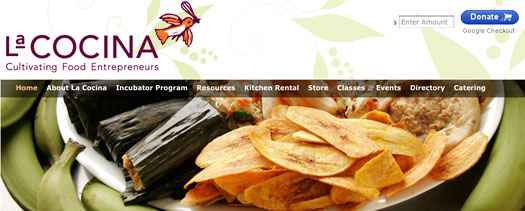 We also heard from Letecia Landa, program manager at La Cocina (Spanish for "The Kitchen"), a nonprofit in San Francisco's Mission district that helps individual entrepreneurs — chiefly immigrants and women with low income and few assets — start their own businesses. For example, Kika's Treats, run by Cristina Besher, an immigrant from Brazil, makes coconut-flavored and chocolate-covered goodies with a Brazilian flair.
"As is the case in many cities, food lies at the heart of this community and you don't have to look far to find hidden entrepreneurs in the kitchens of many homes," says a flyer handed out by Landra.
Coming up: La Cocina is sponsoring a block party in the Mission on Aug. 21. Last year's event drew 20,000 people, and this year's should be even bigger. It's the biggest fundraiser of the year for La Cocina's 28 incubated businesses, some of which raised as much as $8,000 at the last event.
It's a brilliant, inspiring program, and Landra said they're weighing whether to replicate the model in other cities.
She also offered this take on the slow food movement: "Slow food is about enjoying food from seed to table. Our world is moving so quickly, and this makes you slow down and become more conscious about where your food comes from."
A marketplace for collective purchasing

I was intrigued by the presentation by Matt Hatoun, co-founder of Wholeshare, a Web-based start-up due to launch this summer. The idea is to enable consumers to self-organize in local communities and place place bulk orders directly from farmers and growers.
From Hatoun's presentation, my takeaway was that Wholeshare offers three value-adds: lower grocery bills, a wider choice of healthy foods and products, and a way to support local farmers and growers. I'll definitely be using the service.
From the site: "Our goal is to make quality local food available to more people through the use of collective purchasing. Our web application will help consumers who live near each other form buying groups and place bulk orders directly from farmers and local distributors."
You can follow SF NetSquared on Facebook.
Related
JD Lasica, founder and former editor of Socialbrite, is co-founder of Cruiseable. Contact JD or follow him on Twitter or Google Plus.


This work is licensed under a Creative Commons Attribution 3.0 Unported.