How to be a videoblogger on Vimeo.
An expert provides hardware & software tips to make it easy
Target audience: Nonprofits, cause organizations, social activists, NGOs, citizen journalists. This is part of our ongoing series designed to help nonprofits learn how to use and create media.
Guest post by Sharon Vaknin
New Media Labs
With YouTube pumping out 2 billion video streams a day, one thing is clear: Video matters. Although it may seem intimidating, using video as part of your nonprofit's online presence has become surprisingly cheap and easy. If your nonprofit isn't yet using the power of video, this post will help you discover how simple it is to get started.
Video is an important component of telling your organization's story — and it's not as hard to do as you might imagine. I met David Spark, owner of the custom publishing company Spark Media Solutions, at his "How to Be a Videoblogger" workshop in San Francisco. We gathered at a small cafe as he discussed hardware, software and video shooting techniques. In this 8-minute video, you'll get a quick guide to how to get started in video.
Watch, embed or download the video on Vimeo
Watch or embed the video on YouTube
Here are five tips on how to get started with video:
Get equipped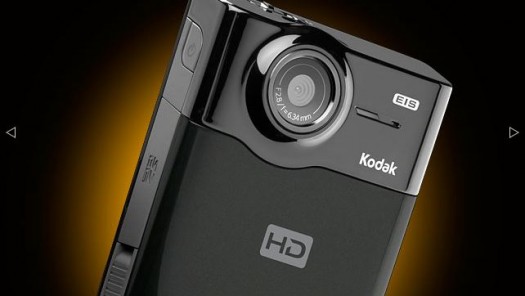 The Kodak Zi8, which retails for about $145.
1You'll need a high-definition camera to start shooting. David recommends handheld Flip recorders such as the hi-def Flip Mino, the Kodak Zi8 or the Sony Bloggie. These pocket camcorders are ideal for on-the-go shooting, as they have a long battery life, offer auto-focus and don't have any moving parts. Most of them are cost $145-$200. (We like the Zi8, which is slimmer and offers 1080i high-def recordings.)
Higher-end camcorders (aka prosumer models) are more expensive but produce higher-quality video and provide additional controls, such as zoom, white balance, audio out and headphone jacks. Check out the Canon Vixia line ($450 to $800). In addition, digital SLR (single lens reflex) cameras can usually shoot high-def video in addition to still images.
Accessorize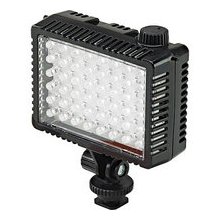 2You'll need a light for shooting in low-light situations, say, at a party, cafe or other indoor space. Grab the Sima Video Light, a cheap (about $30) solution that's comparable to lights that can run into the hundreds of dollars. If you can afford it, a good alternative is the Litepanels Micro (pictured at right), which you can buy online for about $250.
While you're shopping, pick up a Joby Gorillapod, a small tripod ($20-$30) that can attach to almost anything.
Record a video
3Seize an opportunity. If you're lucky enough to catch an unusual, controversial or particularly interesting moment, capture it. If not, an interview will also work.

Show activity & depth. Don't position your interviewee against the wall — the viewers are missing all the action. Ask her to stand in front of a busy hallway or show floor where the action is happening. Provide context.

How-to videos & explanations. These videos (like the one in this post) are a great resource for your audience and an effective discovery point for first-time website visitors.

Tour videos. Show your viewers around your office, an activity you're participating in or an event you attended. Everyone wants the inside scoop.

Fly on the wall. Instead of formally interviewing someone, just "eavesdrop" on a conversation with your handheld recorder. You'll get a lot of natural discussion that is sometimes missed during an on-camera interview.

Cover an event. If you attend an event, publish a video summary. Besides commentary, pose a single question to attendees. For instance, "What did you learn today?"
Edit
4Remember: You're vlogging (videoblogging), so don't worry about producing a perfectly tailored, professional video. Most editing can be done on your computer's bundled software, like iMovie (for the Mac) or Windows Movie Maker (for the PC). If you'd like to experiment with more advanced editing techniques — and can fork over a few hundred dollars — Final Cut Express (for the Mac) or Sony Vegas (under $100) are good solutions. Adobe Premiere Pro is a higher-end option.
While several online editing sites have gone under in the past three years, a few remain and offer basic editing options:
• Jaycut.com (free)
• Motionbox.com (free)
• Moviemasher.com (free & open source)
• Kaltura offers an open-source video editing solution (they power the video portion of Wikipedia)
• Avid is also working a cloud based tool.
Do you know of others? Add your input in the comments below.
Publish
5When you're ready to publish, head over to YouTube, where there's already an audience looking for interesting content. YouTube has a free nonprofit program, complete with branding, fundraising options and other premium features. Vimeo, another publishing site, offers publishing with better quality (in our view) and a more sophisticated video library, but lacks the exposure YouTube gives. But be aware that not all video hosting sites have friendly terms of service.
Live-stream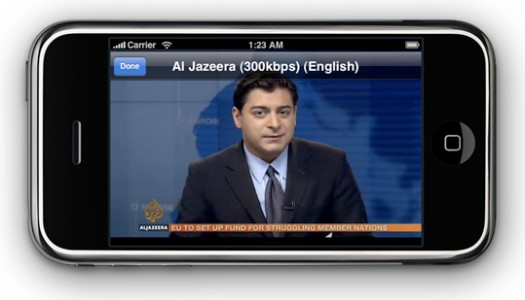 6If you're covering a live event, more often than not your viewers will be satisfied if you just offer live video streaming. While you can't live-stream with a Flip or Zi8, you can with a late-generation iPhone, many Nokia cell phones, your Webcam-enabled laptop and an assortment of Web cameras. The major streaming services let you live-stream a certain number of streams for free, and they archive it as well. Your viewers will also be able to interact with you during the event via video chat. Your best bets include:
• Livestrream.com lets you create an entire video production within the browser (the other services don't, David says, though you can use a software application like Wirecast to achieve the same effect)
• Ustream
• Kyte
• Qik
David's final word of advice: "Start with editing home movies, because no matter how bad they are, you audience will love them and you'll learn how to edit video."
Related
• Justgood.tv: Covering social good events (Socialbrite)
• How nonprofits should be using storytelling (Socialbrite)
• 30 Video Editing Software And Online Tools (Hongkiat)
• Video/movie editing options (Shambles.net)

This work is licensed under a Creative Commons Attribution-NonCommercial 3.0 Unported.