Help enterprising Colombia youths running an Internet cafe

Today is my birthday, and in the tradition of other social media strategists working in the nonprofit space like Beth Kanter (I wrote about her last birthday campaign in January) and Geoff Livingston, I'd like to ask your help in making the day special for some enterprising young people in Colombia.
But first a quick word of explanation. This post comes in two parts: this introductory fund-raising appeal, followed by an interview with the founder and CEO of Jolkona Foundation, which is running the campaign and scores of others like it.
Empower young entrepreneurs in Colombia's slums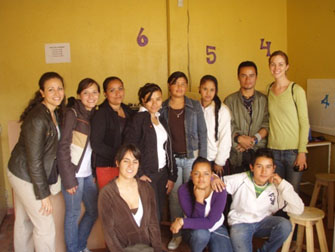 This is the first time I've ever directly asked my blog readers and followers on Twitter and Facebook to donate to a campaign of mine, though I've spotlighted dozens of worthy causes over the years. So, please donate here — looking for nine people to donate an average of $25. Details:
What: Support young people in the slums of Bogotá, Colombia, as they develop their own community internet cafe business, called MegaRed (pictured above). The cafe provides opportunities for young entrepreneurs to create a better future for their families while providing a safe and positive environment for young people at risk of being recruited or attacked by armed groups.
What's cool & different: Jolkona.org showcases scores of great causes to help out — and you get individualized feedback and progress reports on how your donation made a difference in people's lives.
How much: We're asking for $25, or whatever you can afford.
How: Click the Give button on this page. You'll be able to track their progress in the months ahead.
Thank you! Please retweet or Facebook it if you can.
Jolkona: One-to-one philanthropy
Imet Adnan Mahmud, co-founder and CEO of Jolkona, during Beth Kanter's book signing party for "The Networked Nonprofit" at TechSoup Global last month — and was immediately impressed by his seriousness and dedication to helping great causes through one-to-one philanthropy.
Support a library in Tibet that needs $50 to buy books, and you'll get the list of books purchased through your donation.
Jolkona is at the bleeding edge of this phenomenon, which will become an increasingly important part of charitable giving in the years ahead, as young people in particular want transparency, interaction and accountability when supporting a cause.
Adnan says Jolkona is the first nonprofit "to give tangible feedback on your donation." Kiva, which pioneered the technique, provides entrepreneurs with loans. And while nonprofits like charity:water and Global Giving often give updates on projects, Jolkona is positioning itself as a technology platform that enables one-to-one philanthropy for nonprofits of any size.
Watch, download or embed our interview on Vimeo
The year-old Jolkona — which means "drop of water" in Bengali (Adnan is a native of Bangladesh) — currently showcases 75 projects in 35 countries, including the United States.
Jolkona's premise is simple but powerful: Support a library in Tibet that needs $50 to buy books, and you'll get the list of the books purchased through your donation. Help people in Bangladesh and Myanmar get an artificial limb for $200 — $200! — and you'll receive a before and after photo. In Iraq, you can save a girl from an honor killing for $120: You get the story of the girl you saved, though for security reasons they can't supply a name or photo. And in the U.S., you can provide field trips to a classroom of disadvantaged children in Seattle.
In Iraq, you can save a girl from an honor killing for $120.
Says Adnan: "If you ask any nonprofit, Do you want to tell your supporters how their money was used, they'll all tell you, Yes I do. But they don't because they're strapped for resources. Jolkona decided to come in and provide that technical infrastructure.
"Our focus is on youth philanthropy," he adds. "We're focused on galvanizing this next generation of givers. We've seen the frustration of this generation — that they don't know where their money is going to. … We want people to feel that their [donation] can make a difference."
It does, and the Jolkona team has gone out of its way to provide transparency and dispel worries that surfaced after last year's revelation that Kiva wasn't being forthright about its donations process.
Jolkona is now accepting nonprofit partners, though there's a waiting queue. "If you are doing great work and are committed to showing impact, we are your best partners" as a platform solution, Adnan says.
JD Lasica, founder and former editor of Socialbrite, is co-founder of Cruiseable. Contact JD or follow him on Twitter or Google Plus.