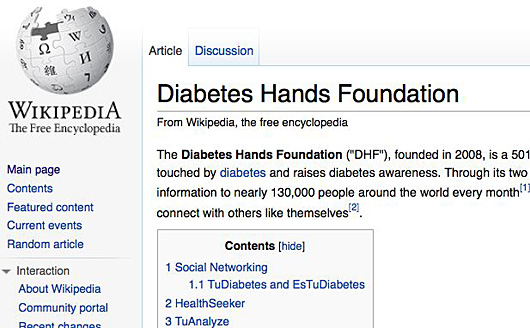 Guest post by Manny Hernandez
Diabetes Hands Foundation
After more than three years, the Diabetes Hands Foundation finally has a Wikipedia page. But it was a long, painful journey.
Because I couldn't find much when I Googled "Wikipedia nonprofits," I decided to share the lessons we learned so that you can begin on the right track to get your organization listed.
Build your reputation and 'notability' first
No matter how important you think your work is — and I am sure you are doing amazing things for others in the world — your organization needs to be notable, according to Wikipedia's guidelines, before it can be worthy for inclusion on Wikipedia. Quoting:
An organization is generally considered notable if it has been the subject of significant coverage in reliable, independent secondary sources. Trivial or incidental coverage of a subject by secondary sources is not sufficient to establish notability. All content must be verifiable.
Don't kill the messenger! This set the rules of their site and it's worked for them so far, though the jury is still out on this one. So, your blog? Not typically a reliable, independent secondary source. A passing mention in an article in your local newspaper? Not notable enough. If you come to think of it, these guidelines are what keeps the site as encyclopedic as it can hope to be.
Make the page about your organization, not your programs
Our earlier attempts at getting a Wikipedia page were focused on a page about TuDiabetes, the diabetes social network we run in English. As our first program, it got the most visibility at first and it got the most reliable (in our opinion) media coverage earlier. However, TuDiabetes, unlike Facebook or Google, is not a household name (at least not yet), and it isn't its own organization: It is a program of the Diabetes Hands Foundation.
The results when we posted a TuDiabetes page on Wikipedia in 2008 were disastrous. But I am going to let a screenshot of the page speak for itself:

Your Wikipedia page should encompass all your work. Not only will this be a more complete depiction of your work, it will also furnish you with more notable and reliable sources to insert as references on your page.
Let others write about you
This, to me, was one of the most puzzling things about getting a Wikipedia page started for a nonprofit or any other organization. One of the arguments we heard from Wikipedia in our first attempt to write our own page was that others had to write about us. It didn't dawn on me that this implied other media — reliable media, that is. It is not a problem for you to write your own page, but you have to make sure the reliable references are there and that you are writing about something bigger than a program you launched.
Last few tips
It helps to get a copy of a book like Wikipedia: The Missing Manual, but you don't need it as much these days as you used to back in 2008 when it first came out. Recently, Wikipedia has added new features that make creating and editing articles a lot easier.
Reputation management online is key, so make sure to watch your page. After you log in to Wikipedia, you will see a little star (it's blank by default) next to the View History link for the page. Click on it (which will turn the star blue) to have your page added to your Watchlist.
No matter how tempted you may feel to "trick" Wikipedia, don't do it. Don't waste your time or lose your account's credibility in the process. Stick to the Wikipedia guidelines and address the concerns they may have about your page when you post it in a timeline fashion. Respect their decision even if you dislike it. This doesn't mean you are not supposed to talk with them about your questions or ask for a more detailed explanation about a particular decision, but always do so in a respectful way.
Most important of all: Getting a Wikipedia page for your nonprofit is not a sprint. In the world of Web 2.0, this is as close to a marathon as it gets. Be patient and do your homework. It will pay off in the long run.
If you have any lessons you have learned from your experience with your Wikipedia page, I would love to hear them. Please post them in the comments below.
If you found this post useful, please consider making a tax-deductible donation to the Diabetes Hands Foundation.
Related
• Diabetes Hands Foundation as a networked nonprofit (Socialbrite)