New Media Rights: Know your online rights from JD Lasica on Vimeo.
Target audience: Online publishers, nonprofits, cause organizations, bloggers, podcasters.

If you work in online publishing, sooner or later you'll bump up against the laws surrounding the Internet and intellectual property.
Enter New Media Rights, a San Diego-based nonprofit that provides assistance regarding new media, technology and copyright issues and also promotes citizen media efforts. I recently sat down with the organization's communications and information officer, Mera Szendro Bok.
If you receive a DMCA takedown notice, if one of your properties aggregates content from other sites, if you have a question about how fair use applies to a specific situation, New Media Rights offers a hotline where you can get free legal advice: (619) 591-8870.
Watch, embed or download the video on Vimeo.
Cultivating investigative journalism and citizen media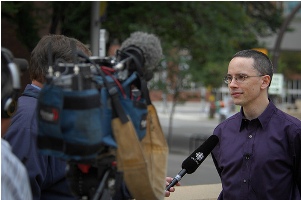 The nonprofit operates a public media studio helping local producers, who can get free access to a high-end Canon XL2 video camera, shotgun and lavalier microphones, a green screen, a dual-monitor G5 apple workstation, Final Cut Studio (including Motion, Soundtrack, and LiveType), as well as open-source programs for image editing, and video and audio capturing. See the NMR Declaration of a grassroots revolution. It's all part of the organization's efforts to promote community journalism and investigative reporting, especially at the local level.
New Media Rights also is working with the Mozilla Foundation to create Drumbeat San Diego (which I labeled San Diego Drumbeat in the video) to advance social activism, art projects and other community projects. The goal, they explain, is to create "a participatory event that will embody the best principles of Open Web, creating a venue for diverse groups to come together to discuss the future of the Internet, and advance projects that have an impact in our community and the broader world. Pitch a project, lend your skills, and get involved at Drumbeat."
"It's important that people be able to innovate and create new services," Mera says. "I'm interested in creating more diversity of voices on television, on the Internet," and 3-year-old New Media Rights is now a key player in the conversation around Internet governance.
I'm enormously grateful to Mera and her colleagues at New Media Rights for playing such a pivotal role in protecting our online freedoms and advancing citizen media.
The interview took place at last month's Blogworld Expo in Las Vegas. I apologize for the poor lighting and all the noise in the background (note to self: next time find an empty room).
Additional legal resources for online publishers
• New Media Rights publishes how-to and legal guides for online publishers.
• See Socialbrite's rich roundup of resources related to grass­roots media and the law, including articles and tutorials on your rights as a photographer and videographer, whether you need your video subjects to sign a model release form and other materials.
• Also see Socialbrite's best-on-the-Web direc­to­ries of free pho­tos, free music and free video footage.
• See the Mid-Peninsula Community Media Center, south of San Francisco, and the Open Media Foundation/Denver Open Media for two more grassroots media production studios.
• The Electronic Frontier Foundation has long been defending digital rights and civil liberties in the online world.
• Why isn't law part of the social media conversation? (Socialmedia.biz)
If you know of other legal resources or grassroots media studios for online publishers, please add them in the comments below.JD Lasica, founder and former editor of Socialbrite, is co-founder of Cruiseable. Contact JD or follow him on Twitter or Google Plus.

This work is licensed under a Creative Commons Attribution 3.0 Unported.