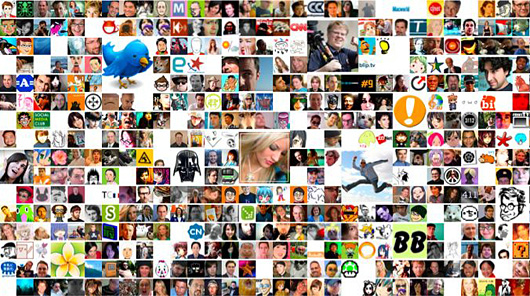 A screenshot of the TwitterPoster visual application. (Image by mil8)
Are your online efforts getting traction? Start your metrics engines!
Target audience: Nonprofits, brands, businesses, foundations, NGOs, cause & community organizations, Web publishers, educators, individuals. In this series:
• Getting started with social media metrics
• How to measure your nonprofit's social media success
• Guide to social media metrics (main page)

Congratulations, you've jumped into the social media waters, and it feels pretty nice. Now what?
Your social media plan — if you have one — should consist of goal-setting, implementation and measuring, among other things. That last part, metrics, is frequently overlooked, partly because the tools for measuring are still maturing and partly because there's no clear agreement over what to measure. (For our suggestions, see How to measure your nonprofit's social media success.)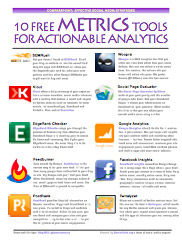 Not all tools measure the same kinds of things, so you may find several of these useful for your efforts. In addition, some are useful for measuring your blog's or website's reach, while others assess your mojo on a particular social network. Our criteria? The tool must be useful, free (freemium versions are allowed) and we had to use it ourselves.
We've condensed the list below into a one-page printable handout: 10 Free Metrics Tools for Actionable Analytics.
Here, then, are 14 free tools to measure your organization's impact in social media and on the Web. Please add your own favorites in the comments!

Other tools worth a look
Here are some other metrics tools we like. Not all of them are free:
Seoquake
Seoquake is a powerful tool for Mozilla Firefox, aimed at helping web publishers who deal with search engine optimization and Internet promotion of websites. Seoquake allows users to assess important SEO parameters of an Internet project on the fly.
Social Report
Social Report offers a social network performance tracking, monitoring and reporting tool. It comes with a 30-day trial and prices starting at just $9/month.
Foursquare & Yelp
Foursquare and Yelp provide business dashboards that have the ability to review check-in data and other metrics.
Technorati & BlogPulse
Technorati and BlogPulse are blog search engines. Look for metrics around bloggers' influence and authority.
Google Trends
Google Trends provides information on Web search trends around key terms and topics. It shows how often your topics have appeared in Google News stories and in which geographic region people have searched for them the most.
Xinureturns
Xinureturns provides a dashboard overview of your site's standing in social media. Run a report and you'll receive information on Technorati, Googe PageRank, Diggs and even backlinks to your website.
Tribe Monitor
Tribe Monitor is a social statistics aggregator that helps yo keep track of your fan base on Twitter, Facebook, YouTube and more.
In this series on Socialbrite
• Getting started with social media metrics
• How to measure your social media success
• 14 free tools to measure your social influence
• Guide to social media metrics (main page)
Related
• Klout: Measure your Twitter influence (Socialbrite)
• 11 stats you need to measure on your Facebook Page (Socialbrite)
• How to measure Facebook Page fan growth and engagement (Socialbrite)
• 3 killer tools to measure your Facebook clout (Socialbrite)
• Jason Falls has a roundup of Influencer identification tools — chiefly paid-subscription tools and mostly centering on Twitter.JD Lasica, founder and former editor of Socialbrite, is co-founder of Cruiseable. Contact JD or follow him on Twitter or Google Plus.

This work is licensed under a Creative Commons Attribution 3.0 Unported.