In late March, Google announced the arrival of its version of the "Like" button, the +1 button, and the world waited to find out what that would really mean. With the launch of Google Plus, it's pretty clear that "+1″ and Google Plus, Google's brand new social network, are Google's play for  social graph domination. While Google Plus has been all the rage the past two weeks, one overlooked point is how the +1 button will change the way we search, interact with search results and use the Web in the future.
Google holds about 64 percent of the total search market. Though Google lost some market share last year to Bing, this should change with the use of Google's +1 button. In fact, a recent study of 10,000 of the Web's largest sites found a 33 percent surge in the number of sites adopting +1 in the last few weeks.
What is the +1 button?
In its simplest form, +1 is a button for individuals to publicly share what content they enjoy on the Web. As explained by Google:
"+1'ing is a public action. Anyone on the web can potentially see that you've +1'd content when they're searching on Google or viewing content you've +1'd. For this reason, you should only +1 pages when you're comfortable sharing your recommendation with the world.

Your +1's may appear to anyone who sees the pages you've +1'd. However, we'll try to display your +1's to people (specifically those in your social connections) who would find them most useful. Similarly, the +1's you see will typically be from people in your social connections."
Google has moved big time into the social search market
Google's +1 button works, in theory, similarly to Facebook's Like button. When you are logged into Google, you will see what others have "plussed" around the Web. If you are logged in and searching for content using Google search, you will see what content your friends on Google have plussed. If a friend has plussed a piece of content on another site, his or her name will will show up next to that specific website in search returns. Within Google's search returns itself you can +1 any search return by clicking on the +1 button next to or below a certain return (faded until you place the cursor over it). Additionally, the total number of +1s on a website will appear next to Google ads for that site.
Simply put, Google is showing you how your friends are using the Web.

At this time, it's not possible to see who, specifically, has plussed content on the Web while on someone's site. I'm sure a +1 button is already in development that will include the faces and names of friends who have plussed the content. However, for now, it's just a plain button that shows the number of +1s of each piece of content.
When someone has plussed content, it appears within the "+1″ tab on his or her Google profile.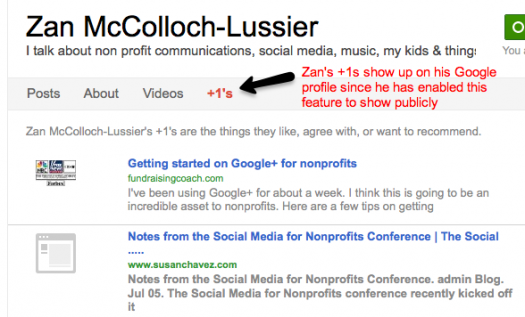 Google really does know all your friends
Your "social connections" include anyone in your Gmail or Google talk chat list, people in your Google Plus Circles, people in your Google Reader, Google Buzz, and Google Contacts. It's not hard to see how easily this list can expand to include your YouTube friends (Google owns YouTube), those with whom you've shared your Picasa album (yep, Google owns Picasa), your Google voice contacts, anyone in a Google group with you, anyone you've shared a Google document with … etc. In other words, Google is poised to be just as big a player in social search returns as Facebook. Possibly even bigger. Google handles 1 billion searches daily.
How will +1 affect website search and rank?
It's clear that Google will factor the +1 into its algorithm of search results. According to Google's +1 FAQ:
"+1's from friends and contacts can be a useful signal to Google when determining the relevance of your page to a user's query. This is just one of many signals Google may use to determine a page's relevance and ranking, and we're constantly tweaking and improving our algorithm to improve overall search quality. For +1′s, as with any new ranking signal, we'll be starting carefully and learning how those signals affect search quality."
No doubt Google's +1 button will affect search ranking.
I also think it's only a matter of time before Google begins searching Google Plus public comments and returning them as real time search results. For example, when you search "Boston Red Sox," Google would include what your friends are saying publicly about the Red Sox on Google Plus within the search results. You'd even see which of your friends are talking about the Sox's fabulous season this year.
This seems ever more likely since Google dropped real time search July 4 when its agreement to show Twitter in real time search expired, just a few days after Google launched Google Plus. "Search by what your friends are saying now" is just a few iterations away.
Taken a step further, what you "plus" on the Web will ultimately affect what you will see within Google search, what all of your connections will see, and how the world may perceive you.
What are you thoughts on the +1 button?
Republished from Community Organizer 2.0.

This work is licensed under a Creative Commons Attribution-NonCommercial 3.0 Unported.