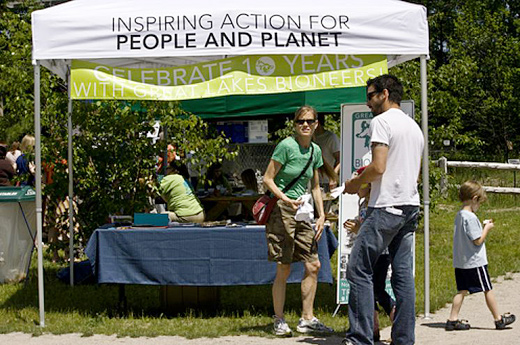 Bioneers takes places Oct. 14-16 in San Rafael, Calif.
Events guide for nonprofits & social change organizations

We're now in full-on conference mode. What events are you planning to attend this month? Anybody going to the first SXSW Eco? Here's a roundup of conferences and events scheduled in the nonprofit and social change sectors for the month of October. I'll be speaking at Blackbaud's BBCon just outside Washington, DC, tomorrow.
For the full year, see our Calendar of 2011 social change conferences. If you're interested in social media, tech and marketing conferences, see this month's calendar on our sister site, Socialmedia.biz.
If you know of other events, please share by adding the info in the comments below.
| | | |
| --- | --- | --- |
| October | | |
| Blackbaud Conference for Nonprofits | Oct. 2-5 | Washington, DC |
| The gathering provides four days of educational content dedicated to your specific needs and unprecedented opportunities to network and interact with your peers and industry experts | | |
| Convio Summit | Oct. 3-5 | Baltimore |
| Convio Summit is an information-packed gathering of Convio clients, partners, industry experts and other invited guests. It's an event filled with innovative ideas to get your creativity flowing, with real-world examples of techniques that you can start using right away to boost your fundraising, advocacy, marketing and donor management efforts. | | |
| SXSW Eco | Oct. 4-6 | Austin, Texas |
| The first SXSW Eco will feature three days of diverse, top-level programming for professionals in business, government, nonprofits and academia who want to look at environmental and sustainability issues though a fresh lens, develop new collaborations and contribute to innovative solutions to the most pressing challenges facing the environment, the economy and civil society. | | |
| Retail Sustainability Conference | Oct. 12-14 | Orlando, Fla. |
| The Retail Sustainability Conference brings together executives involved in establishing environmental programs and integrating green practices into their companies. The conference's program will address the key operational aspects of environmental sustainability and compliance for the retail industry, including sessions on energy, waste management, water conservation, store operations, real estate development, supply chain issues and opportunities for improving corporate social responsibility. | | |
| Bioneers Conference | Oct. 14-16 | San Rafael, Calif. |
| Since 1990, the Bioneers conference has acted as a fertile hub of leading social and scientific innovators with practical and visionary solutions for the world's most pressing environmental and social challenges. As a celebration of the genius of nature and human creativity, Bioneers connects people with solutions and each other. It's a dynamic knowledge platform and a uniquely holistic and diverse network of networks. | | |
| fiess 2011 | Oct. 17-20 | Montreal |
| This forum is intended as a meeting place for people and ideas. The event aims to bring together key players in the social and solidarity economy from countries across the North and South and their partners in government, labor movements, research institutes and international organizations, to help strengthen partnerships between civil society and governments, to highlight successful partnerships, particularly in the development of public policy, and to encourage the exchange of ideas around the theme of the social and solidarity economy at the international and inter-regional level. | | |
| Pop!Tech | Oct. 19-22 | Camden, Maine |
| Pop!Tech will mark its 15th annual gathering with more than 600 remarkable thinkers, leaders and innovators showcasing powerful ideas and projects that are changing the world. I attended one year — it's a great gathering. | | |
| Social Venture Network | Oct. 27-30 | Philadelphia |
| Social Venture Network connects, supports and inspires business leaders and social entrepreneurs in expanding practices that build a just and sustainable economy. | | |
| Social Enterprise Summit | Oct 31-Nov 2 | Chicago |
| This international forum advocates for increased social impact through social enterprise. Join over 700 social entrepreneurs to learn, grow, be inspired, make new connections from around the globe and become part of this expanding movement. | | |
JD Lasica, founder and former editor of Socialbrite, is co-founder of Cruiseable. Contact JD or follow him on Twitter or Google Plus.

This work is licensed under a Creative Commons Attribution 3.0 Unported.