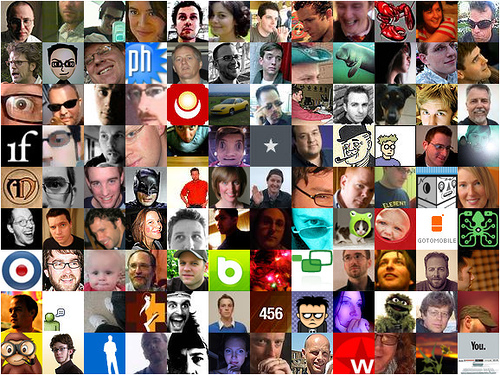 Image by Nano Taboada on Flickr
Don't overlook the visual component of social media marketing
Target audience: Nonprofits, cause organizations, social enterprises, social media managers, marketing professionals, businesses, brands, Web publishers, photographers.
Guest post by Karissa Van Hooser
Marketing associate, Walker Sands Communications
It seems as though everyone is looking for creative ways to engage their audiences through social media. When social media experts develop a campaign, however, many turn to the usual outlets, Twitter and Facebook, with good reason. These social media outlets reach a large, engaged audience.
Flickr, on the other hand, is an often overlooked but effective social network where the emphasis is on visuals: photos and short video clips. Here are a few reasons why you should add Flickr to your next social media campaign.
People are visual
1You're able to tell a story in a way you can't through other mediums. Let's face it: people like to look at pictures. Plus, the change of scenery is nice. Most people, when browsing online, typically stare at text; mix it up to create more ways to engage with and inform your audience.
You can share your photo stream
2The Flickr community is not the only place where people can see the photos you post to the site. Flickr makes it easy to share photos across all social media platforms.
It's good for searches
3The tags you assign to your photos are used in search. This allows people with your interests to more easily find you, and enables your audience to grow beyond people who already know about your brand.
Higher picture quality
4Picture quality is much higher on Flickr than any other social media platform. On Flickr, you will have fewer grainy images, and your presentations will be much sharper.
Creative Commons
5Flickr provides a safe platform for pictures. They offer creative commons, which means you pick the stringency of your copyright. This feature can give you peace of mind that others aren't using (or misusing) photos without your permission. This is something you don't always get with other social media platforms.
You can start discussions
6Flickr allows you to create groups and comments, just like all other social platforms. Although the focus is on photographs and videos, people are still interacting with each other – and could be interacting around images and videos of your brand or client.
Now, go get a Flickr account and let the fun begin!
Karissa Van Hooser
is an interactive marketing associate at Walker Sands Communications, a marketing, design, SEO and public relations firm. Reach Karissa at
[email protected]
or visit the Walker Sands blog,
FootPrints
.

This work is licensed under a Creative Commons Attribution-NonCommercial 3.0 Unported.