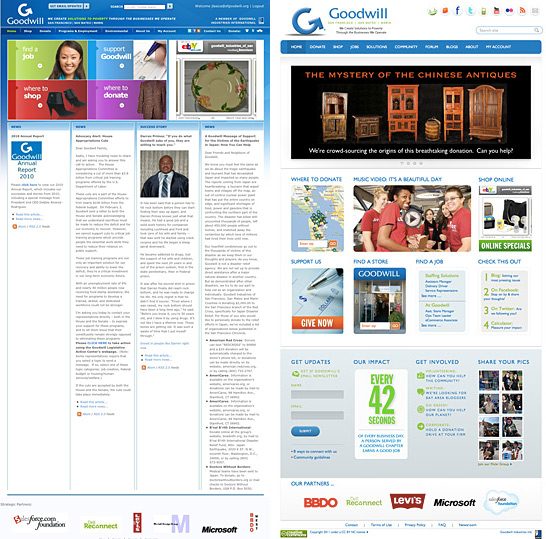 Before and after: sfgoodwill.org (click through to see new site).
SF Goodwill's big leap forward in outreach to the community

Last spring, Goodwill Industries of San Francisco, San Mateo and Marin Counties reached out to Socialbrite to help the venerable nonprofit social enterprise take some big steps forward in becoming a more social organization — one that engages with the community and a new generation of supporters as it moves toward its 100th year of service in the Bay Area.
A few days ago SF Goodwill launched a top-to-bottom new website at sfgoodwill.org as well as two new blogs, Bay Area Impact and Seismic Thrift — all as part of a WordPress network. The undertaking was ambitious, replacing a largely static brochureware-style site built on a .NET framework with a more dynamic website and a set of community blogs that require continual care and feeding.
I hope you'll agree the new site is worlds away superior to what came before (see before and after images at top). The look is busier than in an ideal world, but Goodwill has an enormous number of moving parts. What would you have done differently? It's still a work in progress.
It's been a frenetic few months of project management, so this is a good time to pause, take a breath and provide a quick update so that other nonprofits and social businesses can take away some lessons for our experience.
10 lessons learned and decisions made
Here are 10 lessons we learned and decisions made in going social:
1Go all in. A lot of organizations want to tinker at the edges but are scared of more deep-seated change. SF Goodwill seemed open to institutional change that required new approaches and new thinking about how various parts of the organization interact with the public — and across departmental silos. Change is hard, so if you're committed to it, make it happen across the organization. Be open to multiple initiatives.
2Create a plan with buy-in from top management. We began this process by spending several weeks learning about the organization, its culture, internal processes and business goals before crafting a 40-page Communications Strategic Plan. The plan received buy-in from the executive team and has been taking root in different corners of the organization. You need a commitment from the top leadership to mobilize a nonprofit with more than 600 employees when it comes to embracing social media.
3Set the ground rules. Today we're unveiling to the staff a set of Community and social media guidelines. Rather than come up with a set of "thou shalt not" commandments, the new policy outlines opportunities for engagement with the community.
4Tell stories. SF Goodwill has hundreds of amazing stories to tell, but hasn't had a good vehicle for conveying them. With two new blogs, a YouTube channel and Facebook page, the team is on its way, beginning with Cory Dixson: Inspiring others to get back on track, Finding a place in the hearts of the people we serve and CEO Debbie Alvarez-Rodriguez beginning a series of videos on how to solve society's most pressing issues.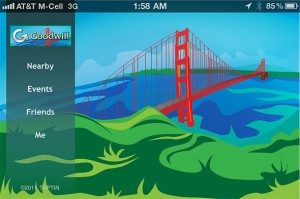 5Have an aligned strategy. Social media works when it's not stuffed into a marketing or communications silo but integrated into other areas of the operation: development, people services, fundraising, employer relations and more. SF Goodwill will soon launch its first email newsletters, drawing from diverse parts of the organization.
6Identify and train your internal champions. If you're launching a new media or social media initiative, take an inventory of your team members' skills. Who's good at photography, video, writing? Who's adept at Facebook or Twitter? Who can help with campaigns? At SF Goodwill we created a Blog Squad to kick things off, with lots more on tap.
7Don't do all the heavy lifting. Goodwill has an amazing array of partners in the community, including a local university interested in a multimedia collaboration in 2012. Also: They're now soliciting guest blog posts and inviting organizations to submit events to the new Community events calendar. just getting going, though.
8Create a measurement program. We have Google Analytics set up on all three sites, along with other metrics tools we're starting to use.
9Embrace open. I was jazzed to see how quickly SF Goodwill embraced the idea of open source WordPress blogs, Creative Commons licensing — and even used crowdSPRING to award a winning design for its new mobile app.
10Go mobile. Socialbrite worked with SF Goodwill and a mobile app developer, Taptin, to develop a Goodwill Bay Area app due to debut later this month.
SF Goodwill, one of more than 160 Goodwill chapters, is not your typical nonprofit — it's a business fueled by donations from the community. The organization is learning along the way and fully expects to make course corrections as it moves deeper into this new social terrain. But they're committed to conversational approaches over the long term.
Disclosure: Socialbrite continues to work with SF Goodwill, and I serve in the role of social media coordinator and adviser.JD Lasica, founder and former editor of Socialbrite, is co-founder of Cruiseable. Contact JD or follow him on Twitter or Google Plus.

This work is licensed under a Creative Commons Attribution 3.0 Unported.