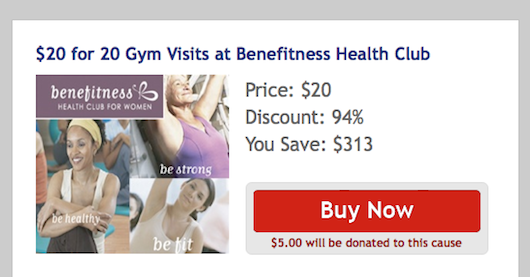 Online deal offered to donors through GoodTwo by Boston Marathon Jimmy Fund Walk.
Discover an easy way to fundraise by rewarding your donors with online deals
Target audience: Nonprofits, NGOs, cause organizations, social enterprises, businesses, brands, educators, community organizations, fundraising professionals, individuals.
Guest post by Kristen Elworthy
Director of Marketing & Publicity, GoodTwo
It's a challenge that every nonprofit, school and community organization faces in a soft economy: donor money is more necessary than ever, but many donors are reducing the size of their gifts or the number of organizations they support.
Solution: make it worth the donor's while to contribute to your cause. GoodTwo is a fundraising platform that rewards donors with great deals and offers from businesses (think online deal sites like Groupon and LivingSocial) while also generating donations for fundraisers. We provide a way for fundraisers to connect with their donors by giving something back.
How it works
GoodTwo works with a variety of brands across the country to create great offers that have a built-in donation to a cause in each sale.
Causes like yours come to www.goodtwo.com and sign up for a free fundraiser. It takes about five minutes to create your GoodTwo page.
Select from all of the deals that we have available across the country, based on the ones that your donors would like best.
Promote your page using our built-in e-mail, Facebook and Twitter tools. Every time one of your donors buys one of the deals, they save money and you get a donation!
Two-in-one cause marketing
You're probably faced with hundreds of different fundraising programs every year, so the big question is: Why GoodTwo? Sure, it's a free program, but what makes it worth being part of your fundraising cycle? The simple answer is that it's a fresh new take on a cause marketing fundraiser and it gives you the rare opportunity to thank your donors while also getting valuable contributions to your cause.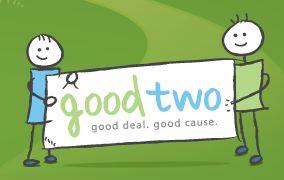 For example, imagine receiving an e-mail from an organization that thanks you for your support — be it time, treasure, or talent — by offering you a $50 gift card at a popular restaurant for just $30, or a two-night stay at an upscale hotel chain for $200. That's a great deal and a fantastic thank you, but what's even better is that a portion of either of those deals (typically 25%) will go back to your cause, giving your donor a chance to feel thanked by you and to continue to invest in your organization.
How to achieve effective fundraising with GoodTwo
We often get questions about what type of organization GoodTwo is best for, and our answer is that it's an effective fundraiser for anyone looking to reach their supporters online via Facebook, e-mail or Twitter. From individuals walking, running or riding for a cause, to large organizations that execute massive e-mail campaigns, GoodTwo is a flexible campaign that can really fit into any fundraising style.
We work with Run Walk Ride events like The Jimmy Fund Walk to create easily customizable campaigns for their individual participants. If you're a large organization that would like to set up a landing page for your participants to create their own GoodTwo fundraisers, you can do that as well. Read more information on our Organizer's page, or e-mail [email protected].
Any other fundraisers can go directly to our signup page and create their own custom fundraiser in just a couple of minutes. Some of the areas we serve are schools (including PTOs, PTAs and sports teams), animal welfare and animal rescue groups, community causes and many others.
We hope you'll check out the fundraising tools available on GoodTwo. If you have any questions, you can e-mail us at [email protected].

This work is licensed under a Creative Commons Attribution-NonCommercial 3.0 Unported.