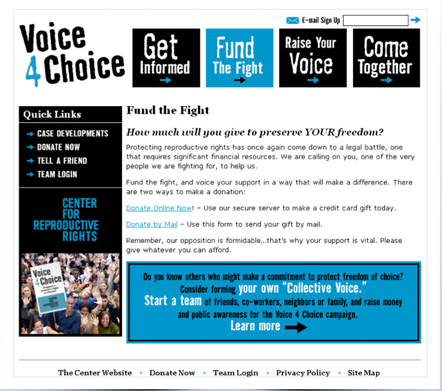 Microsite built for The Center for Reproductive Rights by SankyNet.
Microsites can be a powerful tool for online fundraising and marketing
Target audience: Nonprofits, NGOs, cause organizations, social enterprises, brands, foundations, educators, Web publishers, creative directors.
Guest post by Carla Chadwick
Creative director, SankyNet

Let's face it: Nonprofit websites often suffer from multiple personality disorder.
There's the "program" side that wants to tell you all the amazing ways your programs help save homeless pets, feed the hungry, find cures, protect our children, or empower women. There's the "events" side that must sell tickets. And don't forget the "communications" side, whose press releases and news items help raise awareness. While often a complicated web of messaging, it's a necessary evil when many departments must relay information using a single corporate website.
So as fundraisers, how can we tell the real story – expose the true heart of an organization – when our messaging is only one part of a huge multi-dimensional website? The answer is simple: Create a microsite that allows you to focus on a particular topic, present specific calls to action and, with the help of social media, reach large numbers of people much more quickly than a traditional website.
When done correctly, a microsite can be one of the most powerful storytelling tools available to fundraisers. But don't take my word for it, here are some examples of wonderful and highly effective microsites.
3 examples of successful nonprofit microsites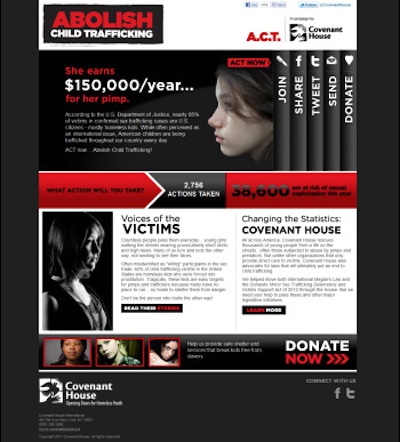 1Covenant House is the largest privately funded agency in the Americas providing food, shelter, crisis care and essential services to homeless and at-risk kids. In an effort to mobilize their existing activists and acquire new ones, Covenant House developed a microsite that digs deep into the issue of domestic child trafficking.
Through the stories of four young victims, the A.C.T. microsite raises awareness of a crisis that affects thousands of American kids each year and issues an urgent call to action. Clear, concise information, bold statistics and striking graphics help further engage the audience and dispel the misconception that human trafficking is a trend confined to foreign soil.
While the content makes a strong case for giving, the main goal of this campaign is to use the broad reach of Facebook, Twitter, email and free infographics to help raise awareness. There is a valuable lesson to be learned in this strategy. Microsites do not have to be used solely for fundraising. Even though microsites cost money to develop, there are times when building a solid warm-prospect list is a legitimate goal that deserves the investment.
NAACP Legal Defense and Education Fund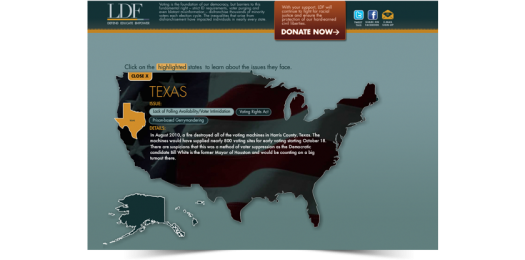 2Problem: How do you educate people about racism in the post-Obama era? For the Legal Defense and Education Fund (LDF), America's first and foremost civil rights legal organization, the solution had to be educational, factually accurate and, most importantly, compelling enough to remind people that the fight for equality is not over.
LDF decided to tell the story of minority Americans – in 38 states across the country – who still face obstacles at the voting booth. Their microsite revealed documented, widespread threats to voting rights in America and effectively weaved localized challenges into a broad picture of the problem.
Any one of these local challenges may be too small to spark a national call to action, but when combined, they serve to rally a renewed commitment from LDF's constituency.
This microsite allowed LDF to take a complex issue like voting rights and break it down into small, easy-to-understand pieces. The site also enabled the Legal Defense and Education Fund to break out of its normal website messaging mode and dig deeper, providing more detail, substance and emotion. The Voting Rights microsite shows that often the greatest impact is made with a singularly focused story.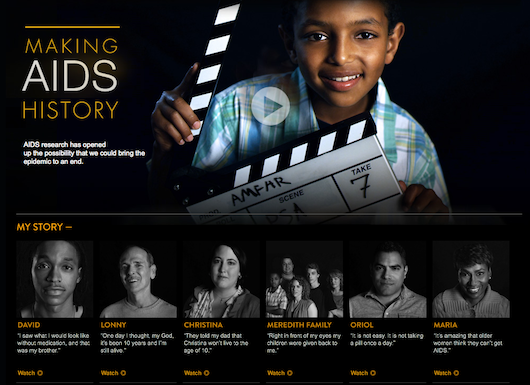 3Dedicated to ending the global AIDS epidemic, American Foundation for AIDS Research (amfAR) has invested nearly $325 million in innovative research and awarded grants to more than 2,000 research teams since 1985. It has increased the world's understanding of HIV and helped lay the groundwork for major advances in the study and treatment of HIV/AIDS.
While finding a cure for AIDS is the driving force behind amfAR's work, their motivation comes from the sum of 50 million personal stories of heartache, courage and triumph over adversity. To help mark the 25th anniversary of their founding, amfAR decided to share a handful of these stories on the Making AIDS History microsite. With compelling video and a simple call to action – a $25 gift in recognition of amfAR's 25 years – this microsite encourages a renewed, collective commitment to the organization.
Making AIDS History is an example of how a microsite can complement its parent site and act as a powerful fundraising tool at the same time. While the main website establishes amfAR as a world leader in HIV/AIDS research, their microsite connects donors to the people who have benefited from the research.
Is a microsite right for your organization?
There is no question that microsites allow you to effectively tell the story of a single compelling issue – one that is important to your organization and the people you serve. They can easily take off, gathering new supporters for your cause and generating many types of action. They are also just as effective for mobilizing your existing base and serve as a starting point for engaging people in social media conversations.
Only use microsites when you have something urgent to say, when you feel a specific topic or area deserves specialized attention and when you're willing to set aside your messaging
But don't jump on the microsite bandwagon just because other nonprofits are doing it – make sure you put some careful planning in before deciding if a microsite is right for your organization.
Only use microsites when you have something urgent to say, when you feel a specific topic or area deserves specialized attention and when you're willing to set aside or reduce your core messaging. It's true that microsites allow you the freedom to break away from your normal brand – but remember, you have to give a microsite as much attention to detail as you would a flagship site. You need to create a good design, you need to do keyword research and SEO, you need functional/practical on-site navigation and ultimately you need to have a compelling story to tell.
We are all looking for innovative ways to reactivate our existing audiences and cultivate new ones. The more we can provide constituents with interactive ways to connect with us, the better we will be in growing our communities. While microsites are an investment, they are a powerful tool in the new age of online fundraising and marketing.
Has your organization had success in building a microsite? Please share your experience in the comments.
Carla Chadwick
develops innovative, creative strategies for dozens of nonprofits and oversees
SankyNet
's creative team on a broad spectrum of online marketing, fundraising and branding projects. This article
originally appeared
on the NTEN blog and is republished with permission.

This work is licensed under a Creative Commons Attribution-NonCommercial 3.0 Unported.