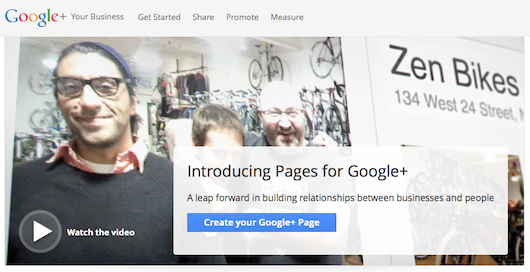 "
A look at the significance of Google+ Pages for brands
Target audience: Nonprofits, NGOs, cause organizations, social enterprises, brands, businesses, social media managers, Web publishers, individuals.
Google+ launched Pages last week, a move many of us have been looking forward to since the launch of Google+ itself. Within days, stories of unintentional G+ personal posting, problems sharing admin oversight, and issues with merged profiles were shared on the web. However, during that same time frame, hundreds of nonprofit organizations worldwide created and launched Google+ brand pages.
Google+ Pages are little SEO beacon lights
Two nonprofit motivations are apparent. A primary motivation seems to be related to search engine optimization: Google is the largest search engine by far, and Google Pages will certainly benefit from Google's search algorithm (see why). I wrote that Google's+1 button will change search, and so will Google+ Pages. The second motivation seems to be that everyone wants to get in on Google+ Pages early enough to start figuring out the medium. And maybe get a head start.
Does using Google+ Pages makes sense for your nonprofit?
Strategy: Think strategically about what the conversation should be about on Google+, how you might use Google+ to meet your SMART goals, and how it will help your organization further its mission.
In her blog post, Beth Kanter suggests that nonprofits might want to think about strategic ways to use their Google+ Pages, such as for community cultivation or as a focus group. Are you a resource-driven organization? Make your page the "go-to" resource. Are you an advocacy organization? Engage with your G+ Page fans, find out why they are so passionate about your nonprofit or a cause, and move them to action. Are you a volunteer organization? Make this the place where people share volunteer opportunities and experiences. Have fun thinking about Google+ features, your own objectives, and how you can use those to meet your goals!
People: Who's on Google+ now? Seven of the top ten professions on Google+ are computer-related and most users are men, according to this infographic. Keeping in mind that G+ is not widely used (yet), think about whether or not your stakeholders are there. Does it make sense to be there now? Do you want to spend resources on it at this time?  It may make sense to be there to experiment and learn about the platform, or it may not. For Social Capital, Inc., opening a G+ Page makes a lot of sense because it integrates technology into its programming. For others, waiting a bit longer may make the most sense.
Other perspectives about the new Google+ Pages
I curated a series of blog posts and articles about the new Google+ Pages, including thoughts about the pros, cons, and considerations around using G+ Pages (see below). You may also view this directly on Storify.
What are your initial thoughts about Google+ Pages?

This work is licensed under a Creative Commons Attribution-NonCommercial 3.0 Unported.