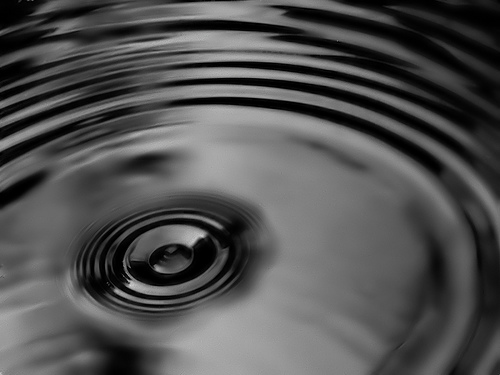 Target audience: Nonprofits, foundations, social enterprises, cause organizations, NGOs, brands, businesses, Web publishers, educators, journalists, general public.
This post appeared originally on the ComMetrics blog.
Google+ rolled out its Ripples feature a few weeks ago, with just a hint of data potential within Google+ for marketing and engagement. Google+ Ripples is really the first set of metrics we've seen from Google around Google+. It's not enough, of course, but worth parsing because it hints at what is to come from Google. It also offers Google+ users relevant information about the use of circles, G+ influence, and how data is spread.
What is Ripples?
Ripples is the data visualization over time of how your posts are shared: when, by whom, and to whom. Once a post has been shared even once, an option to view the Ripple will appear in the drop-down menu to the right of the post. Google adds a time stamp video to Ripples that visually shows the spread of a post over time. Quite simply, it shows the "ripple effect" of the content that you post.
Why is it important? It's all about moving people to action
Know your influencers
1Whether you work for a nonprofit or a brand, you want to know how your social media activities can move supporters, followers, and fans to action. Ripples tells you who among your followers has real influence that moves people to act. This is especially important when thinking about campaigns and audience segmentation.
For example, I posted a link to a ComMetrics story about Google+ brand pages to my Google+ profile. It was shared six times (five public shares and one private or limited share).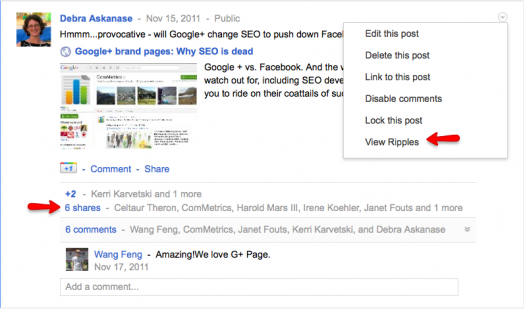 Visually, Ripples shows that Janet Fouts was the most influential sharer of this post, since she influenced three other shares. What does that tell me? It tells me that Janet is interested in this type of information, that she can influence others to share, and that she may be influential within other social networks as well. If I were a running an organization, I'd find out more about my strongest Ripple influencers, create new circles for influencers, and further segment influencers by their areas of interest. (For a view of an incredible Ripple, check out a Ripple started by the Dalai Lama.)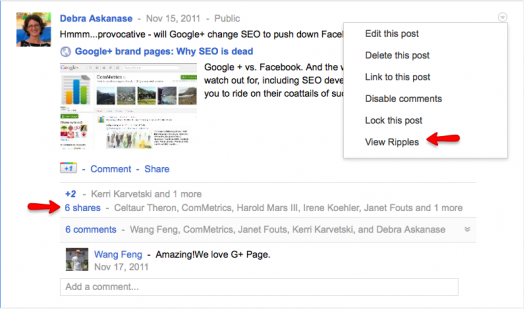 Find new influencers
2If you know who your audience is, use Ripples to find new fans and supporters. Start with your known "superfans," those hwo love you and share your information on other social media channels or platforms. Look at who is sharing your superfans' posts, find those influencers, and circle them. Cultivate those "friends of friends" by thanking them, mentioning them in posts, and asking for comments.
Is there someone you are trying to reach? Find them on Google+ and find out who influences them by looking at their re-shares. Are you trying to find new fans? Search for a hashtag on Google+ and look for posts that have a lot of shares. Also, don't be afraid to tag Google+ users in a post, if you really want to engage them. Social media is all about engagement, so find those you want to know, circle them, and engage them in a real way through conversation and sharing of their posts.
Know what people want to share: Content feedback loop
3Knowing what people want to share is highly valuable information. What news resonates deeply with your stakeholders? What posts will spread more awareness about your cause, brand, or products? What types of posts appeal to which audiences? This information will help you further segment your marketing, identify niches, and refine your messaging.
Be aware, however, that Ripples illustrates only one aspect of content feedback: what people want to share publicly. Ripples will not show what people want to talk about, either. A post may have 23 comments but no shares. Another post may have 15 shares, but they are private or limited shares that are not viewable as Ripples. If your organization deals with sensitive issues, the latter may be the case. If your SMART goal is deep follower and fan engagement, then your strategy is to generate more comments than shares.
Look to a future Google+ search algorithm
4On Facebook, highly shared content is a significant part of EdgeRank, the algorithm Facebook uses to determine how prominently posts will be seen within fans' individual newsfeeds. Currently the Google+ news stream algorithm is real time. However, I wouldn't rule out a similar algorithm to Facebook's in the future. I also wouldn't rule out how high your post shows up within a Google+ search or a Google search in the future.
Don't forget the power of clicks
5Google+ is an important part of Google's SEO strategy, affecting the future of search. According to Google+ Ad guy Christian Oestlien, 77 percent of brand-centered content is being shared by users and not brands. Moreover, click-through rates on a search result actually go up when users can see their friends' faces next to a search result. If your strategy involves driving your fans to a website, then shares of your content must be an integral part of your overall social media strategy. Google+ posts appear in Google's social search results, and those influential faces next to them will certainly influence clicks.
Related
• How to create a Google Plus business page (Socialbrite)
• Tips for your nonprofit to succeed with Google Plus business pages (Socialbrite)
• First impressions of Google+ Pages for nonprofits (Socialbrite)
• How to use Google+ for your nonprofit (Shelly Kramer)
• Google+ for nonprofits curated Scoop.it topic
Image at top courtesy of mdezemery, Flickr Creative Commons

This work is licensed under a Creative Commons Attribution-NonCommercial 3.0 Unported.