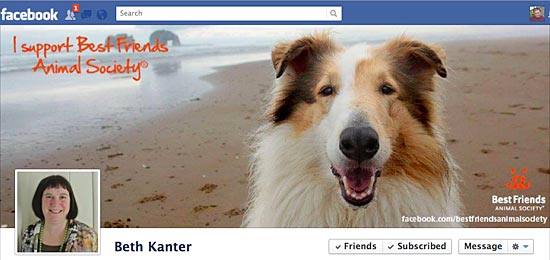 By now you're probably aware that your personal Facebook profile has been upgraded to the new Timeline layout, which features a large image, or cover, at the very top.
Nonprofits and organizations don't yet have the ability to create their own Timeline or use the new layout features — but their supporters can. Many organizations, like the Best Friends Animal Society, or Ocean Conservancy, are creating covers that supporters can use on their Timeline on behalf of the nonprofit. See the example Beth Kanter is using above; she was touting the Ocean Conservancy last week.
Notice that there is no hard-sell pitch for donations (which could violate Facebook's Terms of Use). Rather, the covers are "lightly branded" beautiful photographs of animals, ocean life or related causes.
How to create a custom Facebook cover for your nonprofit
The easiest way to create a custom Facebook cover for your supporters to use is to get a designer to create one using Photoshop.
Have your designer use the dimensions shown below, or download this Photoshop template (zip file), which includes three layers:
Background color – Which can be deleted or edited.
Profile picture box – This is intended to show you exactly where the user's profile pic will appear on your cover. You want to know where the profile pic will be displayed so that you don't block an important part of your Facebook cover. You can also use the profile picture to make your Facebook cover stand out.
Dimension layer – This layer is informational only and should be hidden or deleted.

What if you don't have Photoshop? If you don't have access to a designer or Photoshop, you can use pixlr, which is an online photo editing website that allows you to upload and crop photos at any dimension, or the inexpensive Photoshop Elements.
How to upload your new cover into Facebook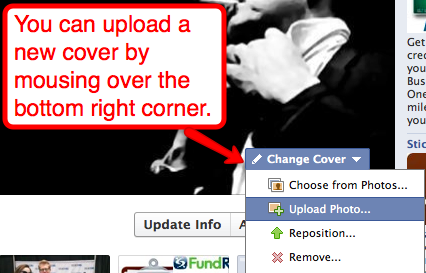 After you or your designer have created the images, create a Facebook Page photo album and then promote these covers via email, news feed and any other means. Remember, these are for your fans and supporters to use, not your organization.
What do you think? Let's see your Facebook covers!
John Haydon delivers social web strategy solutions for "the quick, the smart, and the slightly manic." Curious? Then visit the John Haydon blog, follow him on Twitter or leave a comment.

This work is licensed under a Creative Commons Attribution-NonCommercial 3.0 Unported.