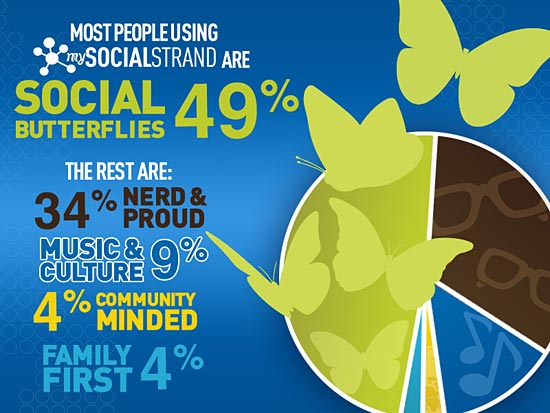 A game with a serious underlying message about joining the marrow donor registry
Target audience: Nonprofits, foundations, NGOs, social enterprises, cause organizations, do-gooders, private citizens.
Guest post by Lynn Treadwell
BeTheMatch

Be the Match, run by the National Marrow Donor Program, is tapping into people's online social networks to educate in an entertaining way. And we just launched a fun new social media campaign called My Social Strand that we hope you'll find not only worth sharing but perhaps worth emulating with your own organization.
Through Facebook Connect, users can create a dynamic and highly personalized infographic that reflects, with some good humor, the individual's personality, activities, relationships and more.
For example, my own personal My Social Strand profile shows me to be an optimist. Some 25% of my friends are, like me, Nerds & Proud. And the No. 1 song on the day I was married is "My Life Would Suck without You," by Kelly Clarkson (and it's so true!). Woefully, I also learned that three of my Facebook friends are likely to be affected by leukemia during their lifetime.
And that's the point. Woven through this social network game is education about the need for people to join Be The Match Registry operated by the National Marrow Donor Program, which has been helping patients receive the transplants they need for more than 20 years. If you don't know anyone who's yet been affected by cancer, you likely will. In fact, each year, more than 10,000 patients in the United States are diagnosed with a life-threatening leukemia or lymphoma, and their best or only hope of a cure is a transplant from an unrelated adult donor or umbilical cord blood unit.
Ultimately, the goal of My Social Strand is to show people that everyone is unique, yet connected in some way. So any one person could save a life by joining the Be The Match Registry.
Visit mysocialstrand.com and learn more about the new effort. Better yet, why not join the 9.5 million other registered potential marrow donors at BeTheMatch.

This work is licensed under a Creative Commons Attribution-NonCommercial 3.0 Unported.