Tips on techniques to get traction for your efforts
Target audience: Nonprofits, foundations, NGOs, social enterprises, cause organizations, brands, businesses, Web publishers, videographers, filmmakers, educators, film students.

Every person, cause and business has a story to tell, and a few key video techniques can help bring these stories to life.
Here are a few ways to achieve effective storytelling with video, allowing you to spread awareness and advocate for a cause that deserves greater visibility.
The process: Discover the real story
When going into an interview, leave preconceived notions behind. Stereotypes are not only often wrong, but they also sometimes color perceptions. In the 2-minute story Living a Balanced Life, Major Multimedia tells the story of Charlie O'Leary, executive director of the Santa Fe Conservation Trust by day and artisan of one-of-a-kind custom bikes for racers, commuters and nature lovers by night. (See video at top.)
The story can often take a totally different direction once the interview begins. Keep an open mind to find out what's really going on.
While we researched a story concept, developed a set of interview questions and prepared a preliminary shot list prior to the initial interview, once we began talking with Charlie we recognized the conservationist angle — what motivates his bike building, living a more balance life — was a much more interesting story. In the interview, listen deeply to your subject and deviate from your script by delving into the areas that could make a more interesting story.
Once you've captured the initial interview, the first step to discovering the angle of the story should be the transcribing process.
Crafting a captivating script
Write down the entire interview or narrative, word for word. If you don't want to invest the time, hire a service such as Voss Transcription, who can turn the video narrative into text in one day turnaround typically. Read and re-read the transcription several times, then …
1) Highlight the best parts of the interview.
2) Add corresponding time codes and clip numbers from the video footage.
3) Edit the text down to a script (just the highlighted parts).
4) Make sure there is a really strong beginning and ending.
Also, to reel in the viewer, building an arc in the middle of the script (a conflict or struggle) is often desirable as well.
Get the key shots to support the script
Once the script has been defined, the key shots should be acquired to support the script. This B-roll footage – supplemental/background footage intercut with the interview – usually requires going back for a second day of shooting.
Three different types of shots work in sync for storytelling. They are: wide, medium and close-up. A good ratio of a sequence of shots for one particular scene is 25% wide, 25% medium and 50% close-ups and extreme close-ups. Notice how effective using a variety of shots can be for setting the mood of Charlie's story and drawing the viewer with a series of shots in one particular sequence.
The "close" shot should typically precede or follow a wider shot. "An essential part of storytelling is to raise a question and then quickly answer it. Q: Whose hands? A: This person — this face".  For example, in the scene of Charlie working on the bikes, we shoot a tight shot of Charlie's hands (shown in the video thumbnail above) followed by a medium shot of his face switching the angles as well to make it more interesting visually: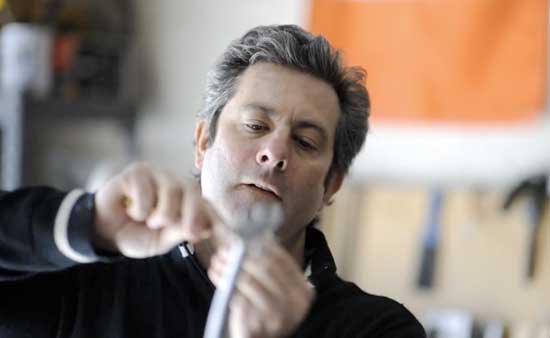 And an even wider shot to give a sense of place: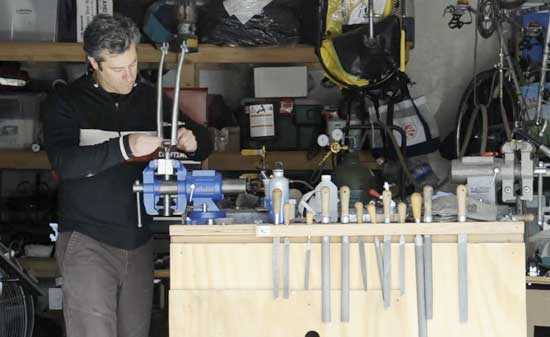 Try to get a variety of shots in each scene even if you don't think you you use them. They may come in handy in the editing process. And don't forget the cut-away shots — walking into garage, leaving on bicycle — that bring the viewer from one scene to the next.
A few more tips:
Always hold the shot for at least 15 seconds. It will give you some wiggle room to edit and make sure you get some workable footage. What if the camera shakes for a few seconds or accidentally stops recording in the middle of a nice shot? The "15-second rule" will help you get at least a few seconds of good stuff. Remember you can always take a 15 second clip and make it a two second clip – but not the other way around! Be willing to record for longer than you think is necessary, and take risks with more creative angles. You won't be sorry.
Related
• Creating compelling advocacy videos for nonprofits
• Techniques to add dazzle to your advocacy video
• Resources for grassroots media makersLauren Major is a visual storyteller who helps nonprofits, NGOs and small to mid-size businesses create and share their stories of social good and corporate social responsibility. She is a visual artist, consultant, producer and a partner in Socialbrite. Visit her profile page, see her Major Multimedia site and blog, follow her on Twitter and Google Plus or leave a comment.

This work is licensed under a Creative Commons Attribution-NonCommercial 3.0 Unported.