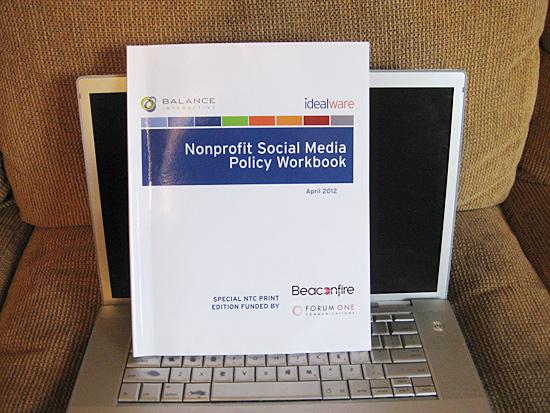 Free Nonprofit Social Media Policy Workbook helps you define a policy, roles & messaging
Target audience: Nonprofits, foundations, NGOs, social enterprises, cause organizations, brands, businesses, educators.
Last month I sat on a panel at SXSW Interactive with three fellow nonprofit community managers to discuss boundaries in online community management. Organizations and community managers are grappling with this, and the active Q&A (documented here) during the session was a testament to this fact. Idealware and Darim Online, with support from Balance Interactive, have just released a free Nonprofit Social Media Policy Workbook for nonprofits trying to figure out how to get a handle on the personnel side of social media.
Why do you need a social media policy? The workbook introduction sums it up clearly:
"A good social media policy will provide clear guidelines as to what staff should and shouldn't do when posting and interacting with the community on a day-to-day basis, freeing them up to think more strategically. It's also likely to help leadership feel more comfortable with the less-formal nature of social media by letting them establish boundaries for its use."
In this simple yet complete guide, the authors walk through many of the critical social media policy issues with which organizations struggle: the reasons for a policy, applying organizational values to the policy, social media roles, what to say online, social media monitoring strategy, responding to criticism online, responding to other comments online, privacy and permissions, and thinking through copyright and attributions. Each section offers at least one highlighted example from an organization that has struggled with the same issue, and how the issue was resolved.
When I was an online community manager, I was left to navigate the online community without guidance. I found myself making judgment calls on the fly about how much about myself to reveal personally when interacting within other online communities, how to deal with negative criticism, staying on message when developing personal relationships with community members, and whether or not to use my personal social media accounts to promote organizational efforts. The Social Media Policy Workbook is a godsend for organizations grappling with just these issues.
What I love about the workbook
It is non-judgmental and approachable. There are no set rules or strictures; policy positions are laid out along a continuum of choices that best fit an organization's values, mission and culture.
It is hands on. It's really a workbook, and every section of the workbook includes probing questions, guided exercises and space for answers.
Real-world stories and experiences from organizational staff support each section of the workbook.
The companion social media template is terrific. The online template is not a duplicate of the workbook; it's a companion piece  of sample language taken from existing social media policies of other organizations.
It is short, sweet and to the point. At 20 pages, it's just the perfect length not to intimidate.
For every decision, there are guided questions, simple worksheets and space to add organization-specific data. For example, it includes a stellar worksheet intended to help leadership consider social media roles and responsibilities within the organization.
It includes provocative questions. As the introduction says, "chances are good that you'll find the conversations you have as a team are every bit as important as the product you end up with."
Drawing the line between personal & professional
The workbook could benefit from a section about how personal you want your organization to act or appear online. I struggled with this same issue as an online manager: Do I sign the organization's Twitter updates with my initials? Should I add my name to any/some/all of the Facebook posts? Should I put my name at the top of our Foursquare account?  It would be helpful to include in the workbook a list of the social media channels, and ask which circumstances in which it is more or less appropriate to connect as a person rather than "a logo" online. Chapter two, "Your Organization's Social Media Values," could easily be modified to include this discussion.
I also wish that the workbook had included a discussion or decision-tree around posting within other professional spaces (LinkedIn groups, other Facebook Pages) as a staff person. How and when to identify the fact that you also work at a certain organization is an issue all staff encounter at times.
The Nonprofit Social Media Policy Workbook is an essential resource for initiating, discussing and drafting your organization's social media policies. Download it here.
If you are looking for a starting point for your social media policy, look no further.

This work is licensed under a Creative Commons Attribution-NonCommercial 3.0 Unported.