Featured in PhotoShelter's Photography Blog Handbook

We were thrilled to be profiled in PhotoShelter's latest handbook as an expert on Blogging for Storytelling and Advocacy. PhotoShelter is the leader in portfolio websites and business tools for professional photographers.
This useful guide to blogging is a free download on their website.
A few takeaways related to the guide:
• Get educated. If you are not comfortable with social media or blogging, take a class, hire a consultant, or read an online tutorial. You should understand what blogging can do for you before you even start designing a content strategy.
• Don't try to be everything to everyone. Determine exactly  who your audience is and the best way to reach them (where they hang out online). If you try to do too much, you may end up with much less traction.
• Build a robust RSS feed of the blogs you admire, your competition, and your prospects and clients. This will not only help you keep up with news and trends, it can also be a great resource for blog topics.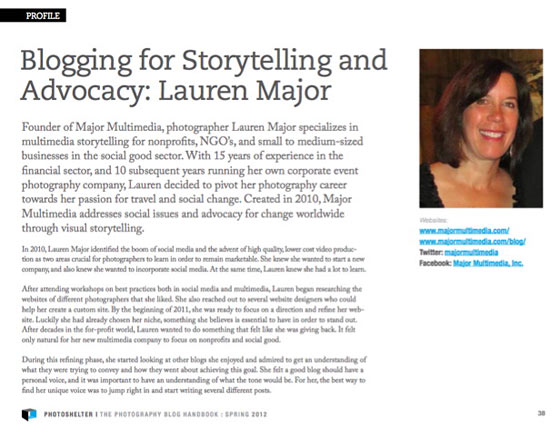 Lauren Major is a visual storyteller who helps nonprofits, NGOs and small to mid-size businesses create and share their stories of social good and corporate social responsibility. She is a visual artist, consultant, producer and a partner in Socialbrite. Visit her profile page, see her Major Multimedia site and blog, follow her on Twitter and Google Plus or leave a comment.

This work is licensed under a Creative Commons Attribution-NonCommercial 3.0 Unported.