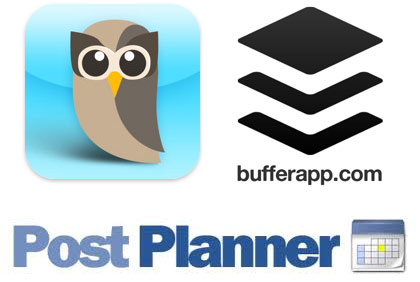 HootSuite, Post Planner, Buffer can provide productivity boost
Guest post by Shonali Burke
VP Digital, MSL, Washington, DC
When it comes to staying on top of social media, one of the big challenges we have is to find the social media tools that will help us achieve a happy medium between curating, listening, engaging and producing content.
Frankly, I think that sweet spot is tough to find, and when we do find it, it stays with us for a while before it goes dancing off into the sunset, leaving us to figure it out all over again.
What to do? There are a ton of tools — and new ones coming out nearly every day — that purport to help us do this. I haven't tested all of them, of course, but of those I have tested, here is what I currently think is the holy trinity of managing social media.
HootSuite: Scheduling updates made easy
1I've been a HootSuite fan for a long time. It's a terrific way to post to a number of social networks, schedule posts and listen in on what's going on, either by creating dedicated searches or creating streams of Twitter lists you've set up.
While I don't use this tool to post to LinkedIn, etc., as much as I could, what I do find very useful, in addition to the publishing/scheduling dashboard, is the ability to monitor and post to Facebook Groups directly from HootSuite: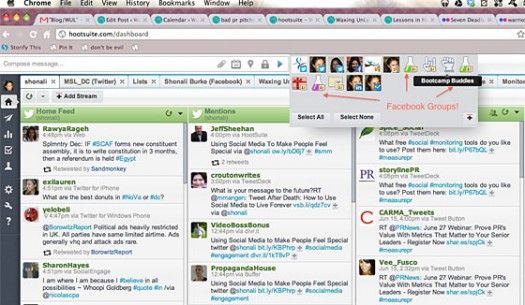 Typically I like to do my Facebook work "in" Facebook, but I know plenty of people who'd rather do all their Facebook management from a third-party app. And this fits the bill.
And just to go back to the scheduling feature, when people ask me to help them promote specific events, fundraisers, etc. I find the easiest way to do so is to schedule a ton of posts in HootSuite. (Assuming, that is, that those are things I want to help promote.) I find this feature very useful; I can simply copy a post and bung it in at various points in the "publisher" view, making minor edits if I want.
So if you are really pressed for time, then I honestly don't know of a better one-stop management shop for the primary social networks than HootSuite.
Post Planner: The easiest way to schedule Facebook updates
2I've also been a fan of Post Planner for a long time. I find the team extremely responsive and the app just superb. Sure, you can post to Facebook from a number of different apps (including HootSuite), but PP rules, in my book, because:
There's nothing like having your own branded footer, as I wrote about a while back.
Even though Facebook has recently introduced the ability to schedule posts, the feature is extremely clunky, and Post Planner makes it a breeze.
Post Planner now lets you create lists of Pages and Groups to schedule posts to (though if you're smart, you'll still send them out at different times, but at least now you don't have to schedule the same post over and over again).
Its "status ideas" feature is just genius.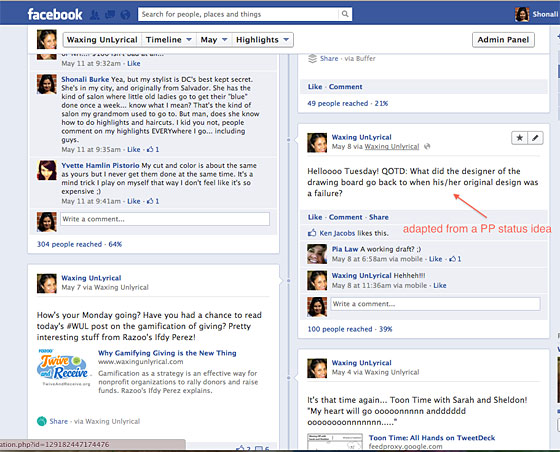 You can syndicate your blog posts to Facebook via your RSS feed.
If you don't want your posts publishing automatically, you can still set up the RSS feature but set the publishing option to "suggest," so that you can then send/not send out posts, or edit the accompanying status, as you wish.
You can give posting rights to a team for group posting, which is terrific! The app costs a little more if you add this feature, but I think it's worth it.
Analytics, which can help you figure out not just which type of post performs the best, but when.
Buffer: Integration with Google Reader
3I love Buffer, and not just because Jay Pinkert posted such a thorough write-up of it on Spin Sucks. Buffer has made a lot of changes in recent months. It introduced an iPhone app not too long ago, and while that's still a little clunky, overall it works pretty well.
But why would I need Buffer when I have HootSuite and Post Planner, you might ask?
Here is what makes Buffer critical for me: It integrates with Google Reader. And though most of the posts I share on a regular basis are through my participation in various Triberr groups or "tribes," my Google Reader is a critical component of my reading and learning.
So I use Buffer to schedule posts when I:
See a really great post in my Reader and know that's something I'll want to share. This becomes particularly important if there are bloggers I read/learn from regularly with whom I'm not connected on Triberr.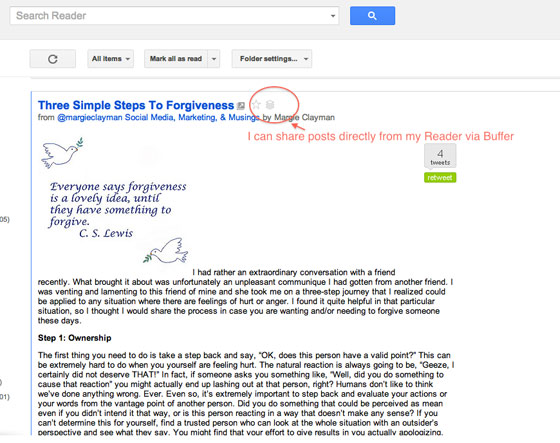 Want to share posts as a backup to Triberr.
Am on the go and want to schedule posts from my iPhone or iPad; Buffer integrates with the RSS+ app (on my iPhone) and Mr. Reader (on my iPad). Note, I find it works better on the latter.
Though I have set up Buffer so that I could post to Facebook and LinkedIn from the platform, I usually don't. This is for two reasons:
My primary platform for content curation is Twitter. So they typically contain the @ handle of the blogger publishing that post, etc. And I believe updates with a significant amount of "platform-ese" or terms specific to a certain platform are best reserved for use on that platform alone;
I like Post Planner better for Facebook (or posting directly to Facebook), and I'm just not very active on LinkedIn at all.
Recently, Buffer has also integrated with Twitter and Facebook, so you have another way to schedule posts to either platform (i.e. buffer them). That is very useful, but since I'm used to HootSuite and Post Planner, I haven't really used that feature yet.
Strengths of the three platforms
So, to summarize:
1. HootSuite rocks posting to multiple platforms, scheduling and "pay it forward" karma kind of tweets.
2. Post Planner rocks posting to Facebook probably better than Facebook will ever manage.
3. Buffer rocks sharing posts from Google Reader, from your laptop as well as while on the go (and you can also use it as an alternative to scheduling via the two platforms above).
There you have it: my holy trinity of managing social media. I hope this is helpful! Please tell me: What are your favorite apps/platforms to manage your personal/company social media presence? Are there other platforms I should be looking at? Why? What has your experience of Post Planner, HootSuite and Buffer been? I'd love to know.Shonali Burke  is a public relations and social media expert and consultant based in Washington, D.C. Her firm provides integrated PR for measurable results. You can connect with Shonali via her website or follow her on Twitter.


This work is licensed under a Creative Commons Attribution-NonCommercial-ShareAlike 3.0 Unported.