Target audience: Nonprofits, cause organizations, foundations, NGOs, social enterprises, businesses, video producers, filmmakers, educators, journalists.

Video is a powerful tool in the nonprofit world, as it gives donors, staff and volunteers an opportunity to see and feel first hand the impact of their support. In our latest video, Deborah's Place, our focus in on one woman's journey out of homelessness, yet we subtly interweave information about Deborah's Place's programs and services throughout the film.
This type of story – one of personal triumph – is far more compelling and inspirational than an organizational video strictly about a nonprofit's services and programs.
Below are four key steps all video producers should take when shooting interviews:
Find the right setting
1Video cameras can sometimes make people feel uneasy, so it's helpful to interview a subject in an environment that is comfortable and familiar to them (in our case, Pauline's apartment). Other shots to set the scene include:
Interior and exterior clips (b-roll) of the building (Deborah's Place)
Items the interviewee makes reference to (letters, pictures, books, etc.)
Wide, medium and close-up shots of the interview subject from different angles when they are not talking (after the interview)
For this story, it is important to see Pauline in her apartment since it is an integral part of her journey from homelessness.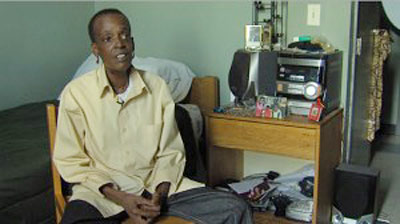 Linking interview content with setting is crucial in bridging the story and visuals.
Smooth and steady shooting
2Nothing is more distracting than an unsteady camera during an interview. If the clips are still and smooth without a lot of zooms and pans, it allows the viewer to completely focus on the subject.
Use a tripod or at least a Pod (cool little beanbag tripod) when filming.
Avoid zooms and pans unless used minimally and you practice them first.
Let the action move through the scene (people enter and exit completely before stopping the camera) – don't follow the subject.
Allow 10-15 seconds of footage for each "take" with a few seconds at the beginning and end for editing.
Clean and clear audio
3In addition to smooth camera work, clean audio production is crucial in an interview-focused video. Cameras do have on-board microphones, but the quality is typically poor and the camera too far from the subject to get decent audio. There are many benefits to investing in an external microphone:
Clean, audible audio from the subject enhances the interview.
Ambient noise like the camera motor, air conditioning, or traffic is diminished.
Fewer distractions, especially with a small clip-on lavaliere microphone (which we used on Pauline).
Lighting that does the job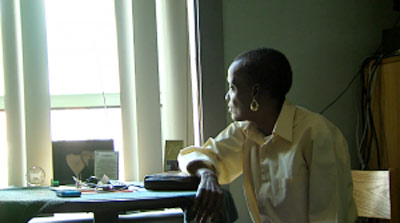 4Lighting can be tricky to master. We prefer to use natural light when at all possible:
Deborah's Place uses all natural light, casting a more realistic look and warmth on the subjects.
If needed, one fill light, bounce cards or reflectors can help even out the shadows.
If interviewing outside, work in a shaded area and keep the light behind the camera or slightly to the side when possible.
Don't be afraid to experiment! Learning how to capture great stories is all about experimentation and practice. Please share your tips for successful interviews in the comments below.
Related on Socialbrite
• Online advocacy video best practices
• Techniques to add dazzle to your advocacy video
• An engaging, uplifting nonprofit promo videoLauren Major is a visual storyteller who helps nonprofits, NGOs and small to mid-size businesses create and share their stories of social good and corporate social responsibility. She is a visual artist, consultant, producer and a partner in Socialbrite. Visit her profile page, see her Major Multimedia site and blog, follow her on Twitter and Google Plus or leave a comment.

This work is licensed under a Creative Commons Attribution-NonCommercial 3.0 Unported.