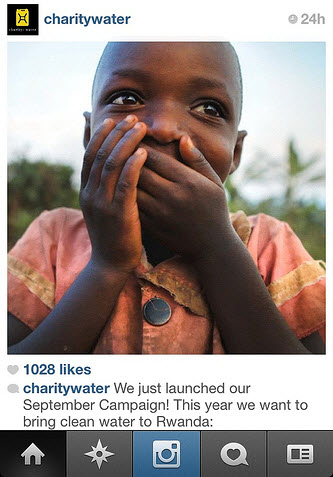 Target audience: Nonprofits, cause organizations, foundations, NGOs, social enterprises, Instagram users.
Guest post by Beth Kanter
bethkanter.org
Instagram, the mobile photography app (and company) purchased by Facebook, has been getting a lot of attention lately. From critics saying it is killing photography to hype and hoopla from marketing pundits saying it is a must-have as part of your "visual marketing tool box."
In Steve Rubel's Ad Age post, The Revolution Won't Be Televised; It Will Be Instagrammed, he points out some underlying trends that might make some of the hype less hype:
Smartphone use has become pervasive, citing recent research reports from Pew  Internet for America Life research.

Visual marketing is becoming an important part of the online marketer's tool box – especially because images are global, easy to digest and distributable.
There are some nonprofits experimenting with Instagram.  I've been following charity:water, which has been posting a photo of the day. Charity:water's CEO, Scott Harrison, is also using it quite skillfully to share imagery about his organization's work. Like many nonprofit leaders and staffers,  Scott is "mixing up the personal with the professional brand." I think Instagram is a terrific platform to do that if you have a culture that is comfortable with mixing it up and, of course, people who like to share photos.
Others are using Instagram by sharing visual stories about their programs using a branded profile, like Children's LA and Unicef USA. Take a look at the how the US Embassy in Wellington, New Zealand, uses it.
Instagram is one of those channels where a nonprofit could start with a small pilot that is strategically linked to communications or marketing objectives, and pick a success metric to track. First, however: best practices and measurement, learning, and improving. This guide for business marketers is relevant to nonprofits.  It boils down the techniques to: Curate, Snap, Hashtag, Engage, and Repeat. Simply Measured offers a free report that lets see which of your photos/stories was most engaging.
I ran an analysis on my Instagram experiment and discovered that my most engaging photos included monks, clouds, and cats! Porter Mason from UNICEF USA also suggests this other measurement tool: Staigr.am.
Is your nonprofit experimenting with Instagram? What have you discovered? How are you defining and measuring success?
Beth Kanter
has more than 30 years working in the nonprofit sector in technology, training, capacity building, evaluation, fundraising and marketing. Republished from
bethkanter.org
(we're fans!).

This work is licensed under a Creative Commons Attribution 3.0 Unported.