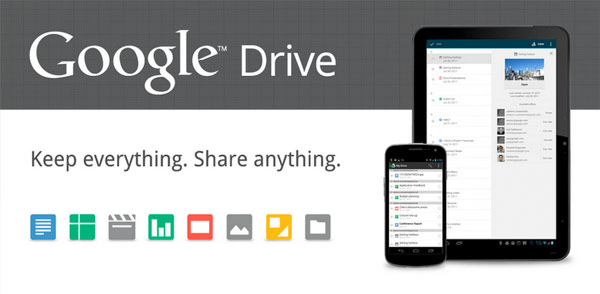 Manage documents, tasks & calendars in one place
Guest post by Kyle Andrei
Idealware
At some point nearly every organization faces a project big enough that its logistics quickly overwhelm existing management practices. You've got to assign tasks and check in on their progress, track due dates and external deadlines, make sure team members are all working with current document versions without overlap and negotiate countless other project-related tasks.
If you do it right, your team functions like a NASCAR pit crew; do it wrong, and it's like changing a flat tire on a moving car.
Fortunately, a number of specialized software options exist to help you manage documents, comments, emails, tasks and calendars all in one place. You might be familiar with some of the more popular options, such as Web-based solutions Basecamp and Central Desktop, but there are other players in the marketplace.
Each project is unique, and the tasks you'll need to manage will vary, but all share the same basic needs. To address them, most of the tools provide features in a few common areas:
Tasks and to-do lists
While a to-do list isn't a necessary function of a project management tool, you'll need some way to track what needs to be done, when it needs to be done and who needs to do it. At the most basic level, this can be accomplished by creating tasks on a shared calendar application — like Google calendar or Outlook — but more advanced tools let you assign tasks to others as well as to yourself.
Shared calendar
It's important not only to be able to see your tasks but also those of everyone else working on the project. There are plenty of other reasons to use a shared calendar, too, including scheduling meetings and seeing your coworkers' availability.
Shared documents
To facilitate collaboration, you often need a way to share file s —like Word documents and spreadsheets — among co-workers, especially if the project collaborators are in different locations. Emailing files as attachments creates versioning problems — each recipient has a separate version of each file with no way to know which copy is up to date. A tool to upload documents and, ideally, edit simultaneously, can help prevent this versioning dilemma.
Commenting
Telephone and email conversations have their limitations and shortcomings. It can be difficult to record phone calls for project records, and email threads can become unwieldy when more than a couple people are involved. If your team members are in different locations, it can be helpful to have them all viewing the same document — with real-time edits visible — while discussing it. At the very least you want to be able to leave comments on shared files for collaborators, and you may want to leave general comments not related to individual files.
Notifications
Every project needs some way to keep track of due dates and deadlines for all the different components, and a good tool will allow you to schedule and send reminders and notifications — either in-system or through email. Different projects may have additional needs, or you might want a more specialized function from your project management software. You'll find that the real differentiator among the various tools is how they handle more advanced features, like helping you track progress with Gantt charts or other visualizations, or letting you record email conversations into the project workspace.
Comparing tools
How do the tools currently available on the market compare with one another in terms of cost and features? We took a look at two of the most popular and web-based solutions available for a fee, Basecamp and Central Desktop, and then consider the pros and cons of a customized solution created using Google's suite of free tools.
Basecamp ($20 per month)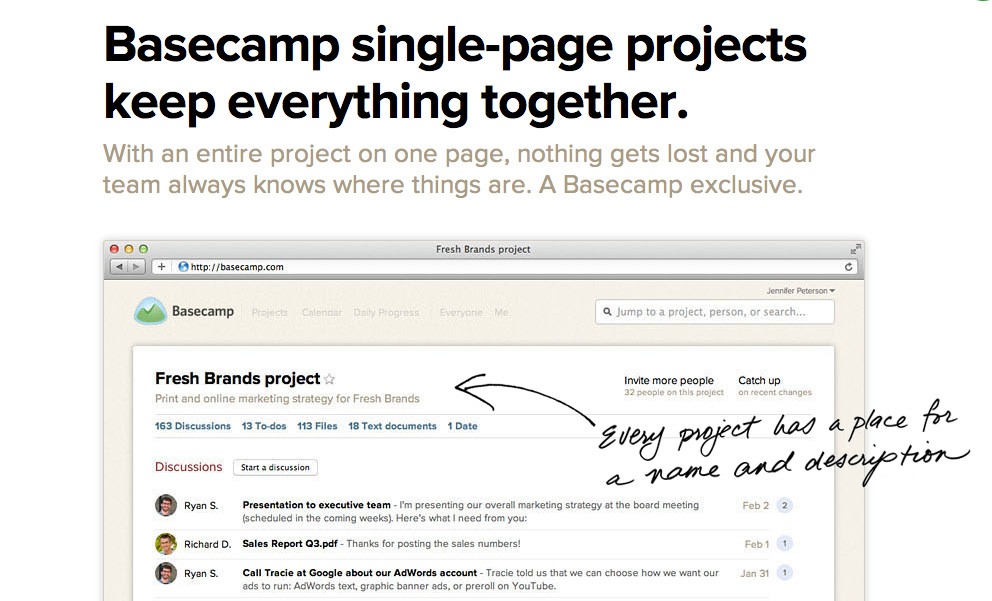 1Overall, Basecamp is a good choice for organizations that need to be able to set up a project quickly and don't require more advanced features, like Gantt charts. It's a polished, user-friendly option with straightforward initial setup made easier by a new project templates feature, and a sample project included to help orient first-time users. Populating a to-do list is easy to accomplish, and tasks can be assigned to anyone on the project team. Users can upload documents using a web browser or by email, which — when combined with Basecamp's mobile app — offers flexibility when working on projects while traveling.
In addition to allowing comments on shared documents, Basecamp also provides for what it calls "Discussions," or messages and comments independent of uploaded files. Users can view discussions, tasks and uploaded files in a single location using the tool's "project" view, or a timeline of the entire project — including when tasks were created or completed, or when they're due — in the "Progress" view. The "Everything" view allows a higher-level look at the entire project and all its assets.
Basecamp is not as strong when it comes to email notifications and other reminders, which are less configurable than in Central Desktop (below), nor does it provide an easy way to record email conversations into your project for more unified recordkeeping.
Central Desktop (starting at $99 per month)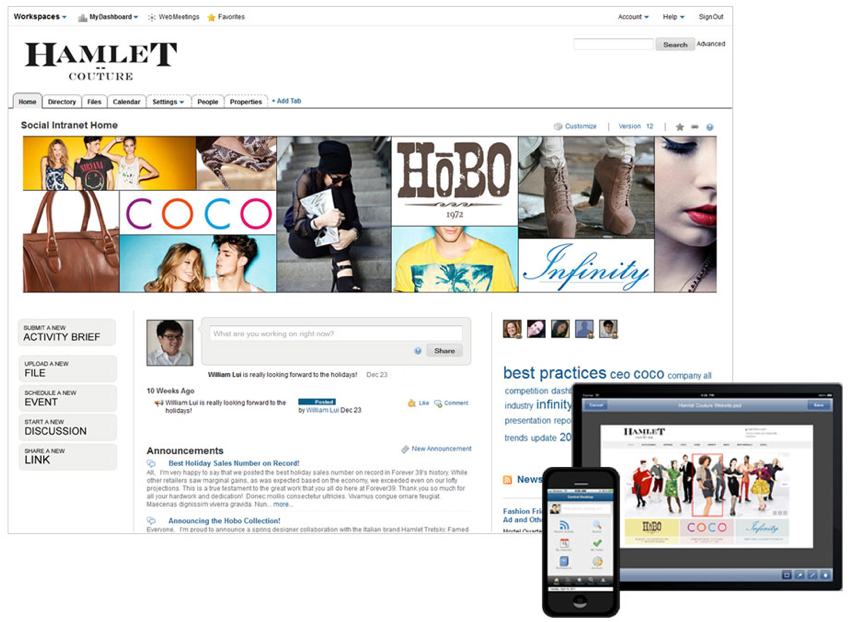 2If your organization needs to track multiple projects at the same time and doesn't mind taking a little extra time for set-up, Central Desktop will provide a lot of power, but at a higher cost — and with less polish — than Basecamp.
What it does offer is robust project management through a clean and utilitarian interface, with most of the same features as Basecamp — including comments and discussions independent of documents — and a number of more advanced ones. Users can easily access individual task lists through the dashboard and your new tasks can be assigned a priority and reminders scheduled up to two months prior to the due date. They can also be assigned to any projects, or workspaces, that each user is working on. Users can also assign tasks to co-workers in addition to themselves.
As with Basecamp, Central Desktop lets you view each project or workspace like a dashboard. While much more technical in appearance, and less dressed-up than Basecamp's "Progress" or "Everything" views, the dashboard displays recent activity, people involved, and recent discussions in a more compact screen without the need to scroll. Layout and appearance templates can be defined for each project.
In addition to these basic features, Central Desktop adds the ability to create spreadsheets and other documents within the tool itself without the need to upload them from elsewhere on your computer. It also lets users track projects using Gantt charts, a feature missing from Basecamp, and has strong support for managing multiple projects simultaneously, including the ability to organize individual workspaces into user-defined groups (for example, a fundraising group, a service delivery group, etc.).
To accommodate team members who prefer to work by email, or who resist using the online tool, Central Desktop allows you to record email conversations directly into the workspace; Basecamp does not. Every item in the tool has a unique email address which you can add to an email as a cc; when you send the email, Central Desktop will save it to your workspace, allowing team members to collaborate by email while keeping all comments and discussions in one place.
Google Apps (free)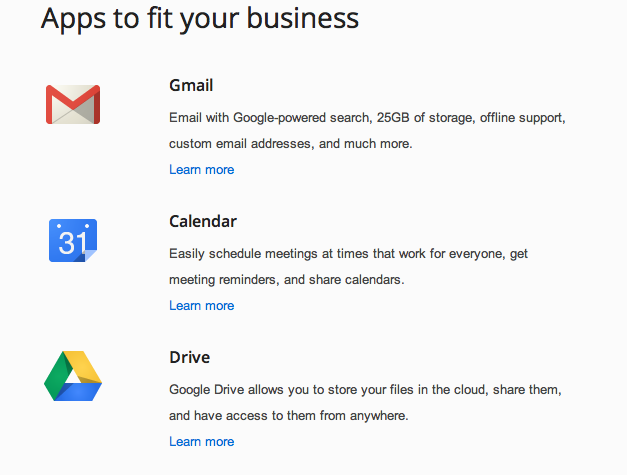 3You don't have to reinvent the wheel when it comes to project management software, but sometimes doing so is your best option — in this case, adapting Google's free applications to fit your needs can offer certain advantages of user familiarity and affordability over purpose-built software. If your organization is already using Gmail for staff email, you might consider using a collection of Google Apps as a free alternative to other tools.
In this "roll-your-own" project management strategy, the core product is Google Calendar, a robust shared calendar which can meet many of the same needs as Basecamp. Tasks, meetings and due dates can all be scheduled together with configurable reminders — for example, you can schedule notifications for 10 minutes before meetings and emails for two days before tasks are due. You can also add meetings and tasks to other staff members' schedules, and Google allows you to view multiple calendars from across the organization in a single screen.
Google Drive, formerly Google Docs, is a fairly well-featured suite of office tools similar to Microsoft Office that includes word processing documents, spreadsheets and presentations. Users can share documents easily, and it also offers the advantage of allowing multiple staff members to edit the same file at the same time, allowing for real-time collaboration and version control. In addition, email attachments can be opened and saved as Google documents into the same Google Drive location as other project-related materials. Permissions for individual documents are flexible and easy to set up, marking files as private, public, or private to the organization or workgroup; editing privileges can be restricted to certain groups or individuals. You can also grant view, edit and share permissions by folder or by individual file.
To effectively manage projects, you'll need to group the different apps together — Google Sites is a workable solution that allows you to create a workspace to hold all your email discussions, shared documents and calendar, and to create and manage tasks. As in Basecamp, you can create your Google Site by template, and the "Business collaboration" collection offers a number of layouts appropriate for project management. Expect to spend more time setting up and organizing documents in your Google Drive than you might creating new projects in Basecamp or Central Desktop.
Because Google's offerings are free, this method means a distinct cost saving over Basecamp and Central Desktop. Smaller organizations that only need to manage a couple of projects at the same time may find a lot of benefit in this do-it-yourself solution.
Choosing the right tool
Each of these tools offers different strengths and weaknesses. Which is right for your needs?
For most small and medium-size nonprofits, the decision comes down to affordability and ease of use
For larger organizations or those with multiple projects, the advanced features offered by Basecamp and Central Desktop are more likely to be worth the expense. But most smaller organizations won't need some features enough to justify the additional cost. For most small and medium-size nonprofits, the decision comes down to affordability and ease of use. Basecamp and Central Desktop are both relatively quick and easy to set up, though Basecamp is friendlier to less tech-savvy users.
The free Google Apps can be as easy to implement as Basecamp, and provides most of the same features — including most of the features smaller organizations are likely to need. If your organization is already using Google for staff email or calendaring, putting together and navigating a Google site will be a familiar process, and may lead to better staff adoption and comfort.
If cost is your primary decision factor, let your needs guide you. A make-do system that uses free tools and software you already have can be purpose-defeating for organizations with a number of projects or more complex projects. In such cases, it might be worth the expense of a purpose-built system that helps you accomplish your project-management goals — otherwise, what you don't pay in money you may end up paying in other ways, including your time and aspirin for the headache the wrong solution might give you.
Related
• Six Views of Project Management Software (Idealware)
• Options for Collaboration Software (Idealware)
• Project Management Tools That Nonprofits Should Know About (Idealware)

This work is licensed under a Creative Commons Attribution-NonCommercial 3.0 Unported.