Check out how AARP, NWF & Oceana are using Pinterest
Target audience: Nonprofits, cause organizations, foundations, NGOs, social enterprises, businesses, digital marketers, educators, Web publishers, Pinterest users.
Guest post by Annie Lynsen
SmallAct

Earlier this year, I wrote about 13 nonprofit Pinterest board ideas. If you have a Pinterest account for your organization, you'll find some inspiration below. If you don't have a Pinterest account, take a look at how these nonprofits are leveraging this powerful visual medium.
Here are 11 more!
Photos and brief stories of heroes to your cause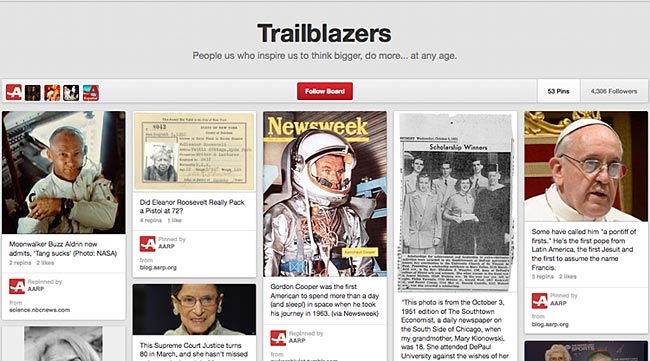 1AARP does a great job of this, showcasing celebrities over 50 and other influential people. Who in your movement has made a difference over the years? This is a great place to show them off and briefly tell their stories.
Great online resources related to your cause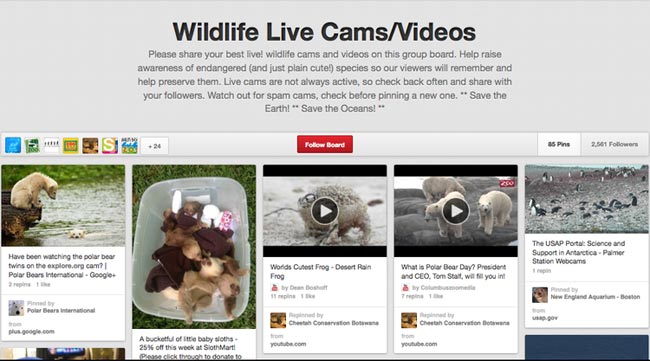 2For example, the National Wildlife Federation has a board aggregating live wildlife cams from around the world.
Recipes people can use for your nonprofit's events and fundraisers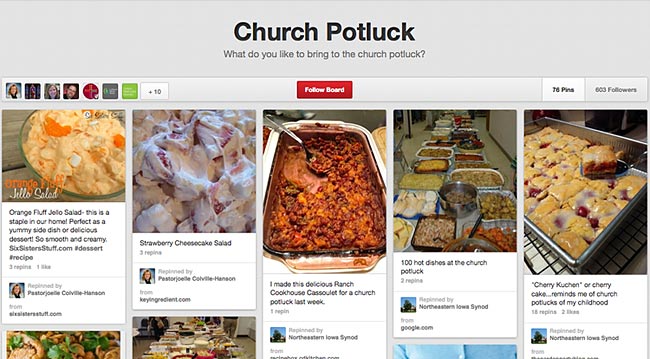 3The Northeastern Ohio Synod of the Evangelical Lutheran Church in America has a board with church potluck recipes.
Photos and stories from your organization's history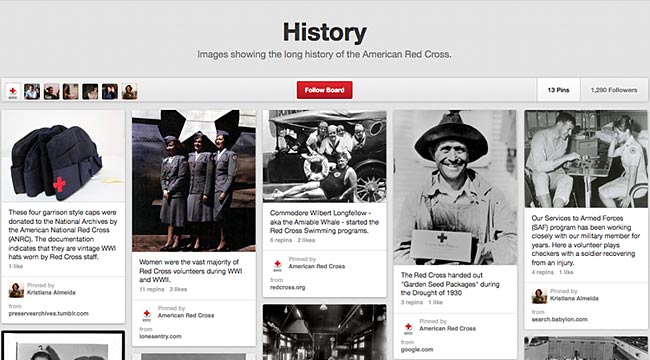 4The American Red Cross has a board about the early days of the organization's existence, showcasing key members and events.
Recommended books and other media related to your cause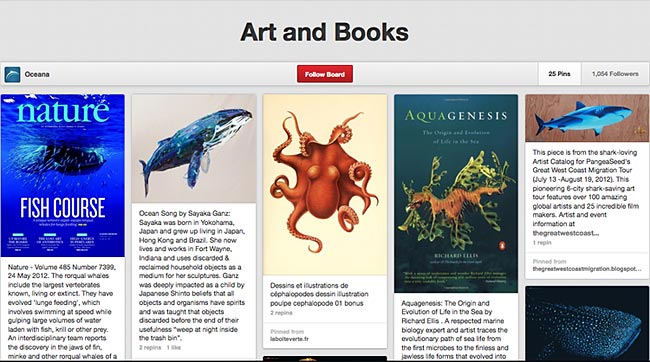 5Oceana has an interesting board of art and books related to ocean conservation — take a look above!
Research and discoveries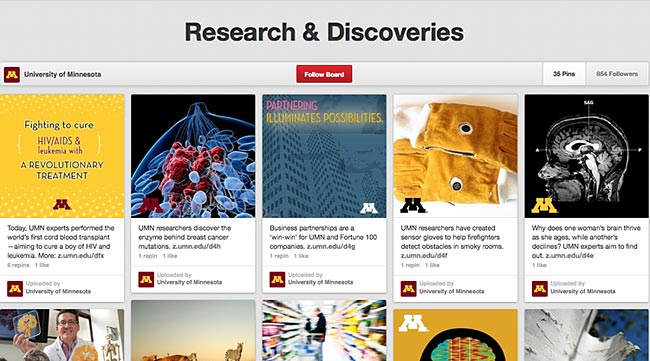 6The University of Minnesota shares recent scientific discoveries made at the university — I like the sensor gloves.
How-to content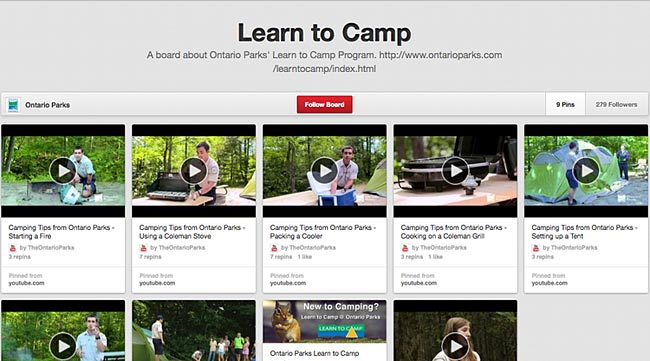 7Ontario Parks teaches people how to camp with this Pinterest board. Another of their boards features recommended camping equipment – a great resource for people just starting out.
Tips from members and spokespeople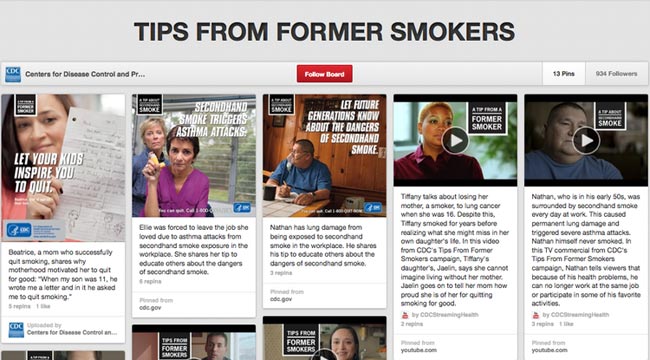 8The CDC has tips from former smokers, which serves not only as a valuable resource for people checking out their pins, but also is a great way to shine a spotlight on the people their organization serves – letting them tell their own stories.
Why you fight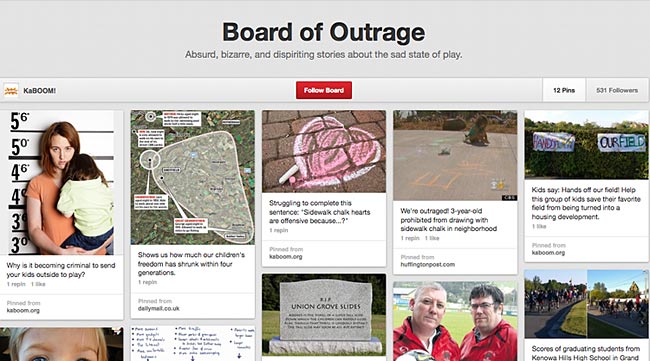 9KaBOOM!, a national organization that builds playgrounds and advocates for more unstructured playtime for kids, has a cleverly titled "Board of Outrage" to highlight "absurd, bizarre, and depressing stories about the state of play."
Fundraising ideas through Pinterest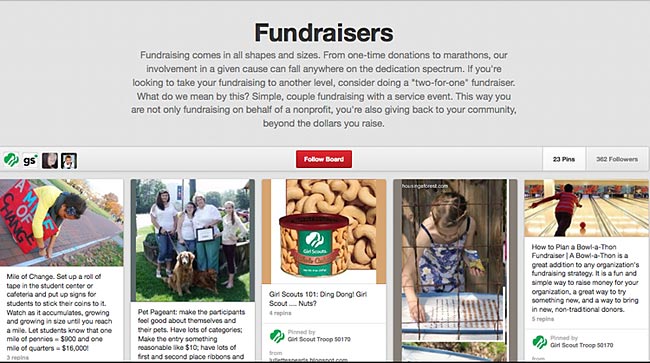 10Do your members do any P2P fundraising? Give them ideas how to come up with the money they need to participate in your walkathon or other events with a Pinterest board. Girl Scout Troop 50170 has this helpful board of fundraising tips and ideas.
Spotlight your CEO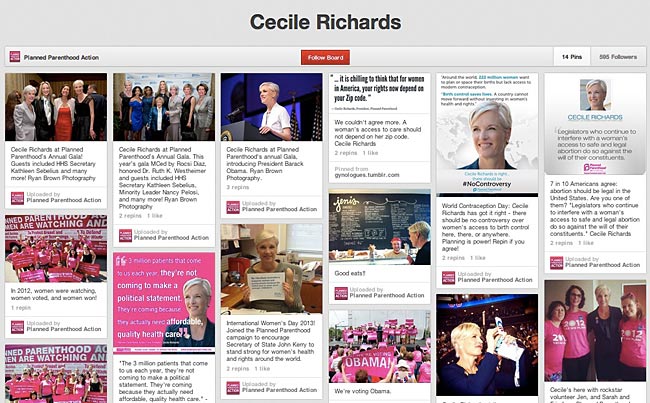 11Not only is this interesting content for members and donors, it's a handy resource for media relations. Planned Parenthood has a board with the latest photos and quotes from their CEO, Cecile Richards.
Annie Lynsen 
is the marketing director at
SmallAct
and works on developing partner relationships and managing SmallAct's social media presence. Follow
SmallAct
and
Annie
on Twitter.
Related
• 10 ways to optimize your website for Pinterest (Socialbrite)
• 3 steps to add your nonprofit's url to Pinterest (Socialbrite)

This work is licensed under a Creative Commons Attribution-NonCommercial 3.0 Unported.