By Caroline Avakian / Photo above courtesy of Facebook
It was just a few hours after I found out about the devastating Nepal earthquake that I noticed an alert on my Facebook feed that I hadn't seen before. My colleague who works in Nepal had been marked "Safe" in Facebook's new "Safety Check" feature, that instantly let me know how many of my Facebook friends were in the "affected area", how many had been "marked safe", and also allowed me to mark myself safe in the event I was in the "affected area".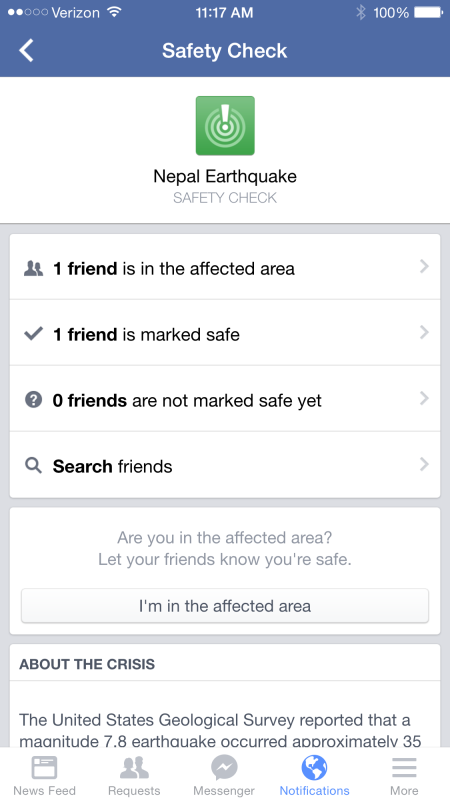 The Safety Check feature was quickly followed up by a "Donate" feature, so if you log into Facebook today, you'll notice a message at the top of your news feed that lets you donate to International Medical Corps, a humanitarian organization Facebook has partnered with to provide emergency aid. Facebook is also providing matching funds of up to two million to provide immediate and ongoing relief. The IMCs emergency response teams are operating mobile medical units in Nepal, India and Bangladesh, to deliver critically needed medical care and medicines to the regions hardest-hit by the earthquake. They're distributing hygiene kits, water purification tablets and other supplies to the most devastated areas.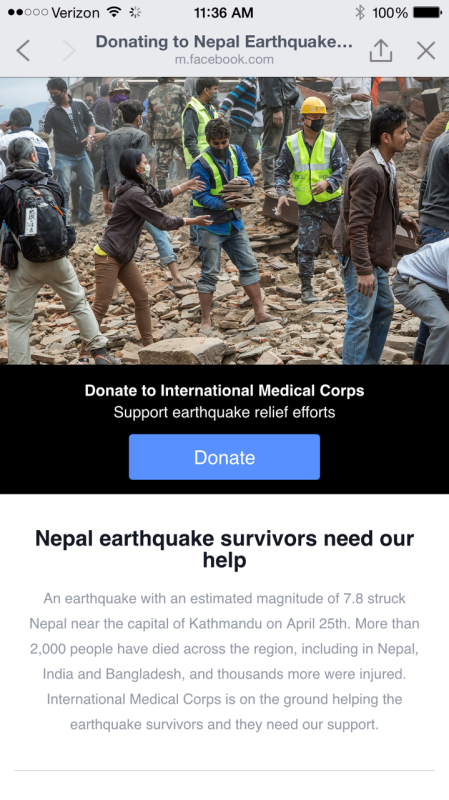 Additionally,Twitter is helping to raise funds through UNICEF and Apple is asking iTunes users to donate money to the American Red Cross via its iTunes store. The appeal from Apple allows donations from $5 to $200, with 100% of the funds donated being passed anonymously to the Red Cross.
Similarly to Facebook, Google is now providing satellite imagery to aid in the recovery, and has launched a Person Finder to help people know whether or not people are safe who might have been in the earthquake affected areas.
The Person Finder tool is an online database that collates information from emergency responders, and allows individuals to post details about people who have been missing or are found. Additionally, Google.org is donating one million to the emergency response efforts and a gift-matching option will soon be available.
WHAT YOU CAN DO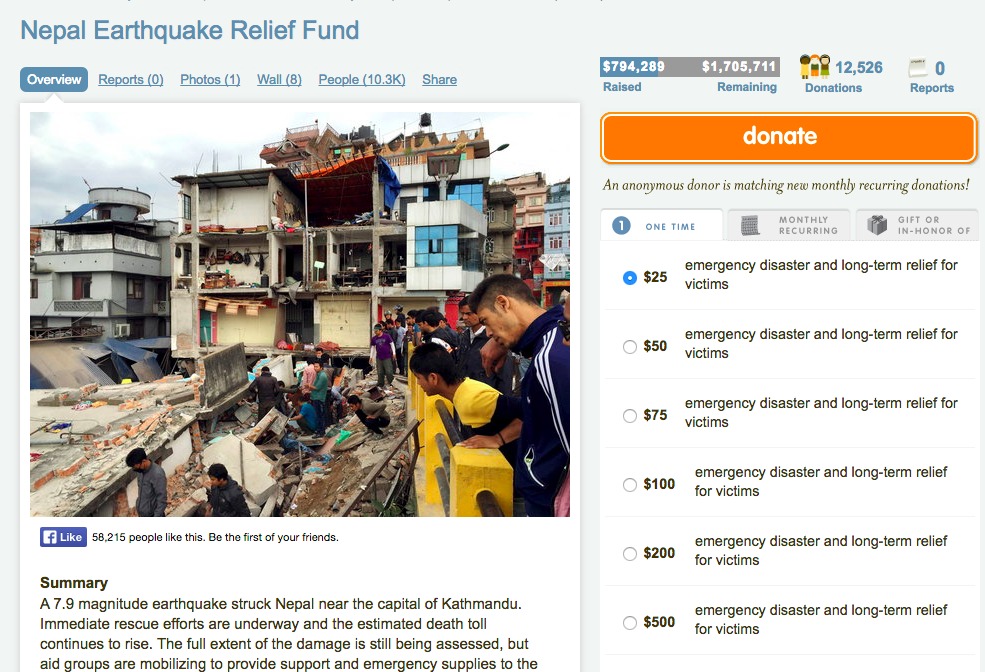 The organizations linked above are all doing excellent work in the affected regions, and for those of you who are interested in donating to locally-based organizations, Global Giving (seen in photo above), has compiled a vetted list of community-based organizations that are in the best position to provide long-term support for disaster victims. By funding the relief efforts of local organizations, donations to the Global Giving fund have the potential to build stronger disaster-response capacity, so that these organizations are better equipped to face future disasters. GlobalGiving promises to post reports about how funds have been used and will email these reports to donors and subscribers. A wonderful giving choice if you haven't made a donation yet. Just click the photo above to go straight to that donate page.
Caroline Avakian, Socialbrite's Managing Partner, is a global development communications strategist in the New York City area with a focus on strategic communications, technology, and innovation. Contact Caroline by email, see her profile page, visit her website, follow her on Twitter or leave a comment.

This work is licensed under a Creative Commons Attribution 3.0 Unported.