Organizations starting to use SMS as powerful tool for fund-raising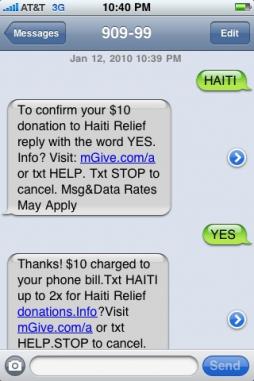 We've just released a new report, Nonprofit Text Messaging Benchmark Study, that offers the first-ever look at how organizations in the United States are using text messaging and how subscribers are responding. It shows that mobile phones are becoming increasingly popular as an advocacy and fund-raising tool by organizations, and it provides benchmarks and metrics by which nonprofit organizations can measure their success with text messaging.
Co-authored by myself and Michael Amoruso and Jessica Bosanko of M+R Strategic Services, the free report also illustrates the various ways in which organizations are using text messaging. The study was sponsored by Mobile Commons and mGive.
The earthquakes in Haiti earlier this year showed the power of SMS as a tool for fund-raising (raising millions in just a few days), and it's now clear that there's an opportunity for nonprofits to tap into the mobile market to engage their supporters. As the study reports, there are currently over 276 million wireless users in the U.S., and during the first half of 2009, users sent about 740 billion text messages. The report breaks down not only how nonprofits can use SMS to interact with supporters but also releases statistics on how specific organizations fared with their SMS campaigns.
You might be interested in learning:
How nonprofits engage supporters through text messaging
The advantages and limitations of text messaging as a tool for engagement
How to evaluate the performance of a text message
6 nonprofits' SMS campaigns profiled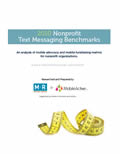 The study gathered its data from profiling six organizations — American Society for the Prevention of Cruelty to Animals (ASPCA), Planned Parenthood, NARAL Pro-Choice America, Humane Society of the United States, Defenders of Wildlife and Human Rights Campaign — that ran SMS campaigns from August 2008 to August 2009.
Highlights include:
For the organizations that participated in this study, over 80 percent of subscribers were existing supporters recruited from their online program.
Lists grew at a rate of 49.5 percent annually.
The annual churn rate for text lists was 30.7 percent. The benchmark text message unsubscribe rate was 0.69 percent.
The response rate for call-in advocacy text messages was 4.7 percent – nearly six times the 2009 benchmark response rate of 0.82 for call-in advocacy emails.
The report also looked into the type of messages that the nonprofits were sending to their subscribers. The results fell into five categories: fund-raising, advocacy, informational, go-to-web and text reply. Learn more about the study at the Mobile Benchmarks website.
Anneryan Heatwole contributed to this article. Image courtesy of Flickr user curiouslee
Related
• Free nonprofits & public interest reports (Socialbrite)

This work is licensed under a Creative Commons Attribution-NonCommercial 3.0 Unported.