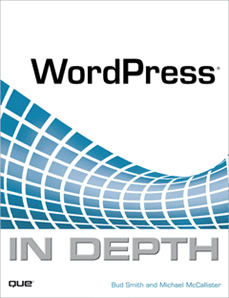 At a recent meetup of the East Bay WordPress Meetup group, I won a free copy of WordPress in Depth, the new book by Bud Smith and Michael McCallister.
If you're thinking of starting a blog, or switching from another blog platform, "WordPress in Depth" (softcover; 432 pages; publisher: Que) serves as a worthy guide to get you acquainted with the wealth of options that WordPress and its open source-fueled developer community now offer.
During Friday's post-conference strategy sessions at NewComm Forum, I was asked which blogging platform I recommend. Two years ago it would have been a close call. Not anymore. WordPress.org is the sleek, turbo-charged race car that leaves all the other players in the dust. (Last year I wrote a comparison of TypePad vs. WordPress. Some beginners may feel more comfortable with WordPress.com.)
In "WordPress in Depth" (one of several WordPress available in bookstores), the authors cater to a WP readership from newbies to advanced. The style is friendly, accessible and non-technical, with lots of graphics, call-out boxes and sidebars. I could have used this 16 months ago when I was working on the relaunch of Socialmedia.biz and the launch of Socialbrite — the book covers everything from installation basics to the must-have plug-ins. It's not meant for the techno-illiterate, but it shouldn't intimidate anyone who's comfortable around computers.
The authors take nothing for granted, and users familiar with the basics of WordPress can skip over those sections that guide you through things like how to upload an image (note: I skipped some of the book's early chapters, which are devoted to WordPress.com). Instead, you should turn your attention to meatier matters like adding new features, mastering the wealth of stats and analytics WordPress makes available, how to switch themes, looking at top-flight WordPress blogs and lots more.
I've been immersed in WordPress since late 2008, but even I picked up a number of useful tips. For example, I generally work in HTML mode, so I wasn't aware that you can compose posts full-screen by switching to the Visual tab and selecting the full-screen mode button in the top row of icons — that will save me some eye strain in the years ahead. The authors also gave me a deeper understanding of polls, which I hope to add in the coming months as an additional way to engage users. Finally, I wasn't aware of some of the plug-ins that Smith and McCallister deem essential. (Here are my top 10 WordPress plug-ins.)
Where to find 'WordPress in Depth'
Kudos to Sallie Goetsch for pulling together the East Bay Meetups and to the authors for providing a resource I'll be thumbing through for years to come.JD Lasica, founder and former editor of Socialbrite, is co-founder of Cruiseable. Contact JD or follow him on Twitter or Google Plus.


This work is licensed under a Creative Commons Attribution 3.0 Unported.