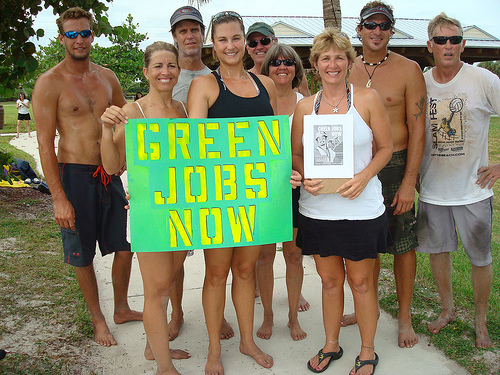 Sizing up your options & strategies for being effective with your online petition drive
Target audience: Nonprofits, social change organizations, educators, foundations, businesses, individuals. This is part of Creating Media, our ongoing series designed to help nonprofits and other organizations learn how to use and make media.
By Julie Katz
Socialbrite staff

Political and social activists have a lot of choices these days when launching a petition campaign. But not all petition sites are created equal.
What options do you have to wage an effective petition effort? Here's a breakdown of what you need, where to go, what to do and how to make an impact. (You can add Change.org and Causes to the list below — we covered them in our roundup of fundraising sites.)
First, you need a cause. Make sure your cause is clear and concise. Have some background information available to buttress your case, including links and citations. Supplement it with media: a video, photo or story that personalizes the issue.
Here are the major petition sites that you can choose from:

The Petition Site
1Care2's first-rate The Petition Site offers a simple online form letter that makes it easy to sign and send off. Making a petition takes three easy steps on this site: Start the petition page, add your information and create a "petition promo" (how it will appear on the site). Viewers will find the petition statement or letter directly next to the form they will be signing on the petition's page.
The nonprofit marine conservation group Oceana recently posted a petition asking Congress to save bluefish tuna, a fish rapidly facing extinction because of unmonitored overfishing. The petition has received 10,600 signatures toward a goal of 15,000.
How to be effective with your petition drive
Targets: Make sure to have links to the websites, blogs or profiles connected to the issue you are petitioning for or against.
Presence: Don't leave your petition waiting to be noticed! Your petition should be unavoidable to be effective. Use social media outlets to their greatest potential. Create a Facebook Page or Group for the petition with links, information and space for people to share their personal stories. Personalization gets more attention than a form letter.
Social bookmarking: Consider e-mail to be the digital age equivalent to being hassled by petitioners with clipboards on street corners. Indiscriminate e-mail blasts are considered spam. Instead, spread the word on Twitter, Facebook and your blogs! Interlink as much as possible to spread the word. You can link the petition site back to Facebook and your blog to give it more heft.
Pros and cons to online petitions
Pros: The major upside is this: Here's an easy way to get the word out about your cause and perhaps make a difference. Online petitions are particularly useful if you are mobilizing opinion on behalf of a cause while on a deadline. Demonstrating strong public opinion in mass quantities is especially useful if you're racing the clock to a major vote or decision.
Cons: A few drawbacks come with petitioning online. First, there's the "good deed syndrome," sometimes called slacktivism: the notion that by filling out an online petition, a user considers that an "accomplishment" rather than becoming educated and involved. A second drawback is the "click and send effect" among petition gatherers: the notion that quantity beats quality. While the number of signatures is important, the quality of the petition and the input of the people signing it — eg., people taking time to write a message — proves more persuasive than raw numbers.
Last, consider your social capital. Author Clay Shirky writes about social capital in his books "Here Comes Everybody" and "Cognitive Surplus." Social capital is what we gain from interacting within our community. The "I-do-for-you-and-you-do-for-me" ideology presents a social contract between individuals, and petitions play an important role in our civic space.
Have you ever created an online petition? What has worked — or not worked? Have we missed any sites? Please leave a comment below.
Image at top by greenforall.orgJulie Katz blogs at Julie the CMC Major.

This work is licensed under a Creative Commons Attribution 3.0 Unported.