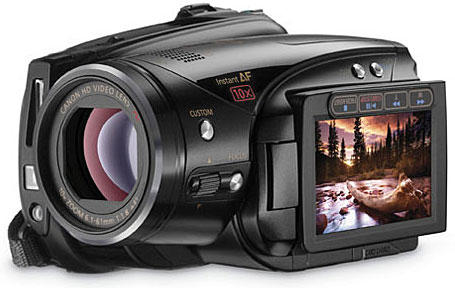 The Canon Vixia HV40.
Tips on video equipment, interviewing people on camera & more
Target audience: Nonprofits, social change organizations, videographers, educators, foundations, businesses, individuals. This is part of Creating Media, our ongoing series designed to help nonprofits and other organizations learn how to use and make media.
Guest post by Diana Day
Online Journalism Review
With the increasingly affordable equipment and editing tools available today, it's possible to turn out professional-looking online video quicker than you'd expect.
You can hire an outside video producer, but we think the tools have become simple enough to bring in-house. Make sure you have the right setup before starting to film, and make sure to follow our suggestions below on how to conduct an effective interview.
Equipment you'll need
Camcorders
The prices of high-quality hi-definition video cameras have plummeted in the past two years. Nonprofits, cause organizations and citizen publishers can choose from two basic types of camcorders: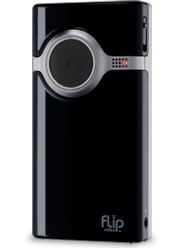 • The Flip cam has revolutionized the way people capture and share video. You can get a hi-def handheld recorder for less than $200. (Cisco purchased Pure Digital, the Flip's maker, last year.) Other options include Kodak's Zi8 and the Sony Bloggie.
• There are an astonishing range of professional-quality video camera in the $450 to $800 range today. The Canon Vixia line is a good place to start looking. Another good choice is the Panasonic TM700K. Try this CNet camcorder buying guide to help you price, research and select a video camera within your budget.
Microphone
While you don't need a top-of-the-line camcorder, you do need acceptable sound. A microphone for man-on-the-street interviews is very helpful and is a real improvement over the camera's on-board mic. The following are specifications for a hand-held stick microphone. You should be able to find one at a Radio Shack or Best Buy for between $20 and $40.
uni-directional (cardioid) pick-up pattern
lo-impedence (ohm symbol) 600 ohms or lower
frequency response range: 50-100 hertz to 10,000-15,000 hertz
1/8″ mini-plug or a ¼" phone plug with a 1/8″ adapter
10-20 foot cord (shorter is fine, too; you might find it a pain to wrap up and store such a long cord, but it's indispensable when you really need it; a detachable cable is OK)
No battery required
A lavaliere (clip-on) microphone for planned sit-down style interviews is a plus, but it's not imperative if you're trying to save money at the beginning. Again, you can find one at Radio Shack for $25. Some stick microphones available in the price ranges detailed above come with those cheesy little plastic stands, and believe it or not, these are fine for getting started. Just place the mic on the stand outside of the frame and shoot. Try to shoot in a quiet place to minimize audio distractions, and you'll be surprised how well this will suffice to get you started.
You must use earphones to check that your audio is working. It's surprising how easy it is to forget to turn on a microphone when you're busy setting up equipment, trying to look confident and, at the same time, working to put your subject at ease. A simple check, even with the cheapest earphones, can save your entire video.
Tripod
You may also want a tripod. Video doesn't look good if the image is shaky like you shot it during an earthquake. A tripod with a leveling bubble is a nice extra. If you find yourself without a tripod, avoid using the zoom. As you zoom in, it gets easier and easier to see even the most subtle camera movement.
An extra battery, though a bit pricey, is worthwhile so that you're never caught with no power. Get a roomy case and don't forget to keep a pen and paper inside with your camera gear. It'll make editing easier later if you keep notes while you shoot.
Elements of video stories
Video stories have some basic elements that you can carefully edit together. There are other types of elements to include, but these will get you started:
video accompanied by its own sound – called "natural sounds" or nat sound
snippets of people sharing information that advances the story – "sound on tape"
your vocal track over video – your vocal track is the "voice over" or VO, and the background video under your narration is called "b-roll."
As you report your story, you should be thinking about the visuals that will help you tell your story. Match the content of your video to the content of your audio. Remember too that each of the visual clips you'll weave together to tell your story visually will only be short bursts of no longer than five or six seconds. Think of it as a patchwork quilt that has many different pieces of tiny fabric that all add up to create a unified whole – all of the little pieces contribute to the overall visual effect of the quilt.
It's also important to establish context. For example, if you're shooting a story about a redevelopment project, you want to show viewers the outside of the buildings. You'll need to anticipate the kinds of questions your viewers will have and answer them visually and through the narration.
Interviewing people on camera
Here are a few tips that we've found effective:
People don't really understand how to hold and use microphones, so you should always be the one to hold the stick mic (unlike you use a clip-on mic). This puts you in control so you can get the best audio possible.
Leave a little headroom at the top of the frame.
Position your subject a little to the left or right of center and leave nose room to the opposite side.
Use the LCD monitor on the camera to watch the interview at the same time that you look over the camera and make eye contact with the subject. This puts the subject at ease, gives her someone to look at and makes the interview more natural-sounding. But don't, for any reason, make any sound at all when your subject is talking. Even the littlest laugh or "Ummm" from the camera person sounds awful.
General shooting tips
Don't shoot your subject in front of a window or with the sun behind him, unless you want your subject to appear in silhouette; the best light source comes from behind the camera.
Use your tripod and earphones whenever possible.
Let the tape run for about 20 seconds at the beginning of a tape and leave a little tape at the end as well.
Get as close as you can to your subjects and shoot close-ups whenever possible.
For online video, avoid pans (horizontal movement of the camera) and zooms (focusing in or out using the zoom feature on the camera) because not only does it look bad on the Internet, but unnecessary movement can slow down the video stream.
Divide up the frame mentally into three vertical strips and place your subjects within those strips in such a way as to create screen balance.
Putting it all together
Sit down and create a log of everything you've shot. Even the briefest list of the video, audio and time code will help you create your script and will provide a time-saving tool during the editing process. (If you've only shot one subject, that makes it easy!)
You may want to write a script for the narration voiceover. It's helpful to write your script in two columns, with the audio narration on the right and the corresponding video on the left.
Select the interview sound bites that help move the story forward. Design visual sequences to flesh out the narration and be sure to include shots that help establish location and context. Remember that, except for the sound bites, each snippet of b-roll coverage will usually run about five or six seconds at most.
After you've finished writing, you'll need to record the chunks of narration between the sound bites. If you don't have access to a vocal booth, then get into a closet full of clothes or a carpeted room to record your vocal tracks. Use your stick mic and record your voice directly onto an unused part of the DV tape.
Editing software
There are a number of editing software packages available to get you started. The software you use will depend on many different factors, like your editing goals, how much money you want to lay out, your specific computer configuration and the software's user interface.
Options include:
Lay down your vocal track first and sound bites second so that you have a full audio version of your story to start with. Then go back and drop in your b-roll clips and video sequences to complement your vocal track.
At the end, equalize your sound by raising nat sounds when they are alone and do not compete with narration and by lowering nat sounds when they are too loud under the narration. The sound should flow evenly and naturally without any surprising drops or jumps in volume.
Posting online
If you have your own site, you could FTP your video to your server. But online video requires a lot of bandwidth, which could increase your hosting costs substantially. Fortunately, there are a lot of free video hosting solutions, including:
• YouTube
• Vimeo
• Viddler
• Magnify
• Veoh
• Ourmedia and others.
Related
• Create video stories for your nonprofit in 6 steps (Socialbrite)
• Creating Media (Socialbrite)

This work is licensed under a Creative Commons Attribution 3.0 Unported.