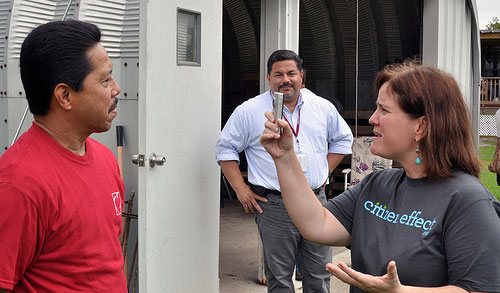 Jill Foster of Citizen Effect conducts an interview in the Gulf Coast (photo by Geoff Livingston).
Vittana, Citizen Effect, Spheresavers among the networks galvanizing change
Target audience: Social change organizations, nonprofits, educators, community organizers, change agents.
Guest post by Katrina Heppler
envisionGood
Social tools come in all shapes and sizes. Yesterday we looked at 6 productivity tools for social change — mostly desktop and cloud-based apps and one cool gadget for your pocket. Today here's my list of 12 platforms and online communities that are doing an amazing job in promoting social change.
You must have your own favorites (I've left off a few of my own, like Change.org and Causes, for example) — please share them in the comments below!
For a different list of 12 community platforms, download our flyer: 12 social action hubs.

Vittana: Send someone to college for $25
1Vittana is an amazing online platform that connects people through lending and helps young people around the world to get access to higher education for the first time. Through Vittana, you can make a loan to a student to help him or her go to college. Vittana reports that their students have a 95% success and repayment rate on their loans. In essence, Vittana is like a "Kiva for worldwide education." Through online loans from people like you and me, Vittana is building a world where anyone can go to college. Vittana has been recognized as a Pop!Tech Social Innovation Fellow and HuffingtonPost #1 Game Changer in Philanthropy. Follow Vittana on Twitter.
Related
• 6 productivity tools for social change (Socialbrite)
• Directory of cause organizations (Socialbrite)
• An educator's 5 top tools for social change (Socialbrite)
• A change agent's top 5 tools for social change (Socialbrite)
• 12 open source tools you should be using (Socialbrite)
• A developer's 5 favorite social tools (Socialbrite)

This work is licensed under a Creative Commons Attribution 3.0 Unported.