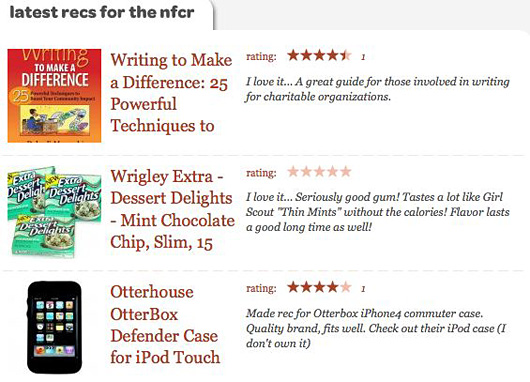 Rec.fm donating 100% of product recommendation revenues to benefit Red Cross, Kiva, other nonprofits through Dec. 31
By Sherry Miller
Socialbrite
Buy what you love, recommend products you love, and your favorite charity receives a donation. How could this be? Rec.fm, a new donor-driven website, makes this happen in three simple steps: choose a product, recommend it, share it.
Rec.fm — a website and Facebook application based in Silicon Valley — has a mission to create, find and share your trusted recommendations for quality products. You recommend. People click or buy. Charities benefit. Half of Rec.fm's site earnings are donated to the charities you choose.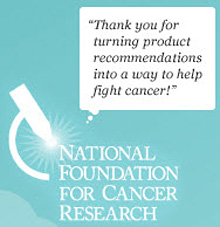 Here's how it works: Go to Rec.fm. Pick a product you like. Write 140 characters to tell your friends why you love it and add some tags so others can find your rec in the Rec.fm directory.
When you tell Rec.fm exactly what you like about the product you've chosen, the site will generate a short url that you can share on Facebook, Twitter and other social networking sites. When your friends click on it, they'll be taken to a Rec.fm site with more details on the product. If they decide to buy the product, Rec.fm receives a payment from the retailer and more than half of it is passed on to the charity of your choice.
Until the end of the year, Rec.fm will donate 100 percent of its revenues to these great nonprofits: The American Red Cross, National Foundation for Cancer Research, Water.org, Kiva and the American Foundation for Children with AIDS. Rec.fm sent its first three checks in early December to Kiva, The Red Cross and the NFCR. Rec.fm also gives away prizes and gift cards on a weekly basis.
Rec.fm officials hope its new revenue stream will create a large source of contributions from active online users of social networks who spend an estimated $150 billion annually. The products purchased via Rec.fm are fulfilled by trusted merchants such as Amazon.com and iTunes.
Your nonprofit can participate in the Rec.fm program by contacting the Rec.fm president, John Appler and signing a simple one-page agreement.
Related
• 10 mobile apps for social good (Socialbrite)
• CauseWorld: Support causes on the go (Socialbrite)
• Blissmo: A new way to connect with sustainability (Socialbrite)Sherry Miller is an editorial professional with extensive experience in nonprofit, fundraising and educational environments. Contact her or leave a comment below.


This work is licensed under a Creative Commons Attribution 3.0 Unported.