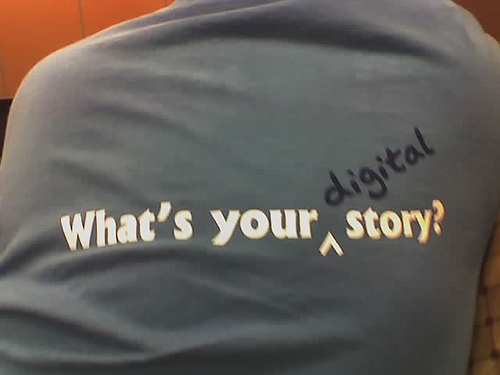 Guest post by Kristy Graves
TechSoup Global
Storytelling is one of the most powerful vehicles to convey your organization's message. This month TechSoup Global and a number of digital media experts are helping the nonprofit community learn how to hone your storytelling chops.
Starting Thursday, Jan. 13, join TechSoup's Digital Storytelling Event. Participate in webinars, online events and discussions to learn how to tell your organization's story through video and photos. Then, create a digital story showcasing your organization's work and submit it for a chance to win prizes, including Adobe Premiere Pro, Flip Video Slide HD or an Optoma Pico Projector. No production or storytelling experience is necessary – this online lab will teach you how.
Head over to TechSoup's Forums to learn how to start storytelling. Then, use the digital story you created and put those new skills to good use. Here's the overview:
What
The second annual Digital Storytelling Challenge. Create a 60-second YouTube video or five-panel image story on Flickr, telling us about your organization. Training and resources provided by TechSoup and its partners. Prizes for the top three submissions from Flip Video, Flickr, Adobe and more. See full details.
When
This is a series of online-only virtual events.
Jan. 13 to 31: Submit your entries.
Jan. 13: First Webinar, How to Tell Your Digital Story, with Michael Margolis of GetStoried and Rob Kershaw of the Center for Digital Storytelling
Jan. 20: Second Webinar, Tools for Digital Storytelling, with social entrepreneur Melissa Jun Rowley
Jan. 31: Close of submissions
Feb. 23: Screenings, awards and mixed reality event, more details coming soon
Who
Any nonprofit or social benefit organization. All experience levels welcomed.
Cost
Free!
Visit the Digital Storytelling Challenge page for more details, instructions/guidelines, see the expert judges, and other ways you can participate.
Follow along, RSVP and join the community online:
Twitter: #TSDigs
Facebook: TechSoup 2nd Annual Digital Storytelling Challenge
LinkedIn: TechSoup Global Digital Storytelling Challenge
If you'd like to get in touch, feel free to reach out to the TechSoup team at [email protected].
Related on Socialbrite
• Digital storytelling: A tutorial in 10 easy steps
• Digital storytelling from soup to nuts
• How nonprofits should be using storytelling
• Visual storytelling checklist
• Mash up a visual story for your nonprofit

This work is licensed under a Creative Commons Attribution 3.0 Unported.