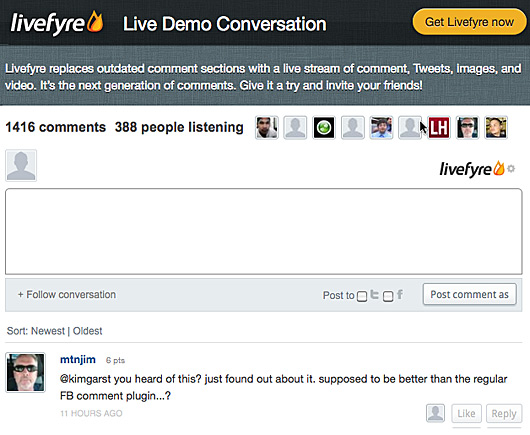 Livefyre: a commenting system that captures the social stream.
Optimize your blog for commenting, mobile, printing & more
Target audience: Nonprofits, NGOs, foundations, cause organizations, companies, brands, start-ups, citizen publications, Web publishers, individuals.

Here are some cool plug-ins for you to try out on your WordPress blog. I found a few of them via Ken Mueller, so I recommend you read him regularly.
The list includes plug-ins to optimize your blog for commenting, for mobile, for printing and to insert images. And don't forget to check out our list of 10 essential WordPress plug-ins: Akismet, Dagon Sitemap, Broken Link Checker, Creative Commons, IntenseDebate, WP Database Backup, All in One SEO, Zemanta, Audio Player and Smart Update Pinger.

Livefyre: Jacking into commenters' social networks
1Now, I know a lot of people like comment systems such as Disqus and CommentLuv. But here's why I love Livefyre:
It was the first comment system to introduce the ability to tag friends from Twitter and Facebook, thus bringing them into your blog conversation (yes, you see this on Disqus now, but Livefyre did it before Disqus).

Because of this, it really does help boost conversation in your blog comments. Certainly, you need to have a community you can reach out to, comment on other blogs to grow your community, etc. But you can't beat a comment system that helps showcase your blog posts in front of those who might not have been aware of the post or conversation going on in the first place, can you?

One of CommentLuv's signature features has been the ability to have your latest post (or one that you select) linked to in your comment. Well, Livefyre lets you do this now, too. And even when it didn't, its tagging features outweighed the signature feature for me, because of the related ability to grow participation on your blog.

Their customer service is excellent. And I mean E-X-C-E-L-L-E-N-T.
To get started with Livefyre, simply sign your site up at www.livefyre.com (it supports several platforms), and then install the plug-in as part of the process. Two steps that are very easy and very quick.
There you have it. Five really great plug-ins to improve your WordPress blog overnight.
What plug-ins have you found to be really helpful? Please share, I'd love to rock my blog with your smarts!
Related
• 10 essential WordPress plug-ins (Socialbrite)
• Build a WordPress site for your nonprofit in 9 steps (Socialbrite)
• Nonprofits: Is your website mobile-ready? (Socialbrite)
• OpenCalais: Serving up context on the fly (Socialmedia.biz)Shonali Burke  is a public relations and social media expert and consultant based in Washington, D.C. Her firm provides integrated PR for measurable results. You can connect with Shonali via her website or follow her on Twitter.


This work is licensed under a Creative Commons Attribution-NonCommercial-ShareAlike 3.0 Unported.