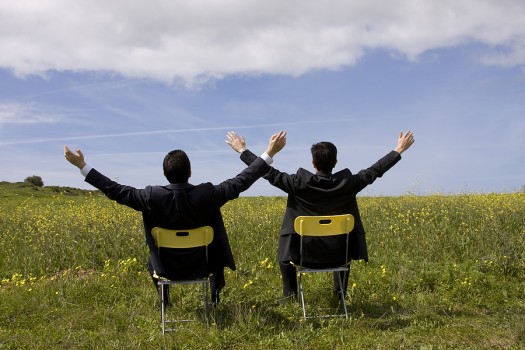 Photo by hjalmeida for Big Stock
Three simple steps to establish a successful partnership & boost your organization's profile
Target audience: Nonprofits, NGOs, cause organizations, social enterprises, businesses, brands, marketing professionals.
Guest post by Amanda DiSilvestro
Content Writer, Resource Nation

The phrase "two heads are better than one" is becoming more and more popular as the economic outlook becomes less popular. In other words, many nonprofit organizations have begun to realize that striking up a partnership with another company can be beneficial.
Co-marketing, or cooperative marketing, essentially amounts to an agreement between two companies that says each company will help market the other. For example, an organization dedicated to helping the homeless may work with a food bank, or an organization working to renovate public schools may work with a construction company.
Benefits of establishing a co-marketing partnership
The other company can refer your organization to customers. This will give you an entirely new group of people who may be interested in your cause.
People who recognize and trust your partner company will be more likely to give your organization's ideas a listen.
You have the option to share expenses and profits with your partner company. For example, you may want to share an ad in a paper or include your logo in your partner's e-mail messages.
Both companies can use each other's talents when creating marketing campaigns.
Now, the tricky thing about co-marketing is actually finding a company you want to work with, and then drawing up the paperwork. If you do one and not the other, those benefits I talked about are likely to go right down the drain. Fortunately, if you follow a few simple steps you will come out of a co-marketing deal with success.
3 steps to create a lasting partnership
Management and marketing department
1You should first learn as much as you can about these two aspects of your potential company partner. Go to lunch and ask those in charge about their customer loyalty, their strategies and their opinions on the overall approach they think works when it comes to marketing. Also, consider spending a day in the office observing. Really get to know how things work.
Reputation
2When you enter into a co-marketing partnership with another company, your reputation is on the line. You'll want to make sure your partner has a sterling reputation. To properly vet a potential partner, go online and look at reviews and other customer feedback. If you need to ask the company for a few e-mail addresses or contacts, do so. To put it simply, don't just take the manager's word that they have a good reputation; do your own research.
Talk numbers and start slow
3When you sit down with the manager, owner or marketing department, ask for numbers. Figure out exactly what they want out of the partnership. While you are most likely looking for publicity, your partner company may be looking for profit increases. Many companies actually have a trial-run first where they work with a small number of customers and do a small amount of advertising together. If it seems to work, then jump into something more serious.
Boost your organization's profile
In the end, co-marketing should go off without a hitch if you do your research and approach it with caution. As someone who has experience in co-marketing projects, I guarantee you will find that the benefits far outweigh any stress or problems you may encounter. Hopefully you will not only increase your publicity because of these efforts, but you will create a lasting partnership that will bring both you and your partner company to the top together.
Amanda DiSilvestro
is a content writer at
Resource Nation
, an online resource that gives advice to small businesses and entrepreneurs. Follow her on Twitter at
@A_DiSilvestro
.