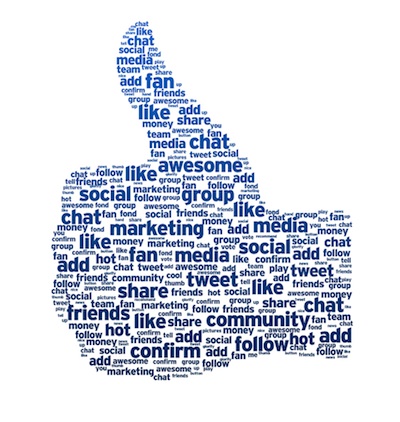 Image by kbuntu for Big Stock
Why you need a variety of strategies to keep fans interested in your cause
Target audience: Nonprofits, foundations, NGOs, cause organizations, businesses, brands, social media managers, Web publishers, individuals.
Guest post by Jon Loomer
Digital marketing consultant, JonLoomer.com
The secret to a successful Facebook page is a highly engaged community. You can drive thousands of fans with ads, but the number will be hollow if they aren't active and engaged.
If you're a restaurant, poll them on what menu item should get a special Facebook fan price. Ask them to vote on the name of a new product.
Why is this important? An engaged fan who interacts with your page is developing a loyalty for your brand. By being actively involved in your page, they are aware of your product launches and special deals, and are therefore more likely to purchase. Just as important, an actively engaged fan is sharing your brand with their friends, thereby expanding your fan base.
Engage, engage, engage. It's been said so many times that the word is losing meaning. So what does this mean? Here are several examples of how to engage fans on your Facebook page, but feel free to get creative.
Be interesting
1 This may be easier said than done, but only post information that is interesting to your customers. Make sure it's relevant and timely. If you're not sure what your customers like, ask them!
Be human
2 Feature the humanness of your brand. Post with a personality, feature photos and videos of staff members, and show another side of your organization. Along the same lines, no one wants to follow an endless PR stream. People don't trust PR. Be authentic and honest. Recognize mistakes and involve your customers in the solutions.
A more literal way to "be human" is not to use automated services to post to your page. This isn't interesting. Most such services don't allow you to add personal description to the post. People easily sniff it out, especially since these posts are highlighted with a third party icon. Studies have shown that posts made with third party services — automated or not — are less successful.
Prompt a response
3 An engaged fan is someone who not only reads your content but actively comments, likes and shares. How do you get that response? Ask for it! Ask questions in your posts. Ask for fan feedback. Get their opinions. Ask them to share your content. Ask them to recommend your page to their friends. These are your most loyal customers. Involve them!
Be brief
4 Don't write a book. Whether you're providing a description of a link you're sharing or writing a status update, get to the point. Short posts have a clearer purpose and are much more likely to receive a response.
Share a variety of content
5 Mix it up. Share links, video and photos. Include the occasional status update, but you can't rely only on that type of post. The most viral types of content on Facebook are photos and videos. If you share a link, make sure that it has a corresponding thumbnail image that is interesting. People are much more likely to read a link that has an interesting thumbnail image than content that does not.
Share exclusive content
6 You need to provide value to being a fan of your page. It's more than just being interesting and human. Provide content that your fans can't get anywhere else. Share information about your company that isn't available on your website or blog. Provide exclusive behind-the-scenes content. And if you sell a product, share exclusive deals available only to Facebook fans.
Use questions
7 Want to get feedback from your fans? Use the built-in Questions app by Facebook. Keep questions short (longer questions are cut off) and make sure you have a clear goal. It's usually to find out more about your customers or what they want.
But also feel free to use this to help customers make decisions about your brand or your page. If you're a restaurant, poll them on what menu item should get a special Facebook fan price. Ask them to vote on the name of a new product. Involve them in big decisions to help give them a sense of ownership in your brand.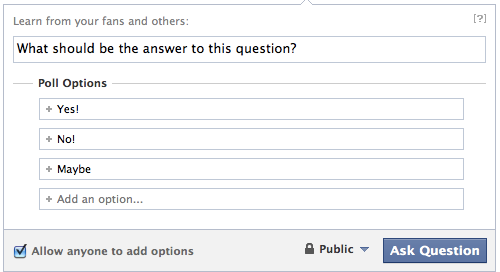 Use events
8 Having a big event you're looking to promote? Launching a new product? Use Facebook's Events. This built-in app allows you to make events more official. When fans and non-fans respond with an RSVP or an indication they can't attend, it also gives you an idea for an expected turnout.
Of course, it's more than knowing who will be there. Like with anything else, when you engage your fans and get them to respond, that information is shared with their friends. So by creating an Event that generates a response, you increase the potential for reaching a new audience.
Encourage check-ins
9 Do you have a physical location that relies on foot traffic? Encourage check-ins. It's one more way for your fans to interact with your brand. Remind them with signs at your store. Maybe even provide incentives. Once again, this engagement has benefits that go beyond building a relationship with this customer. That person is telling his or her friends where they are. Whether or not their friends join them, the check-in acts as a recommendation from your fans.
Recognize fans
10 You need your fans. Remind them that you appreciate them. Thank them for liking your page and for being a customer. Highlight milestones when you reach a certain number of fans. Have a Fan of the Week feature. Find ways to recognize your most loyal fans and thank them for their involvement with your brand.
Hold contests
11 Every once in a while, get your fans excited with a giveaway or some other contest. Of course, Facebook has some specific rules about holding contests on your page. Make sure you follow them. But a good contest is an excellent way to build some buzz around your brand, add value to liking your page and reach a larger audience.
Encourage user-generated content
12 Your page shouldn't be only about your brand, it's also about your customers. Ask your fans to share their own stories, photos or even videos that reflect their interaction with your organization. When they go to your restaurant, ask them to take a picture of their meal and share it on your wall or with their friends. Make your wall a combination of your posts and posts from fans by encouraging user-generated content.
Be consistent
13 Your fans need to know what to expect. Don't post twice a day for two weeks and then go quiet for the next two. You need to be consistent. That could mean creating a content plan. Schedule out what you're going to do a week or two in advance. It could also mean having a specific theme for each day of the week you post. You don't need to post every day. You may only post a couple of times per week. But be consistent.
Target by location or language
14 If you're a local company or if your message is the same for everyone, this may not be useful. But if you are an international, national or even regional company, targeting may be useful. Maybe you're promoting an event or special that applies only to a specific area. You don't want to annoy your fans in the areas where this isn't relevant. So when posting, click the lock and then customize. From there, you can choose to target your message by country, state, city or language.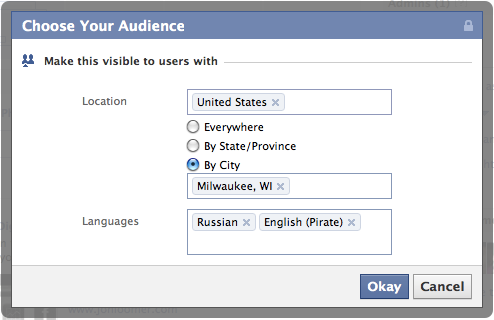 That's a start …
There are certainly other ways to engage with your fan base and keep them involved with your brand. But this should be a good start.
What other creative methods have you used to keep your fans interested in your content? What can you add?
Jon Loomer
is a digital marketing consultant with a focus on Facebook and other forms of social media. His experience prior to consulting includes time with the American Cancer Society as VP of Strategic Marketing and the National Basketball Association, overseeing fantasy games. His experience covers product management and development, mobile strategies, marketing and promotions, and building an online brand through social media. Follow him on Twitter at
@jonloomer
. Republished from
johnhaydon.com
.