A fish-eye lens attachment for the iPhone.
How to build an iPhone-ready DIY photo/video studio for under $200
Target audience: Photographers (amateur and professional), nonprofits, foundations, NGOs, social enterprises, cause organizations, businesses, Web publishers, educators, journalists, agencies, general public.

Isaw a post from Chris Brogan a while back, talking about how it's OK to not be an expert and, in fact, we shouldn't wait until we're experts at something to do it.
Sounds right to me. I never trained in public relations, much less social media, and my background is in economics and drama, but I think I'm doing OK. To me, non-experts doing things very well is one of the beauties not just of our profession but a gift that the social Web has given to us.
After all, you don't have to be an expert to blog well, to excel at online marketing, to take great photos or videos, right? I don't know about you, but I'm drawn more to the "non-expert" versions of these things because they have a realness to them that a lot of "expert" content doesn't.
Being a non-expert at much of this stuff, I recently got a bee in my bonnet about finding a way to build my own, iPhone-ready DIY photo/video studio, that would let me create not great but good enough visual/multimedia content. (Project 366 is proving to be great testing ground for this.)
After a month or so of trial and error, finally all the pieces have fallen into place. And I did this on a total budget of less than $200, excluding taxes and shipping. Here's how you can, too, with six terrific iPhone accessories that will give you a mobile "good enough" photo/video studio. Budget-conscious nonprofits and organizations who send staffers out into the field, pay attention.
Olloclip 3-in-1 lens
1The Olloclip 3-in-1 lens ($69.99) is a very cool little gizmo. It's a fisheye, wide-angle and macro lens all in one. It clips onto your iPhone and gives you the ability to take some really neat photos.
For example, the photo below was taken during my personal training session the other day; I got Grant Hill to be my guinea pig, heh! Here's the shot I took using the regular iPhone camera/lens: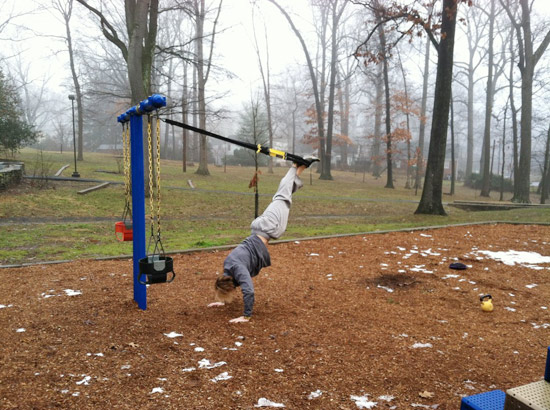 And here's the same scene taken with the Olloclip's wide-angle lens: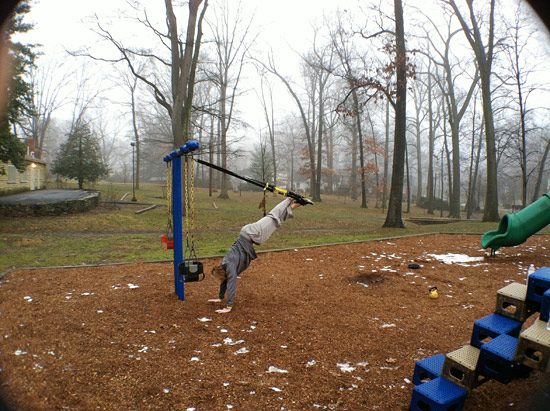 See how it's extending the visual to the sides, not to mention top and bottom?
And at the very top is the scene using a fisheye lens, which you usually only see on pro photographers' lenses.
Finally here's a photo using the macro lens of a really fab wine glass that Rachael Seda gave me. Macros are terrific for taking really, really close-up photos.
By the way, the Olloclip is also available via Apple.com, but I used an Amazon gift card that was crying out to be redeemed. There is also a cheaper version of this, i.e., the same three lenses that come with magnetic rings that you can stick onto the back of your iPhone, but when I tested it, they kept falling off. Not good.
Downsides:
It won't fit over a fancy iPhone case, if you have one
The iPhone's built-in flash and the Olloclip don't play nice together, but I have a solution for that below.
iFlash
2So now you're all excited about the 3-in-1 lens solution, but what happens if you want to use these when you need a flash? iFlash ($12.99) to the rescue. This is lovely, and it works great. It fits into the "30 pin" on your iPhone — that's what you call the end where you plug your charger in. It will not fit if you have a fancy iPhone case. Yes, again.
Joby GorillaPod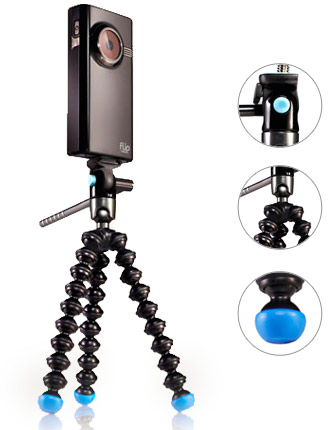 3OK, so now you have your lenses and your iFlash. What if you tend to shimmer and shake when holding your phone/camera, and need something to hold it steady?
Enter the GorillaPod Video tripod ($29.95). Now, I originally bought this for my Flip camera, but I found a way to repurpose it for my iPhone.
Before I get to that, though, what is so neat about all Joby's Gorilla products is the way the legs bend, which means you can attach them to shelves, branches, doorknobs — just about anywhere you need to, even if you don't have a flat surface to stand them on. And they also have magnetized "feet," so if you're near a surface that will work, you can literally just stick it on there.
How cool is that? It's a plastic yoga studio!
Joby has a ton of products, including a tripod specifically for the iPhone, but I don't like that, and I'll tell you why.
Glif
4The problem with using Joby's iPhone tripod is that you have to use the case that comes with it in order for the tripod to hold your iPhone securely; it fits on other cases as well, but the point is, it won't fit on just the iPhone. So if you want to take, say, photos or videos while using your 3-in-1 lens, or iFlash, and still need the steadying influence of a tripod, you're out of luck.
This is where the Glif iPhone stand and tripod mount ($20) comes in. (I bought mine on Photojojo.) It's a small piece of plastic – when mine arrived, I kept peering into the envelop to see what was missing – but it fits beautifully onto your phone without a case, and has this hole into which the Joby Gorilla Pod screws beautifully.
I'm sure I will regret leaving that last phrase unedited. But whatevs.
Also, Photojojo has a killer website that is pure fun to go through, and just wait until you get their order confirmation packages. I got a teeny weeny dinosaur with mine!
Audio-Technica ATR3350 Lavalier Mic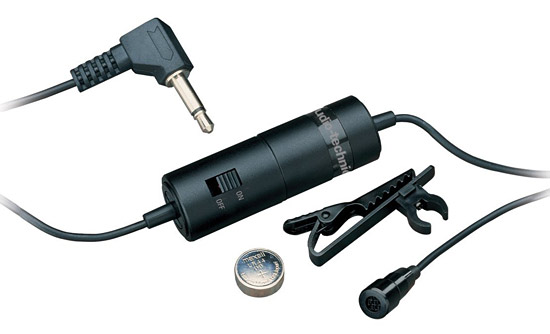 5The Audio-Technica ATR3350 Lavalier Mic ($22.34) is just a lovely little lavalier (lapel) mic that you can use with an adapter to enhance your audio. So, say you want to do video interviews, or recordings, from your iPhone — it's terrific. (I bought mine on Amazon.)
But wait! It won't work on your iPhone unless you buy this:
KV Connection 1/8″ iPhone microphone adapter
6The KV Connection 1/8″ iPhone microphone adapter ($23.06) — you have to get this along with your lavalier mic, or else it won't work. Trust me on this one. Better yet, trust Jeff Geerling, whose site I found this from.
I can't tell you how excited I was when I found, and then ordered, these last two. And I was shattered when they didn't work. Turns out the KVC adapter was faulty, as Jeff suggested when I wrote to him. So KVC sent me a new one at no cost, and everything worked perfectly. I can't give their customer service a big enough shout-out.
In summary
Let's recap, shall we?
Olloclip 3-in-1 lens: $69.99
iFlash: $12.99
Tripod/stand: $29.95
Glif: $20.00
ATR 3350 mic: $22.34
KV Connection adapter for mic: $23.06
Less taxes (if applicable) and shipping, that comes to $178.33.
So for less that $200, you can:
Take photos and videos that don't shake
Take photos and videos from weird, crazy, funky angles, should you be so inclined
Give new depth, and angles, to your multimedia
Get extremely decent audio for videos/interviews
Produce fun, possibly funky photos/videos for your organizations or clients
Avoid gnashing your teeth when you want to record something on the fly, since you have your studio-in-a-bag
Make sure the pros you do hire do a really good job — I mean, they've got to top you, right?
Add in 99 cents for Camera+, $1.99 for Photosync and $4.99 for iMovie – all great apps for the iPhone for effects, cropping and whatnot – and you got yourself a cryin', talkin', sleepin', walkin', livin' doll of a mobile studio, still for less than $200.
And I think that's pretty cool.
How about you? Have you tested great accessories that will let you take "good enough" photos or videos on the fly? Do share, I'd love to know — and maybe upgrade my own mobile studio!
Republished from Shonali's Waxing Unlyrical blog.

Related
• 15 top iPhone apps for work, play & creativity (Socialbrite)
• Creating media: Resources (Socialbrite)
• Mobile resources (Socialbrite)Shonali Burke  is a public relations and social media expert and consultant based in Washington, D.C. Her firm provides integrated PR for measurable results. You can connect with Shonali via her website or follow her on Twitter.


This work is licensed under a Creative Commons Attribution-NonCommercial-ShareAlike 3.0 Unported.