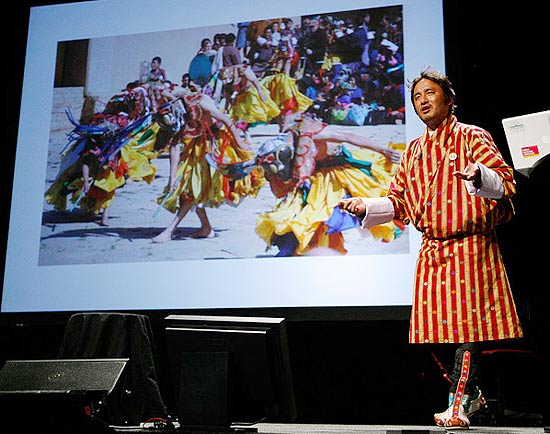 Image by Pop!Tech on Flickr
Incorporate it into your organizational culture, say experts at NTC
Target audience: Nonprofits, foundations, NGOs, social enterprises, cause organizations, brands, businesses, Web publishers, educators, storytellers, general public.
Last week I attended the Nonprofit Technology Conference and sat in on an interesting session on "The Future of Nonprofit Storytelling." Moderated by Rob Wu of CauseVox, it included an all-star panel of storytelling experts: Cara Jones of Storytellers for Good, Jenna Sauber of the Case Foundation, and JD Lasica of Socialbrite. (I am also a Socialbrite colleague.) The panel pondered some interesting questions and offered concrete tips on how to create compelling stories, defining what is a story, storytelling tools, and creating an internal culture of storytelling.
Rob Wu, the moderator, asked these questions of the panel:
What is storytelling?
How is storytelling different from marketing communications?
How do you shift your nonprofit into a culture of storytelling?
What are your tips for capturing stories?
What tips do you have for storytelling and storytelling tools?
Where is storytelling going in the future?
I've captured most of the panel's comments, as well as a few audience questions, in the Storify story below created from tweets and photos. There were a few highlights from the session for me. Among them:
On storytelling
Cara Jones offered three wonderful nuggets of wisdom about storytelling:
Paraphrasing Maya Angelou: "People will forget what you told them. They will forget what you did. But they will never forget how you made them feel."
"Use video for motion and emotion. Break out statistics and anything you want them to read into a separate place so they can read and digest the stats at their own pace separately. Keep the story to motion and emotion."
"Nonprofit stories have the unique ability to allow people to feel and want to be a part of something bigger."
On tips and tools
JD Lasica joked (seriously), "Never have I watched a video and thought, ' Oh, that video just wasn't long enough!'"
Jenna Sauber advised nonprofits to consider episodic storytelling by breaking up longer stories into shorter ones with an arc.
Cara Jones urged storytellers: "Don't fear the close-up video. Exaggerate emotion for the audience."
JD Lasica reminded us that photos and other lightweight media also have impact as storytelling media.
On finding stories & shifting the internal culture toward storytelling
JD Lasica suggested that "stories don't have to live within your own organization." Also, "you will find storytellers within your nonprofit in surprising places."
Jenna Sauber talked about how the Case Foundation uses an internal editorial calendar and captures ideas between posts through its internal communications system, Yammer.
Cara Jones had a great idea for getting staff involved: "When nonprofits encounter internal resistance to telling stories, ask the staff to tell their stories. When staff feels heard, they are likely to go out and tell others' stories."
JD Lasica also highlighted some good tips from the panel in his blog post about NTC: Highlights from the Nonprofit Technology Conference.
The full session is captured in the Storify story, below.
Related articles on Socialbrite
• Storytelling 2.0: Why nonprofits need to tell stories
• How to find amazing, powerful stories for your nonprofit video
• Tutorials on social media: Video & multimedia
• Use video to get to heart of your organization's story: An interview with Cara Jones
• 8 great examples of nonprofit storytelling
• How nonprofits should be using visual storytelling
• Visual storytelling checklist
• Mash up a visual story for your nonprofit
• Create video stories for your nonprofit in 6 steps

This work is licensed under a Creative Commons Attribution-NonCommercial 3.0 Unported.