And 4 other big changes to Facebook pages that nonprofits will love
Target audience: Nonprofits, cause organizations, foundations, NGOs, social enterprises, businesses, educators, anyone with a Facebook page.

Facebook recently pushed out five big feature changes to Facebook pages that will help admins more easily manage their pages, plan content and get more airtime for updates in the news feed.
Page post scheduling
1Facebook rolled out a new feature to pages that allows administrators to schedule updates for a future date and time. You can schedule a post up to six months in advance in 10-minute intervals, from your page's sharing tool by following the instructions in the video at top.
Facebook page administrator roles
2Facebook pages now offer five different flavors of admin roles. This is huge, especially for organizations that have various different people accessing administrative rights with in a single Facebook page. Some of these people might need access only to view Facebook Insights, while others need admin access to post content and respond to comments.
The five roles are described in the table below.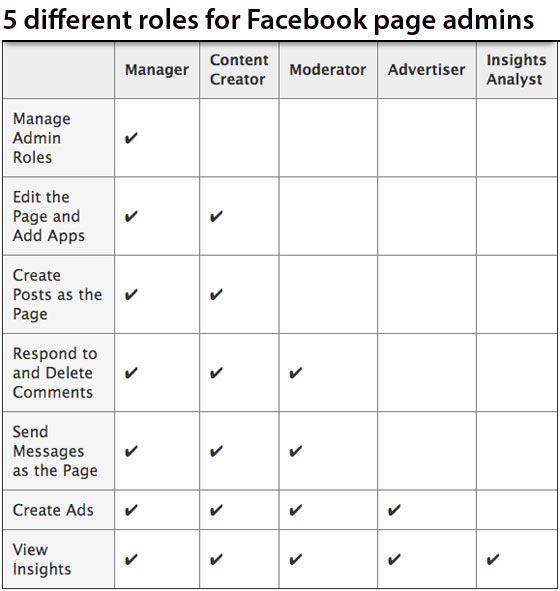 Promoted posts
3Promoted posts are an easy and inexpensive way to ensure that more of your Facebook fans are seeing your page updates. Previously, the only option for smaller Facebook pages was to purchase sponsored stories through Facebook's ad tool, which required a number of steps. Now, Facebook admissions can simply choose the number of users they want to reach from a drop-down menu underneath a recently published post.
Facebook Pages Manager

4Facebook Pages Manager is an iPhone app that allows page administrators the ability to post updates, manage posts from Facebook users, and even view high-level Insights data from their smartphone. This is a huge leap forward from using the standard Facebook iPhone app.
With Facebook Page Manager (for iTunes) you can:
– View multiple Pages you admin
– View high-level Page Insights (as shown below)
– View post-level Insights (Reach and Talking About This)
– View Page notifications and new fans
– Filter Timeline views to Posts by Page or Posts by Others
– Manage Administrators
– and more
Post-level insights
5Facebook Pages also have Insights data and charts at the post-level. This new data can be found directly under each post.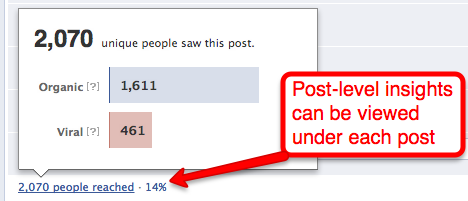 What do you think of these new features?
Head to Razoo for the full post.
Related
• What time of day should you post to your Facebook page?
• Post Planner: A branded publishing app for FacebookJohn Haydon delivers social web strategy solutions for "the quick, the smart, and the slightly manic." Curious? Then visit the John Haydon blog, follow him on Twitter or leave a comment.

This work is licensed under a Creative Commons Attribution-NonCommercial 3.0 Unported.