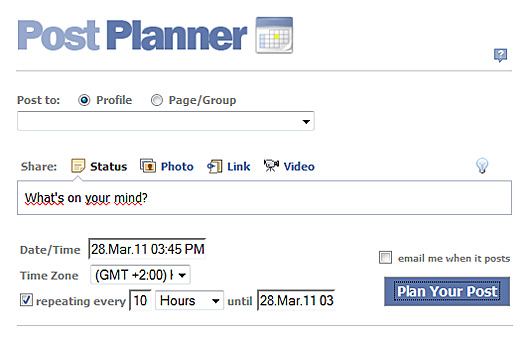 PostPlanner provides key analytics to identify your sweet spot
Target audience: Nonprofits, cause organizations, foundations, NGOs, social enterprises, businesses, social marketers, anyone with a Facebook page.

I've been recommending PostPlanner to many of my clients (and friends) for months now. If you don't know what PostPlanner is, it's a way to schedule, manage and measure updates on your Facebook Page (here's a video tutorial).
They recently added a feature that allows you to quickly see what time of day is best for you to update your page.
Now Facebook Insights does allow you to download a CSV file and figure this out manually, but it takes a while to prepare the data for analysis (date posted and time posted live in the same cell – yuk).
How to view the best posting time in PostPlanner
With PostPlanner, all you have to do is rank your updates by likes, comments and/or clicks to see what time of day seems to be most prevalent.
The following two screenshots show what seems to work best in terms of time of day: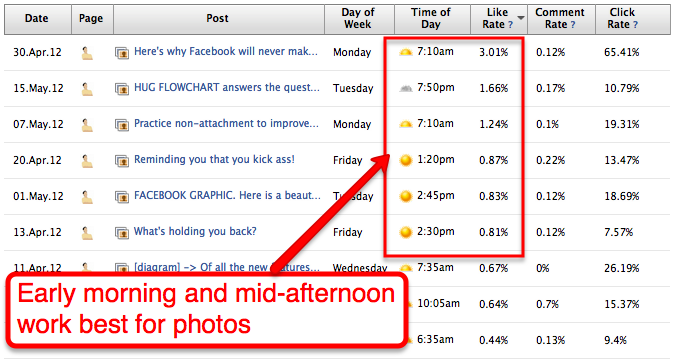 Look for patterns and continue to experiment
I should mention here that there are many other factors that increase engagement. Here are the biggies:
Is the content optimized for Facebook? Cross-posting the same content across multiple channels generally doesn't work as well as understanding the culture and technology of each platform.
Is it interesting? Your content has to be interesting to your fans for them to share it, regardless of whether they love you or not. Their home base is the news feed, which they scan.
Is it relevant to your audience? Knowing your audience well is the No. 1 rule for content marketing.
The key in analyzing the performance of your content is to look for patterns and continue to experiment. Are your best images text-based? Are your best status updates questions or tips? How long are your best videos? What is the subject matter?
What do you think?
Related on Socialbrite
• PostPlanner: Publishing to Facebook made easy
• 4 tools to help build your social community
• 7 ways to drive Facebook visitors to your siteJohn Haydon delivers social web strategy solutions for "the quick, the smart, and the slightly manic." Curious? Then visit the John Haydon blog, follow him on Twitter or leave a comment.

This work is licensed under a Creative Commons Attribution-NonCommercial 3.0 Unported.