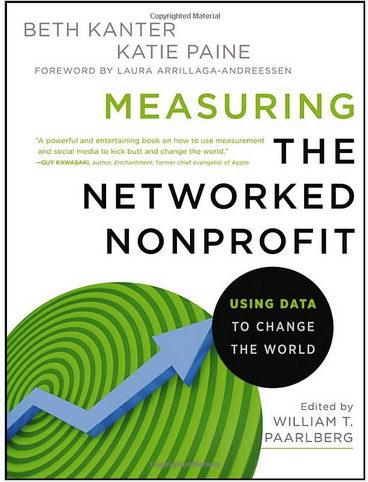 Book giveaway: Win the book to grasp the power of metrics!

If you're like most nonprofit professionals, you'll eventually admit that you could do a better job of measuring.
The good news is that you're not alone. Most nonprofits (and in fact most for-profits) are struggling with the challenge of measuring relationships, which is essentially what social media is all about.
To help you keep your eyes on the prize, Beth Kanter and Katie Paine sell the benefits of measurement in their new book, Measuring the Networked Nonprofit.
Win a free copy of 'Measuring the Networked Nonprofit'
Want a free copy? Leave a comment below about what measurement has done for your organization. Co-author Beth Kanter will be randomly select a commenter to receive a free copy of "Measuring the Networked Nonprofit." Feel free to share this post on Twitter, too!
Chapter 4 outlines 12 reasons that measurement is powerful:
It helps you get to where you're going. Because social media is essentially about relationships, continuous feedback is required to improve them.
It stimulates new ideas on what to do next. Analyzing data is not just data dumping. It's discovery!
It gives you credibility. You'll need this to get support for your awesome ideas.
It helps you discover what tools and tactics work best for your particular goals.
It saves you time. If you know that you're not getting results from a particular approach, you'll stop doing it.
It increases the likelihood of success through informed planning.
It helps you raise more money. If you know why potential donors abandoned transactions, you'll fix it. If you know which messages turn one-time donors into repeat donors, you'll use them.
It helps you work smarter. Unicorns and rainbows just don't cut it anymore.
It fuels your passion. We all could use more of this, right?
It generates excitement. Ditto.
It helps you change the world.
The last thing I'll say about Measuring the Networked Nonprofit is that it will help you begin to improve – starting from where you are right now.
Don't forget to leave a comment below to win a copy of the book!
Update: Our comments service, LiveFyre, has been up and down all day because of a power outage at Amazon AWS. If you don't see comments below, please check back.
Related
• Metrics tips & best practices (Socialbrite) John Haydon delivers social web strategy solutions for "the quick, the smart, and the slightly manic." Curious? Then visit the John Haydon blog, follow him on Twitter or leave a comment.

This work is licensed under a Creative Commons Attribution-NonCommercial 3.0 Unported.