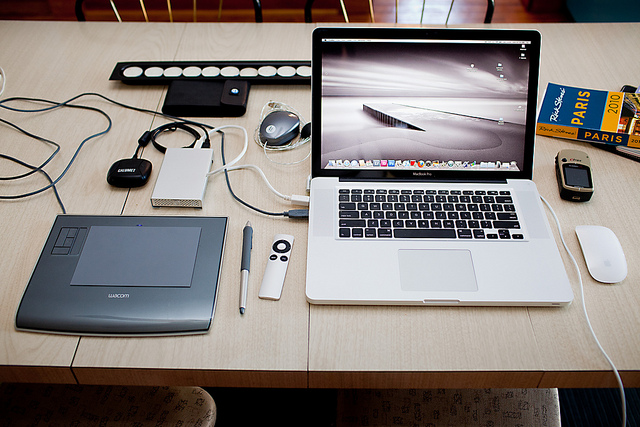 Photo courtesy of Fensterbme via Creative Commons
Photoshop Express, Pixlr, FotoFlexer allow editing on a budget
Target audience: Nonprofits, NGOs, cause organizations, social enterprises, businesses, Web publishers, bloggers, social media managers, individuals.
By Lindsay Oberst
Socialbrite staff

Good photos are powerful. A good image captures interest, creates connection and provokes a reaction, which can then inspire action. All organizations need quality images that inspire people to act — to share, to like, to comment, to give.
Newsletters, websites and Facebook pages with photos that could be improved — maybe cropped tighter or made brighter — can be that much more powerful. Plus, if your nonprofit wants to impress on Pinterest or Tumblr, knowing how to enhance images and add words and other elements to your images is essential.
So how do you edit photos when you're not a designer and don't have access to pricey programs like Adobe Photoshop or Aperture from Apple, and when you only occasionally need to edit images online?
You'll be happy to know that while Web-based photo-editing tools were once limited, now many websites provide basic editing options such as cropping and resizing. Some even offer advanced editing options such as layers. Plus, most of these tools are free and easy to use.
Photo basics and editing tips
Before we get to the photo editing tools, let's touch on some basic things you need to know to change your images into wow-worthy creations.
Image resolution describes the detail an image holds and refers to the number of dots, or pixels, in a linear inch of the image, measured in dots per inch (dpi) or pixels per inch (ppi).

The browser extension Measureit! is useful for measuring the pixel width and height of any elements on a Web page.

Most Internet images are 72 or 96 dpi (mostly depending on whether you're a Mac or PC). However, dpi doesn't apply to the Web (contrary to what most people say). Don't worry about dpi or ppi for Internet images — image resolution has nothing to do with how an image appears on a screen — but you do need to be concerned with the pixel dimensions of your image. For example, on Facebook, the largest possible image size is 720 x 720 pixels.
Print images should be at least 200 or 300 dpi.
File size measures the size of a computer file, in kilobytes (KB) or megabytes (MB). Web photos should generally be no larger than 100KB. Saving photos as JPGs is preferred for digital images because it compresses while also maintaining picture quality.
When editing online photos, the Chrome, Safari and Firefox extension Measureit! is useful for measuring the pixel width and height of any elements on a Web page.
11 good online photo-editing tools
These are the best tools that we've found for editing images online. Know of others? Please add them in the comments below!

Pixlr
2Pixlr is a more advanced, Flash-based editor, which offers most of the basic Photoshop functionality at no cost. You can even layer images on top of one another or use other effects to transform your photos. To use this tool, choose the express version or the advanced one. Both have fullscreen options.
The basic editing tool, Pixlr Express, is simple and easy to use, with big buttons that allow you to make changes with one click. Make adjustments (crop, resize, auto fix, color splash, vibrance, white teeth, touch-up, airbrush and others), add effects (only a few), overlays (space, smoke, vignette and others), borders, stickers and text (only seven font options).
The advanced editor, Pixlr Editor, is quite similar to Photoshop in layout, with areas including navigation, layers and history. Make adjustments (hue, levels, curves, exposure and others), add filters (sharpen, noise, halftone, tilt shift, blur and others) and create layers. A wand tool and a lasso tool are included, as well as a clone stamp tool, red eye reduction and others. Can save in a variety of formats: JPG, PNG, BMB, TIFF and PXD.
Pixlr also offers apps for Android and Apple. Free.
Good for:
Basic to advanced editing
People looking for cheaper programs similar to Photoshop
Creating collages (with Pixlr Express)
Touching up and correcting imperfections in photos of people
Positives:

Keeps high-res photos the same quality after editing
Tutorials are available if you'd like to learn more about using Pixlr
No log-in required to use
The Pixlr Grabber for Firefox and Chrome allows you to choose online pictures or screenshots for editing using Pixlr Editor
Downsides:

Pixlr Editor requires editing knowledge or time to learn how to use it
Pixlr Express doesn't have the ability to share to social networks after editing your image (the advanced editor does, though)
What other online photo editing tools do you use for your nonprofit?
Related
• 7 image editing tools to create top-rate visual content
• Top 10 sites for free or low-cost photos
Lindsay Oberst is a freelance writer who writes about art, culture and topics that relate to social and environmental good. Follow her on Twitter at @LindsayOSocial for social good discussions or at @LindsayOWrite to chat about writing.

This work is licensed under a Creative Commons Attribution-NonCommercial 3.0 Unported.