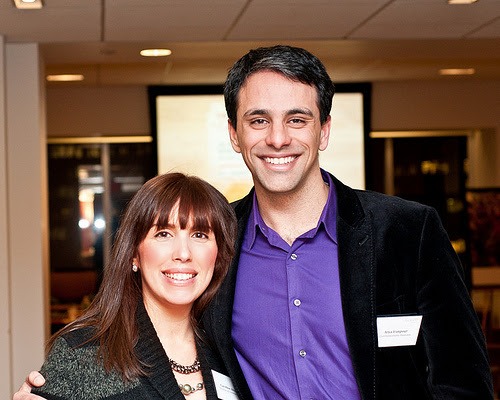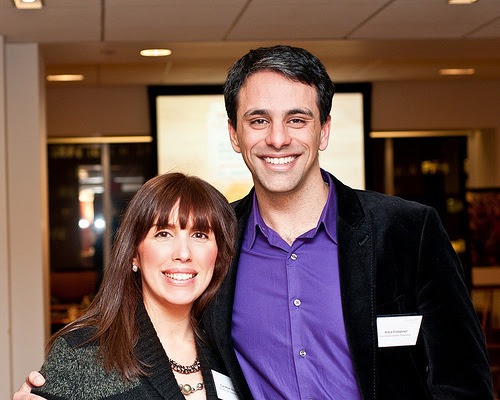 Caroline Avakian, SourceRise founder & CEO, with Arya Iranpour, Chief Technology Officer and founding engineer (Photo by Maulin Mehta)
Target audience: Nonprofits, cause organizations, foundations, NGOs, social enterprises, journalists, educators, general public.

While a number of promising Web 2.0 social enterprises have launched in the past few years, SourceRise, which just soft launched in beta last week, is showing great momentum right out of the gate. SourceRise, founded by our very own Caroline Avakian (managing partner at Socialbrite), connects journalists and bloggers to sources at international NGOs and nonprofits in an effort to diversify the voices represented in the news and to increase the number of well researched, compelling development and foreign news stories in traditional media.
Last week I interviewed Caroline to find out more about SourceRise and how it's building bridges between the media and nonprofit sources.
In a nutshell tell us about SourceRise and how it connects journalists and bloggers to NGO and nonprofit sources.
SourceRise is a social enterprise that directly connects journalists to sources at international NGOs and nonprofits. In a time when international news gathering budgets are shrinking at record rates, it is becoming more difficult for major news outlets to independently cover international and development news stories. Via a network of journalists and expert global NGO sources, SourceRise enables development foreign news reporting rooted in real time, accuracy, and deep context.
We connect journalists and nonprofits by sending out source request emails from journalists to sources, and by facilitating digital media briefings on breaking global hot topics or humanitarian crises. SourceRise also holds media call-to-actions around global issues that aren't getting the media coverage they deserve, by connecting journalists and bloggers to sources who can immediately provide information and context around important issues. In addition, SourceRise matches journalists, photojournalists and other media makers with NGOs able to host them in the areas of the world they want to report on.
So tell us about how SourceRise came to be – what's the SourceRise story?
A couple of years ago, when I actually started telling people about my budding idea that would eventually became SourceRise, colleagues would tell me, "Yeah, nice idea but aren't there already development news sites writing about these stories?" I realized that when people free-associate on "foreign" or "development news," there's an underlying assumption that it should live on a separate news site, that there's no place or desire for it in mainstream news. Interestingly, we know that's not the case. Data shows us that people actually want more international news brought to them on the news channels and sites they're already watching and reading. It became very apparent to me that there is a perception and language disconnect when we speak about development or foreign news. That disconnect fuels my efforts to mainstream SourceRise and change the way we view and create news.
How is SourceRise different than other reporter/source connector sites like (HARO) Help a Reporter Out?
SourceRise is different in that our focus is on development news reporting, something that other reporter/source connector sites don't focus on. At a time when foreign news desks are shutting down due to budget constraints, our mission as a social enterprise is to solve that problem by helping journalists connect easily to vetted expert sources they can trust and quote in their pieces, which ultimately provides better, more contextualized development and foreign news coverage.
We know that at varying levels journalists and nonprofits are already connecting, but SourceRise is taking it to another level, correct?
Mainstream media and NGOs have had a longstanding relationship. Journalists often reach out to NGO expert sources for access to remote parts of the world — they rely on them for quotes, to provide context to political, social and cultural issues on the ground, to give them info and statistics they can reference in their stories. Currently, we are seeing a huge shift in the international reporting landscape that has led to the shut down of many foreign bureaus of even major news outlets. This has led to many NGOs and nonprofits researching and pitching their own stories, sharing sources and analysis and even providing travel logistics, guides and housing to reporters. In short, without the help of NGOs, many foreign news stories would never be told. SourceRise is the result and the logical next step to advancing this mutually beneficial relationship.
So you think the general public really wants or needs more development or foreign news?
A recent survey by MPO Research Group found that American media are missing the mark when it comes to providing international coverage to the public. When MPO asked respondents what they think about the coverage of international news, over half said there should be more of it and just over a quarter think it's fine just as it is, indicating that there's a lot of room for improvement from our media outlets.
The bottom line is, we look at the Internet and think we have this wide view of the world, when in fact we're not really as connected as we think we are. In the 1970s US global news was about 35-45% of the mainstream media we consumed. Now, it's about 12-15%. Development and foreign news have been relegated to "special" news sites. You have to go searching for that news, because you're not really going to find much of it on the sites you're likely already reading. So, we've slowly adapted to that shift through the years. I think that's really problematic on many levels. The real problems of the world we need to solve are global in scale, that require global conversations to get to global solutions. We're nowhere near that right now.
SourceRise is currently in beta and a social good startup to keep an eye on!
• Sign up on the SourceRise website
• Nonprofits/NGOs can sign up directly here
• Journalists and bloggers can sign up directly here
• Follow SourceRise founder Caroline Avakian on Twitter
• Follow SourceRise on Twitter
• Fan SourceRise on FacebookJD Lasica, founder and former editor of Socialbrite, is co-founder of Cruiseable. Contact JD or follow him on Twitter or Google Plus.


This work is licensed under a Creative Commons Attribution 3.0 Unported.