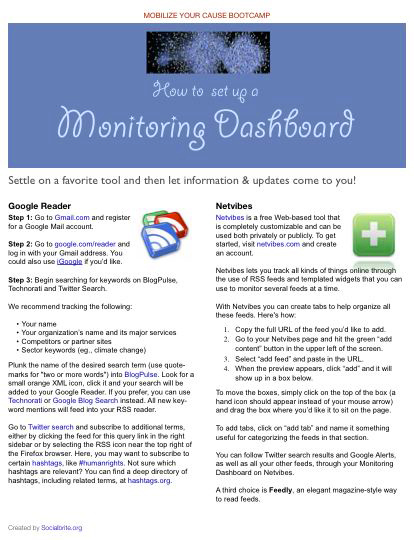 Download this one-page flyer to get set up in Google Reader or Netvibes.
Settle on a favorite tool and then let info & updates come to you!
Target audience: Small to mid-size nonprofits, cause organizations, agencies, brands, NGOs, Web publishers, individuals. This is part of our series on social media monitoring:
• Guide to monitoring social media conversations
• 20 free, awesome social media monitoring tools
• 10 paid social media monitoring services for nonprofits

Last year a study of the 200 largest U.S. nonprofits and found that they're using social media at a faster clip than the business community or academia for the third year in a row. Some 8 percent more charities are monitoring social media over the previous year's figures. (See the 10-page findings from UMass Dartmouth — PDF.)
But how deep-seated are their efforts? Setting up a Google Alert does not mean you have a monitoring program. And 79 percent in another survey said they hadn't found ways to incorporate social media tools effectively into their operation, according to the Chronicle of Philanthropy.
In your monitoring dashboard, you'll see headlines from dozens of important blogs in your sector, alerts, search results, new photos and more
During the series of social media bootcamps and presentations that the Socialbrite team has been conducting around the country, one of the most popular how-to's has been our instructional on how to set up a free monitoring dashboard — or listening station, if you prefer that term.
There are a few things to consider before starting. First, how does a monitoring dashboard fit into your overall communications strategy? Let's review:
• You should have an overall Social Media Plan that outlines your organization's end goals and who's responsible for what deliverables. (Never start with the tools.)
• You should have a Social Media Policy in place.
• You should settle on one of these social media dashboard tools to manage most of your social media activities.
• Supplement that with a select few free monitoring tools, plus perhaps a paid service or vendor if you have the budget.
• Finally, don't forget a monitoring dashboard to keep on top of everything else. Some paid services incorporate this component, but today we'll discuss the free variety.
Why do you need a monitoring dashboard in addition to your social media dashboard? Because the free monitoring tools like Hootsuite and Tweetdeck will plug you into conversations taking place on Twitter and, to a lesser extent, Facebook, but won't connect you with blog posts, comments, forums or search results. (The paid social media dashboard services are beginning to pull all this into one place.) A monitoring dashboard is the place where you'll be able to gather and organize all your favorite RSS feeds in one place. For instance, you'll be able to see headlines from dozens of the most important blogs in your sector at a glance. And you'll be able to see alerts, search results, new photos and even tweets in your dashboard.
In this tutorial we'll look at two things: How to build your dashboard, and then how to manage it.
How to set up your monitoring dashboard
First, select a favorite news reader. We like Google Reader, but Bloglines, Feedly, iGoogle or other news readers will also do. Some folks prefer Netvibes, which pre-populates your dashboard with top feeds from the sector, like this High-tech news dashboard. (Click on the image at top to download a one-page handout that takes you through the steps for either Google Reader or Netvibes.)
Here's all it takes to set up a dashboard in Google Reader to monitor your brand:
Step 1: Go to Gmail.com and register for a Google Mail account, if you don't have one.
Step 2: Go to google.com/reader and log in with your Gmail address.
Step 3: Begin searching for key terms on Google Blog Search, Technorati, BlogPulse or Twitter Search to identify the searches that you want to automate.
We recommend tracking the following:
Your name
Company name
Brand mentions (specific programs, products or services)
Upcoming events or conferences
Competitors' names
Key phrases in your sector (hunger relief) or industry (cloud computing)
Place the name of the desired search term (use quotemarks for "two or more words") into Google Blog Search and do the search. On the search results page, click the RSS link in the left sidebar and you should see an "Add to Google Reader" button.

Select it and your search will be added to your dashboard. (Alternatively, if you have Google Reader open on another tab in your Web browser, you can right-click on the page's RSS link, select Copy Link Location, navigate to your Google Reader tab, click Add a subscription, and paste the link in there.)
Let's say you created a feed for "homelessness" through Google Blog Search. Whenever Google finds a new reference to your search term on a new blog post, it will automatically appear in your RSS reader. You'll want to repeat this process for every term you want to monitor.
Step 4: Now let's have some fun! Go to Twitter search and subscribe to additional terms, either by clicking the feed for this query link in the right sidebar (pictured here):

or by selecting the RSS icon at the right of the Firefox browser's main search field (pictured here):

We recommend that you subscribe to certain hashtags that apply to your sector, like #malaria; here's how the RSS feed looks: http://search.twitter.com/search.atom?q=%23malaria. For inspiration, see our directory of 40 hashtags for social good.
In addition, there may be occasions where you want to conduct an Advanced Search on Twitter, such as tweets from a particular person or organization; tweets since a certain date; tweets near a geographical location; tweets in another language, etc. You can subscribe to any of these searches.
You may also want to go to Google Alerts and have your alerts show up in your monitoring dashboard rather than in your email in-box.
Google Reader also offers a few other goodies, like the ability to share articles with others privately or publicly, although this is somewhat cumbersome. Amy Sample Ward uses Netvibes to publicly share some of the feeds she subscribes to.
Manage your monitoring dashboard: 5 steps to success
Now that you're up and running, you'll want to be strategic about what to monitor and who's doing the monitoring. Are you the lone-wolf social media point person, or do you have several team members charged with keeping a finger on the community pulse? Either way, follow these five steps to success:
1Create checklists. Begin by reviewing the Community Insights Checklist (covering broad goals) and the Keywords Checklist (identifying specific key terms) in our Guide to monitoring social media conversations — and create checklists tailored to your organization.
2Organize your feeds and alerts.Next, organize your dashboard so that you're targeting the right blogs, alert terms, search terms, Twitter hashtags, etc. Add new feeds to monitor to your Google Reader. Group your feeds into separate folders. Select the Feed settings tab at the top of Google Reader, select New folder, and you're on your way.
3Be selective. What to do with all the information that starts to pour in? Don't stress about keeping on top of everything — you're checking the pulse of the community, not trying to micro-manage every conversation. Be selective in the conversions you join and in the information you pass along to co-workers.
4Start engaging. We recommend interacting with and engaging the most influential individuals (bloggers, Twitterers and commenters) in your network, as long as you're providing genuine value. Do, however, respond to anyone who interacts with you.
5Act on key learnings. The point of monitoring is not to gather but to disseminate — to act on the information that's most meaningful. That means not just tweeting but fashioning regular reports, updates and takeaways about what the community is saying and feeding it into the right channels: communications/marketing, program development, the website UI/design team and your organization's equivalent of customer support, market research and campaign measurement. Create a regular feedback loop that funnels community insights into all areas of your organization.
This is only one way to build and manage a monitoring dashboard. What has worked for you? Please share in the comments!
Related
• Free handouts on social media (Socialbrite)
• Guide to monitoring social media conversations (Socialbrite)
• 20 free, awesome social media monitoring tools (Socialbrite)
• 10 paid social media monitoring services for nonprofits (Socialbrite)
• More monitoring articles (Socialbrite)
• Metrics articles (Socialbrite)JD Lasica, founder and former editor of Socialbrite, is co-founder of Cruiseable. Contact JD or follow him on Twitter or Google Plus.

This work is licensed under a Creative Commons Attribution 3.0 Unported.