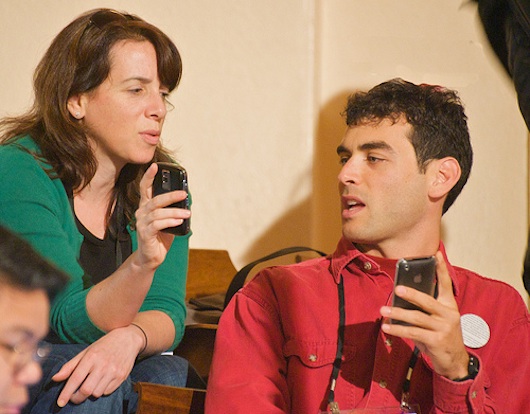 Photo by Ed Yourdon on Flickr
Make classwork go smoother with tools like Share Your Board, Pulse, Exam Support & Diigo
Target audience: Students, educators, nonprofits, social change organizations, mobile enthusiasts, education organizations.
Guest post by Angela Santiago
Digital Marketing Coordinator, McGraw-Hill Education
With the fall semester about to get underway, here at McGraw-Hill Education we've been researching some of the top digital tools for college students, in partnership with online study network GradeGuru.com. Social media has found its way onto college campuses and into the classroom, with apps to help with everything from optimizing student studying and time management to locating interesting activities for students to do once they get to campus.
Here is our Top Ten Student Tools List for fall 2011:
1Share Your Board: Use this app to take a picture of the classroom whiteboard, make it into a readable PDF, add your own notes and send to friends.
2StudyTracker Pro (soon to be released): Since your GPA headlines your resume, it's important to track your progress. Use StudyTracker Pro to help you manage study hours, exam and assignment grades, and judge how effective your study habits are.
3Foursquare for Universities: Connect with students, alumni, and staff, find new and interesting things to do, and earn rewards for exploring your campus and nearby areas.
4Pulse: Use this news reader app to stay informed and up to date by creating different pages based on your interests.
5Exam Support: Use this to focus, improve concentration, and beat back the rising tides of test anxiety through its "guided audio meditation."
6Google Docs: Use one of the best online word processing and spreadsheets applications available to stay organized when working together on group assignments.
7gFlash + Flashcards and Tests: Use this app to create your own flashcards and share them with classmates as you study.
8Diigo: Use this to read and highlight information within text and images, create sticky notes and online conversations about websites, organize and share resources.
9Bubbl.us: Use this online mind mapping tool to represent words and ideas, organize your thoughts, and make plans.
10Twitter: Use Twitter to share your thoughts and collaborate inside and outside the classroom with peers and professors.
GradeGuru.com
 by McGraw-Hill Education is the top-rated study network recommended by professors. College students can share and find class-specific study materials, learn collaboratively and build their academic reputations to earn rewards, internships and career opportunities. GradeGuru's university and class specific communities provide a relevant and intuitive social learning environment for thousands of students from hundreds of universities in the United States and United Kingdom. GradeGuru is winner of the Sloan-C Effective Practice Award and E-Learning Award for Best Use of Social Media.
Related resources
• Top 10 Student Tools for Fall 2010 (Socialbrite)
• Top 10 mobile apps for college students (Socialbrite)
• 9 Web platforms to help you change the world (Socialbrite)
• 12 awesome platforms for social good (Socialbrite)
• FeelGood: A new approach to fight hunger (Socialbrite)

This work is licensed under a Creative Commons Attribution-NonCommercial 3.0 Unported.