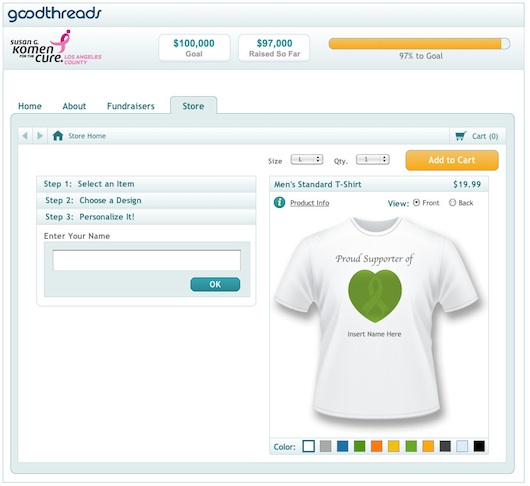 Connecting people to causes through shirts that tell stories
Target audience: Nonprofits, NGOs, cause organizations, social enterprises, brands, fundraising professionals, community managers.
This article is part of our series on social fundraising.
Guest post by Brandon Hance
Founder & CEO, GoodThreads

In 2010 our family lost my aunt Carol to breast cancer. When tragedy strikes, I believe it is part of the human condition to find healing through "the fight" against the culprit – be it disease or disparity. Additionally, surrounding friends and family often rally around those who have been affected and show them support, caring and compassion.

This theory became blazingly clear to me as I watched my mother and close friends train for a 39-mile race to honor my aunt soon after her passing. Not only did they train, but they spent ample time, energy and money creating T-shirts for their team, each with unique messages dedicated to my aunt, and each remembering her in their own distinct way. As I observed this labor of love, I couldn't help but think: There must be a better way to do this — and a way that actually benefits the organization.
Thus, GoodThreads was born, and the idea of connecting people to a cause through "shirts that tell stories" became a reality.
GoodThreads provides nonprofits with a technology that seamlessly integrates into the event registration and donation processes, while supporters are given the tools to create customized merchandise — T-shirts, hats, bags, water bottles, etc. — that allows them to tell their personal story and demonstrate their connection to the cause.
Nonprofit organizations that partner with GoodThreads enable their supporters to buy merchandise that can then be customized with their name, the name of a loved one, photos or other images, and personalized messages. GoodThreads also allows the nonprofit to identify what portion of the item's cost will be donated to its cause.
Increase donations, awareness & engagement
What we provide to nonprofits is a "Three Increase" solution for their cause marketing efforts:
Increase donations: GoodThreads uses its innovative technology and systems to provide nonprofit organizations an easy, cost-effective means to supply supporters with personalized merchandise and receive donations from the sale of these goods – turning a merchandise program into a source of fundraising.
Increase awareness: Supporters can customize merchandise with their name, the name of a loved one, a photo or personalized messages, while the nonprofit maintains control of branded aspects of the merchandise, including color, logo placement and references to sponsors – ensuring increased awareness about the cause.
Increase engagement: Nonprofit organizations that offer supporters a means to tell their personal stories about a cause, deepen their relationships with these individuals and provide them a continuous means to proudly demonstrate their support – creating engagement that will serve an organization for years to come.
In addition, the GoodThreads platform offers social sharing features; this gives supporters an opportunity to mobilize their core group of friends and family through inviting them (via social networks) to purchase the item they've created to support the nonprofit.
While I'm extremely excited about the prospect of having a positive, social impact on nonprofit event fundraising and supporter engagement through the use of technology, what GoodThreads is really about is harnessing the powerful emotions around profound loss and life challenges, and providing an opportunity for healing and connection on the most basic, human level.  Who knew Technology + T-shirts could do that?
Founded in 2011 by Audiolife founder & CEO
Brandon Hance
, Los Angeles-based
GoodThreads
is a full-service technology and product fulfillment solution servicing U.S.-based nonprofits, facilitating increased donations, awareness and engagement. Follow Brandon and GoodThreads on Twitter at
@GoodThreads
.
Fundraising series on Socialbrite
• What social fundraising means for your nonprofit
• Social fundraising tools: Our top 5 picks
• Fundly: Tap into your supporters' social networks
• GoodThreads: Custom T-shirts as a fundraising tool
• HelpAttack!: Unleash the charitable power of social media
• Rally: Raise money for your favorite cause
• Mobile: The next frontier of nonprofit fundraising

This work is licensed under a Creative Commons Attribution 3.0 Unported.