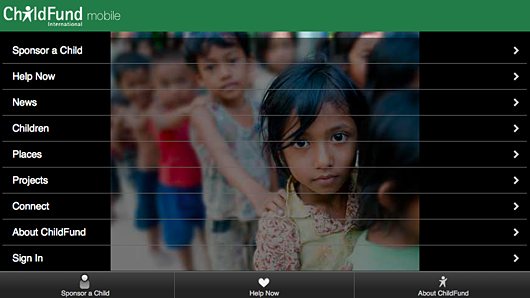 Tie your mobile efforts to your email & social media outreach
Target audience: Nonprofits, cause organizations, NGOs, mobile advocacy groups, fundraising professionals, social media managers.
This is Part 7 of our series on social fundraising. See below for other articles in this series.
Guest post by Bob Jones
CEO, CharityCall

There is little argument that email and social media platforms like Facebook and Twitter are fast becoming mandatory tools for supporter outreach. These communication channels provide nonprofit organizations with an immediate and effective way to solicit, cultivate and engage donor support.

From a pure fundraising standpoint, email and social media channels are only effective when the recipient is able to respond immediately to a call to action. At best, your call to action message is going to be read once, so if that message is compelling enough to cause the recipients to donate, then they must be able to do so immediately.
If your message is compelling enough to cause the recipients to donate, then they must be able to do so immediately.
Today, when your targeted recipient reads your online call to action from their PC, the "donate" link to your website's donation portal allows them to respond immediately with a gift. So the process of reaching out via email and social media to gain donations is fruitful – as long as the recipient is using a PC.
What happens if your target recipients are reading email and social media updates from their smartphone? Unfortunately, this is where your call to action for donations can hit a dead end, because the "donate" page linked from your current email or social media message may be inconvenient and nearly impossible to navigate and use from a mobile device. Expecting a smartphone user to enter full name, address and credit card number can be a non-starter.
So what can you do?
How to accept donations via the mobile Web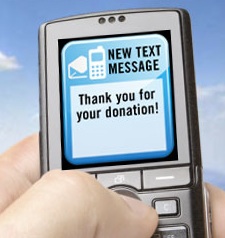 There are a few readily available methods that will allow you to start accepting donations via the mobile Web in association with email and social media outreach.
It's important to remember that if you intend to appeal to the ever increasing mobile Web community of users, you will first need to include a convenient mobile donation platform as a fixture within your email and social media messaging.
Here are a few available solutions:
Mobile-enable your online donation page: This will require help from your website development team or consultant. The process involves conversion of your current online donation page for viewing from a mobile device. This method basically reformats and converts the page content into a mobile experience. While the user will still need to input personal contact along with credit card info, the navigation will be more suited for mobile use.
Custom mobile application (app): The mobile app market is brimming with development firms that can build a mobile application for your organization with the ability to accept donations from mobile Web users. The cost and time involved in this type of solution varies. It's advisable to research and select a firm with good customer references. It's also advisable to consider that "downloadable" apps for specific devices like iPhone, Android and Blackberry require separate development.
Custom mobile Web app (site): The distinction between this type of "app" and a downloadable one that works with specific devices like iPhone and Android (noted above) is that it is accessible from any mobile device that uses a Web browser. It's technically a "mobile website" that can be accessed using a specific URL address. These URLs can be included within email and social media call to actions to allow the donor to respond immediately simply by clicking on the link. If properly designed, it can work efficiently on any Web-enabled mobile device.
Examples of mobile Web apps
Here are a few examples of mobile Web apps: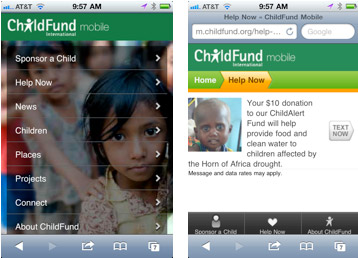 This type of mobile Web app automates a Text2Give process to allow donors to donate a maximum of $10 via their wireless carrier.
A PayPal mobile donation facility has been incorporated within this mobile site to allow donors to log-in and issue a donation in any amount or to pledge a donation for later completion from a PC.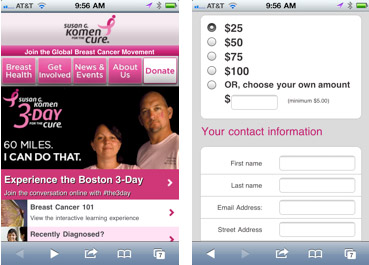 This final example illustrates a solution that has "mobile enabled" or formatted the organization's online donation page. While the donor must still enter name, address and credit card account info they can do so in a more convenient fashion.
Since the adoption of Web-enabled smartphones has advanced at an astronomical rate, it's important to accommodate this ever-expanding audience. It's estimated that by the end of 2011, there will be 150 million smartphone users in the US. The fact is that "mobile" Web access is fast becoming the preference, even over online PC access. More importantly, smartphone users read email and social media updates from their mobile device more often than from their PC. Mobile donations are the next frontier.
Fundraising series on Socialbrite
• What social fundraising means for your nonprofit
• Social fundraising tools: Our top 5 picks
• Fundly: Tap into your supporters' social networks
• GoodThreads: Custom T-shirts as a fundraising tool
• HelpAttack!: Unleash the charitable power of social media
• Rally: Raise money for your favorite cause
• Mobile: The next frontier of nonprofit fundraising

This work is licensed under a Creative Commons Attribution-NonCommercial 3.0 Unported.